Americans may remember "Freedom Fries" and "Freedom Onion Soup," but in a grand twist of irony, Le District, a 23,000 square foot paean to French cuisine, recently opened directly across from the Freedom Tower at One World Trade Center. This colorful new market alongside the Hudson River offers locals and visitors alike a special hybrid of American after-work wine bar, high-end Parisian market and Provencal dining experience.
There are two restaurants (the invite-only chef's table L'Appart is slated to open later this summer), a small but sprightly flower stand and four "districts." Tucked inside them are a decadent chocolate-mousse bar, a fromagerie with cheese wheels the size of those on a Renault and a fizzy candy shop piled high with vermilion and primrose bon-bons.
At the eatery Beaubourg, Chefs Fabrice Renaudin and Nicolas Abello have created beaucoup favorites like frog legs and onion soup. The former arrive slathered in rich butter and slip across a white ceramic plate around tiny root vegetables, Alsatian spaetzle and persillade. A silky sweet crock of La maudite soupe a l'oignon, "cursed" onion soup, wafts with hints of coriander, orange and clove from the Quebequois beer La Maudite (The Cursed). Imaginative cocktails of cognac, Cointreau and Gran Marnier help make the lights across the Hudson River sparkle a bit brighter.
Le District has only been open a handful of weeks, but is already bustling with a well-heeled after-work crowd that pours in from the nearby headquarters of American Express and Goldman Sachs. Not easily accessible from most subway lines, the market is tucked inside of Brookfield Place, a high-end mall in Battery Park City. What it lacks in both old European pace and dusty authenticity it makes up for in thoughtful dishes and hard-to-find items like the Parisian Theodor tea line, only available in the U.S. at Le District.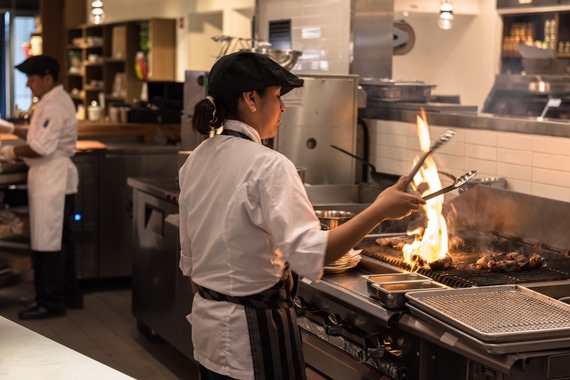 Photo (c) 2015 James Creel
To sweeten the entire deal, visitors can hand-select fresh cookies like navette chocolat (little chocolate ships) or gâteau fourré citron (lemon filled) or pause for a crepe made with spéculoos cookie batter and filled with Belgian chocolate mousse. And that feels a lot like culinary freedom.
Popular in the Community