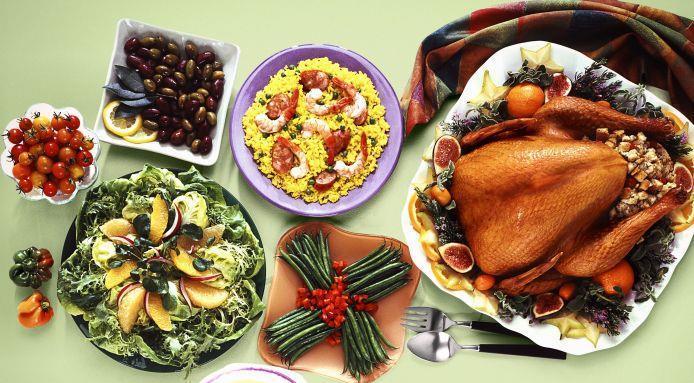 Even though France has zero reasons to celebrate the ultra-American annual ritual fête of the first harvest in 1621 that convinced the original pilgrims to stay on their new land, the French are such foodies that any occasion to eat, drink, and be merry is welcome in that land of plenty.
So, what do they eat at Thanksgiving? Well, just about the same as Americans but in smaller portions of course. And since the basic ingredients might differ a bit from the US version, let's look at what they come up with.
Of course, they do not celebrate anything that has to do with pilgrims and Mayflower, and Indians, and land, and corn, but they still follow the usual meal adored by so many Americans. They do not necessarily eat on that famous Thursday, as they do work on that day, but around that time of the year.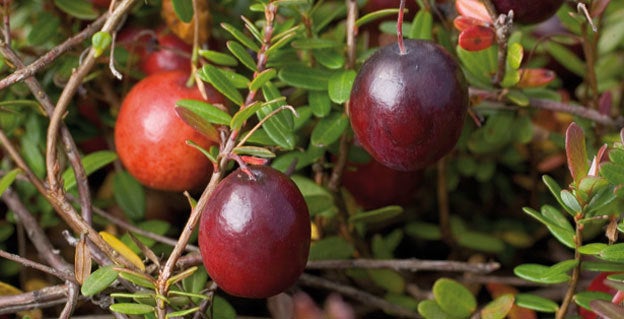 First - a turkey.
The French do not nearly eat as much turkey as the Americans – they eat mostly chicken, and turkey is, in fact, their traditional Christmas menu: la dinde aux marrons (turkey with chestnuts). So the consumption of turkey still revolves mostly around the end of the year dinners and is widely available by November. It is sometimes hard to find a really large bird like here, and furthermore, French kitchens do not usually have ovens of gargantuan proportions.
Forget deep fry turkey, non-existent in the land of foie gras, which by the way utilizes geese to produce the controversial spread. Some butcher will prepare the turkey for you and even stuff it with yummy concoctions. If they want to do it all themselves, our friends might have to settle for smaller turkeys, or maybe for two birds, cooked one after another.
Anybody can boil potatoes and mash them up. Of course, the sweet version (patates douces) is less common on French markets but does exist. You might have to look a little extra hard for those, as the yellow potatoes are a basic staple of French menus.
Green beans (haricots verts) are a very common veggie in French plates. So are green peas, but who eats green peas at Thanksgiving?
Stuffing: While some gourmet store will sell you prepared stuffing, it's common there to prepare with baguette (of mon dieu).
Corn: for a long time used to feed French pigs, after the introduction of corn flakes in French breakfasts, the popular food was finally accepted by humans, and is now widely found everywhere. The French seldom make cornbread. Of course, with the hundreds of delicious bread versions of their own, why would they?
Cranberry sauce: ah, that is where one might need a specialty store, be it American, or British, or even Swedish, as France does not cultivate cranberries, and very seldom eat any in any shape or form. France has airelles and canneberges, but there are not exactly cranberries.
Pumpkin and pecans are not usual pies in French bakeries, so one must resort to homemade ones. The fruits are easy to find and all my French family and friends always make their own crusts, I have yet to see somebody I know use a store-bought one.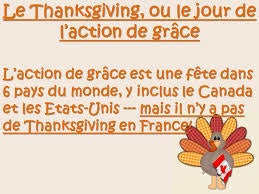 Here are a few words associated with Thanksgiving to help you understand the French version:
• Un festin = a (food) feast
• La farce = the stuffing
• Une purée de pomme de terre = mash potatoes
• Un épis de maïs = corn ear
• Une sauce de canneberges/airelles = cranberry sauce
• Une tarte aux noix de pécans = pecan pie
• Une tarte aux pommes de terre douces = sweet potatoe pie
• Une tarte au potiron = pumpkin pie
• De la guimauve = marshmallow
• Des haricots verts = green beens
• La récolte = the harvest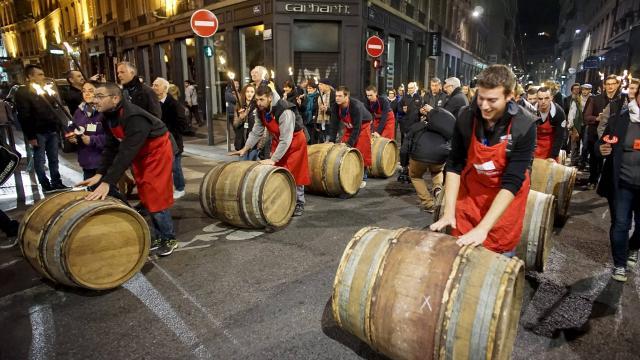 This year, a national treasure will be released just one week before the American feast:
Beaujolais Nouveau Day is Nov 16 this year. Marked in France on the third Thursday in November with fireworks, music and festivals, under French law, the new wine is officially released at 12:01 a.m., a few weeks after the wine's grapes have been harvested. Parties are held throughout the country to welcome the first wine of the season – a milestone indeed.
On a side note: If the shortage of butter (le beurre) continues in France, the French might have to put margarine in their food, and that would be both irritating and scandalous.
In Paris, a new store offers everything you need to make a real Thanksgiving meal, with mostly imported items to make it real. The shop is called ... Thanksgiving. I can only wonder what they sell the rest of the year.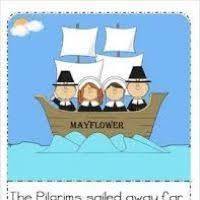 Follow me on Twitter, you won't be sorry: @sidoniesawyer.

REAL LIFE. REAL NEWS. REAL VOICES.
Help us tell more of the stories that matter from voices that too often remain unheard.
This post was published on the now-closed HuffPost Contributor platform. Contributors control their own work and posted freely to our site. If you need to flag this entry as abusive,
send us an email
.