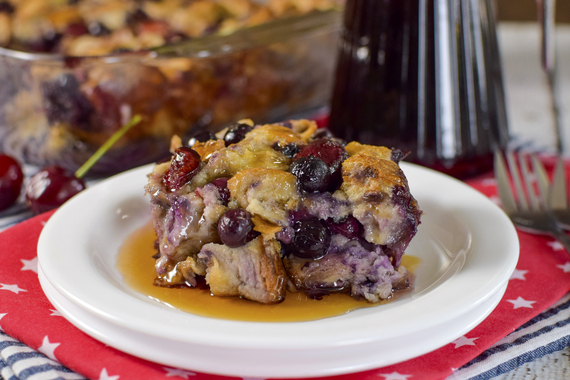 Fresh fruit adds a pop of color and flavor to this cherry blueberry French toast bake. Make sure you buy a few extra boxes or bags of fruit the next time you go shopping, so you can try this fun new breakfast dish.
Lately we have been all about the fruit. Every time we go grocery shopping, we come home with boxes of blueberries, raspberries, or strawberries. The other day I saw fresh cherries at the store, so a bag of those ended up in the cart too.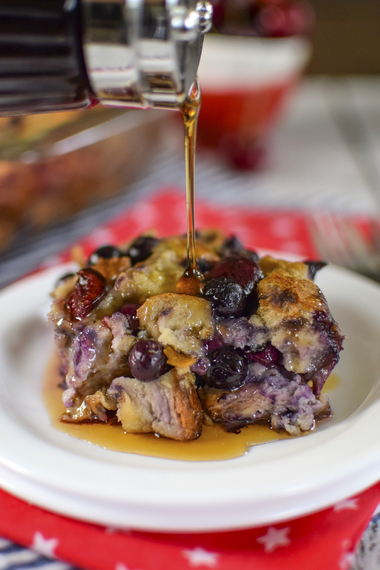 Most of the time I cannot keep the fruit monsters out of the fruit before I can bake with it. Not that I think that's a problem. With all the sugary sweets that come out of our kitchen, I am thankful our kids like to grab fruit instead of cake. Having fresh fruit available is also great for making fruit parfaits or smoothies when we need a quick breakfast or snack.
Thank goodness when I had an idea to make a berry French toast casserole, there were still some cherries and blueberries left in our refrigerator. I think the berry thieves must be slacking this week because fruit never lasts that long around here.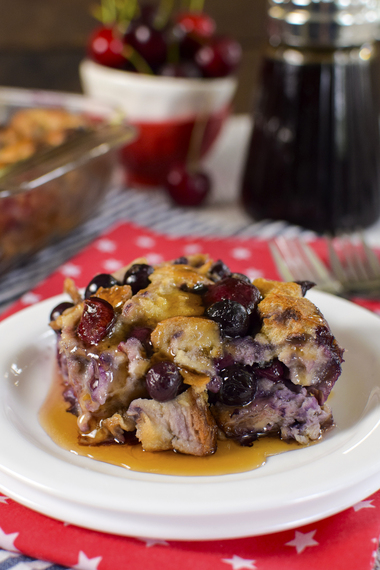 A few years ago I made this cherry chocolate French toast with leftover bagels, and since there were a few blueberry bagels hiding in the back of the fridge, I decided it was time to try that again. The extra blueberry in the bagels added a little more flavor and color to this breakfast bake, making it a perfect morning treat for the 4th of July.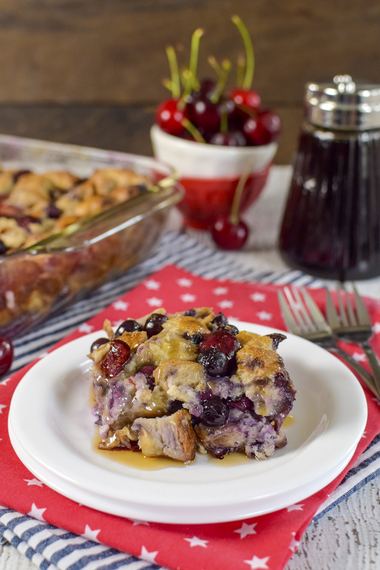 I like to start by slicing the bagels into bite-sized pieces, then toasting them in the oven for a few minutes. This gets the bread ready to soak up the egg mixture easier. Let it sit for 20 minutes, and then it is ready to be baked. An hour later you can be devouring a plate of this French toast bake with some pancake syrup drizzled on top. Adding more fresh fruit on top is also delicious.
Jocelyn bakes up many delicious things to share on Inside BruCrew Life. Around these parts, she's our latest Breakfast Fanatic, and we're so glad!