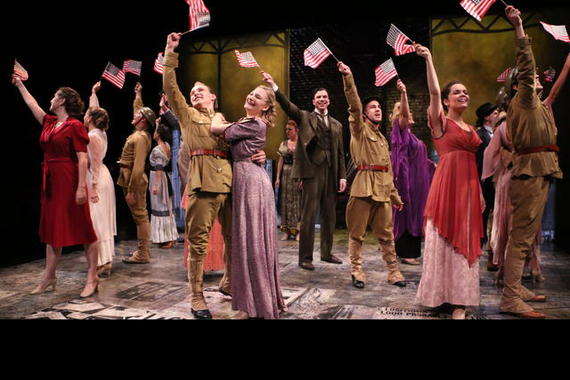 By Christopher Caggiano, ZEALnyc Contributing Writer, September 28, 2016
You'd think that a musical that won the Pulitzer Prize and tied for the Tony Award for Best Musical (with The Sound of Music, no less), would have found its way into the Broadway musical canon. You'd certainly expect to see the show in summer productions, high school and community stagings, not to mention the occasional Broadway revival.
But such was not the case for Fiorello!, the musical that won all of the above accolades in 1960 (over Gypsy, if you can believe it), and then proceeded to virtually disappear. Apart from the two concert productions as part of the Encores! series at City Center, New York City sightings of Fiorello! have been scarcer than those of the creature at Loch Ness.
Enter the Berkshire Theatre Group, which enjoyed a considerable critical success with its production of Fiorello! earlier this year. Based partly on a valentine of a review from Terry Teachout at the Wall Street Journal, the venerable BTG opted for a virtually unheard of commercial Off-Broadway transfer. The show runs through October 7th at the 13th Street Theater, normally the home of the Classic Stage Company.
It's easy to see what the critics saw in this Fiorello!. Director Bob Moss and choreographer Michael Callahan have taken what is in essence an old-fashioned and somewhat creaky show and whipped it up into a sprightly and engaging concoction. This Fiorello! is typical of the sort of small, tight, energetic Off-Broadway revival that was far more common in the 1960s (e.g. The Boys From Syracuse, Anything Goes, The House of Flowers, By Jupiter) but that today is almost non-existent.
What makes this Fiorello! even more winning is the fresh-faced group of twentysomethings who comprise the show's talented cast. It's a wonderfully appealing group, with unflagging energy, if just a touch of self-satisfied "Look at us, we're in New York" mugging from certain chorus members. But, in general, the focus and professionalism of the cast is remarkable, to the point where I fully expect to see these young people make an easy transition in to the general New York theater scene.
Standouts among the cast include Rylan Morsbach as the blustery Ben, Dan Cassin as the dim but lovable Floyd, Chelsea Cree Groen as the sassy Dora, Katie Barenboim as the long-suffering Marie, and mini-dynamo Matt Caccamo as the production's matinee Fiorello. (Props to dialect coach David Alan Stern helping the cast members craft believable and consistent working class New Yawk accents.)
As for the show itself, its main attraction as a piece is the splendid score, music by the late Jerry Bock, and lyrics by living-legend Sheldon Harnick. Anyone studying the process of crafting musical-theater songs should make a point to study the Fiorello! score. The songs are just so seemingly effortless in their conception and execution.
Bock's score is a direct descendant of those of Richard Rodgers, replete with easy, flowing melodies, not to mention extended musical sequences, counterpoint, and numerous dramatically purposeful reprises. And Harnick's lyrics are so full of character (in every sense of the word) and yet deftly simple. It's so clear to see that these gentlemen would go on to even greater songwriting achievements with She Loves Me and Fiddler on the Roof.
As I intimated earlier, the book to Fiorello!, by Jerome Weidman and George Abbott, is of a decidedly dated sort. The predictable structure of the story and the heightened feel of the dialogue place Fiorello! closer to the Rodgers and Hammerstein tradition than to the show's ground-breaking contemporaries (Gypsy, West Side Story)
There's an overly earnest tone to the show, especially in its opening number ("On the Side of the Angels"), which borders on hagiography. The character Fiorello La Guardia is the sort of unflappable hero whose only flaws are that he works too hard and cares too much. The show also features an obligatory, although admittedly charming, subplot with cop Floyd and his girlfriend Dora, the precise relevance of which isn't really clear until late in Act Two.
Quibbles aside, this is a production that no fan of classic musical theater will want to miss, nor anyone who wants to see the future stars of New York theater before they really hit it big.
Cover: Company of Fiorello! / Berkshire Theater Group; photo: Alexander Hill
__________________________
Fiorello!; First Preview: September 4; Opened: September 9; Closing: October 7, 2016 at the 13th Street Theater. Book by Jerome Weidman and George Abbott; music by Jerry Bock and lyrics by Sheldon Harnick; original production presented by Robert E. Griffith and Harold S. Prince. Directed by Bob Moss; choreography by Michael Callahan; music direction by Evan Zavada. Presented by the Berkshire Theatre Group
Christopher Caggiano writes for ZEALnyc about theater performance and related topics.

REAL LIFE. REAL NEWS. REAL VOICES.
Help us tell more of the stories that matter from voices that too often remain unheard.