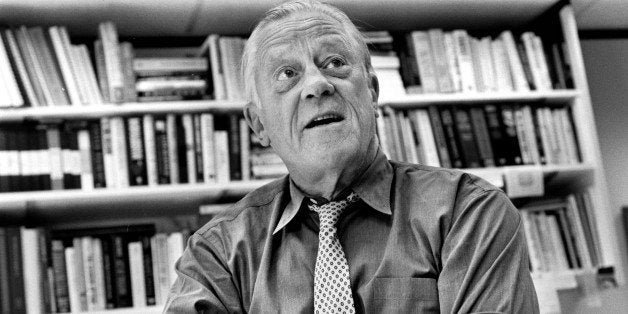 As expected, the news of Ben Bradlee's passing brought accolades for his work as editor of The Washington Post. He led the newspaper's vigilance, leading to the resignation in 1974 of President Richard Nixon. He and the Post helped instill a new word into our national vocabulary: Watergate.
But my one encounter with Mr. Bradlee was in a different context. I interviewed him in 2011 about a close friend and former neighbor in Georgetown. In the 1950s, they spent many Sunday afternoons together, drinking, smoking and talking politics. Their wives became close; the four spent countless evenings together and weekends at the friend's home in the Virginia countryside.
In 1961, that friend and his wife were forced to move. To 1600 Pennsylvania Avenue.
Mr. Bradlee, despite his reported bravado in the Post newsroom, was reserved, even nonchalant, in our interview: "A friend of mine got elected President of the United States."
That friend, of course, was John F. Kennedy.
"Our friendship just happened," Mr. Bradlee remarks in my book, November 22, 1963: Reflections on the Life, Assassination and Legacy of John F. Kennedy. "It was never calculated. I didn't follow any script. We had a great time together. If I had any contribution to his life, it was that we did not have to worry about newspapers or issues. It was a friendship."
That friendship is chronicled in Mr. Bradlee's 1975 book, Conversations with Kennedy, from which he allowed me to use excerpts in my book. On that tragic day in 1963, Mr. Bradlee, then the Washington bureau chief for Newsweek magazine, was browsing the shelves at a bookstore in downtown D.C. during his lunch hour.
First it was the barely distinguishable whispers of incredulous pedestrians, then all too finally it was the AP ticker in the Newsweek bureau on the twelfth floor of the National Press Building around the corner. It's not enough to say that you can't believe these terrible things as they happen.
Later that evening, he and his then-wife Antoinette Pinchot Pittman, more commonly known as "Tony," were asked to join some of the slain President's family members and close friends at Bethesda Naval Hospital, where the autopsy on the Kennedy's body was performed. His reflection upon seeking Jacqueline Kennedy is especially poignant.
Her entrance, announced to us by the flashes of photographers' bulbs many stories below us, into that dreary hospital green room is scarred on my soul for the rest of my life... We all rose, stricken and uncomfortable, as she came slowly toward us. When she got to Tony and me her eyes brightened a little, she raised her arms and then lurched into my arms, and sobbed. After a minute or so she pulled back and greeted Tony in the same way. Then she tuned to me and said, "Oh Benny, do you want to hear what happened?" And then quickly added, "But not as a reporter for Newsweek, okay?"
Three days later, at the funeral on Monday, November 24, Mr. Bradlee served as an usher, unrecognized by most Americans who were watching television intently throughout the weekend. He and his wife walked in the procession behind Mrs. Kennedy and the President's brothers Robert and Edward from the White House to St. Matthews Cathedral. It was one of the most sorrowful images of those four days filled with sorrow.
Most historians will inextricably link Mr. Bradlee's legacy to the Post and its courageous journalism during and after Watergate. My view of his legacy is different. It is tied to that close friend, whose assassination, more than five decades later, still brings a tremendous sense of loss.
Dean R. Owen, a Seattle-area writer, is the author of November 22, 1963, Reflections on the life, Assassination and Legacy of John F. Kennedy.
Calling all HuffPost superfans!
Sign up for membership to become a founding member and help shape HuffPost's next chapter