As Stephen Harrigan's sixth novel opens, the fictional poet Cage Weatherby stands in line to see his estranged friend Abraham Lincoln laying in his casket in the statehouse in Springfield, Illinois, his corpse "obscenely dead, dead for weeks now." The two have long been separated both by Lincoln's fame and the wishes of Lincoln's wife Mary Todd. When a stranger asks Cage if he knew Lincoln, Cage lies and says he did not. The lie is to both avoid self-aggrandizement and because it would "hurt to tell those stories, to remember too acutely."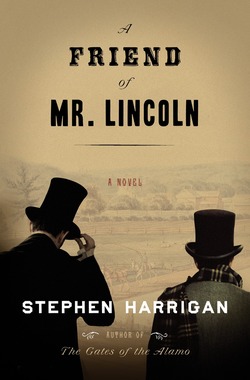 And so from its first pages, "A Friend of Mr. Lincoln" dives into the terrain of mortality and legacy, of friendship and the yearnings of youthful ambition that later become painful to reflect upon. Part of the genius of the novel lies in its structure -- from that first chapter, the novel jumps back to 1832, to the day that Cage Weatherby and Abraham Lincoln meet for the first time as young men on the battlefield of the Black Hawk War where their shared duty of collecting the dismembered and disemboweled body of one of Cage's friends is enough to cement Lincoln in Cage's memory.
Cage Weatherby doesn't encounter Lincoln again until they both find themselves in Springfield, Illinois in 1836. Cage and Lincoln share a profound longing for greatness that acts as a bond. Though the young men's ambitions differ--Cage wants to establish himself as a poet, while Lincoln dreams of political eminence--they both feel "the imperative of living beyond the grave." (I studied with Harrigan when I was in graduate school at the University of Texas, and perhaps it's just this understanding of longing and ambition that made him a compassionate and skilled writing instructor). One of the delights of the novel is that we see that Lincoln's fate--now a fixed seeming and immutable fact of the past--was unlikely. The rise to the presidency of the tall, awkward-looking, self-made man was once very much in flux. Harrigan's Lincoln is a man whose ethics are still being formed, whose flaws are sometimes glaring. Lincoln's cruelty in skewering political enemies and his self-destructive tendency to draft pseudonymous letters for the local newspaper have painful and sometimes potentially tragic results, as when Lincoln is challenged to a duel. The young Lincoln of Harrigan's novel is prone as much to laughter and the telling of off-color stories as he is to fits of melancholy and even a bout of suicidal despair brought on by his entanglement with the young Mary Todd.
In fact the book crackles when dealing with young love and romance, both Lincoln's tortured romance with Mary Todd and Cage's arrangement with a young seamstress named Ellen. Harrigan has a true gift for crafting female characters that navigate the constraints of their time with a stubborn deftness. While the bright eyed Mary Todd angles for a husband who will allow her to indulge her passion for politics, Ellen discretely sells herself until Cage pays for her to set up her own shop. In a fit of jealousy at finding that Lincoln has paid for Ellen's company, Cage tells Ellen that Lincoln made a joke about a whore. Ellen responds by saying: "I don't feel like one." Refusing to be pigeon-holed or defined, Ellen puts her own desire for professional autonomy before love or even marital stability.
As the novel progresses, the issue of slavery moves into the foreground, becoming more urgent, more unavoidable, as it must have for Lincoln himself. "A Friend of Mr. Lincoln" underscores that the youthful Lincoln was no abolitionist and his ambivalence towards the moral issue of the day drives Cage to frustration.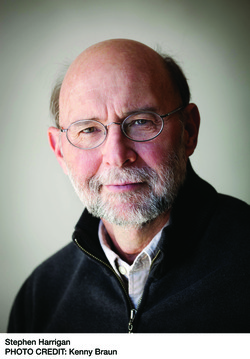 As in his award-winning novel "Remember Ben Clayton," Harrigan explores themes of artistic ambition and endurance. What does it mean to be driven to create work that will withstand the test of time? What if that dedication and drive to craft come up short or the work itself is ignored by the larger world? Who and what does an artist become if he gives up on his art? At the same time, the novel examines the ways that both conflicts and fame can open fissures in a friendship that fail to destroy the memory of that friendship's sustaining qualities. And indeed it's the moment that Abraham Lincoln and Cage Weatherby are parted by conflict and geography that both Cage's life and the novel take wild, unexpected and riveting turns.
Meticulously researched, gorgeously rendered, "A Friend of Mr. Lincoln" is a powerful historical novel of friendship, love and ambition.
Related
Popular in the Community