Imagine these scenes: a newscaster portrays grim events of a policeman being hacked to death by a Muslim, who in turn is shot by police. Riots by nationalist groups fill streets with smoke and flames as if from an apocalyptic drama. A menacing man brandishes a machete toward a screen, with a voice over retelling the terrible threats he is making. These bleak and frightening images open the film, Journey into Europe, a documentary on Islam in Europe and the place of Islam in European history and civilization produced by Ambassador Akbar Ahmed, the Ibn Khaldun Chair of Islamic Studies at American University and the former Pakistani High Commissioner to the UK and Ireland. Meanwhile, newspapers nearly every day flash with bombings and shootings which target Christian minorities in many Muslim majority countries. Whether in London or Lahore, Muslim-Christian tension all too often violently spills onto the streets of cities throughout the world. Many in both the West and the Muslim world would say that these horrific events show that Islamic and Western identities are incompatible, and that it is impossible for Christians and Muslims to coexist with peace and mutual respect.
However, in this world of sorrow and bloodshed, I have been privileged to witness the incredible friendship between Ahmed, a Muslim Pakistani who now calls America his home, and James Shera, a British Christian Pakistani. The affection and generosity of spirit which they have extended towards one another challenges this very narrative of hostility and hatred between the Muslim world and the West, Christians and Muslims.
Despite their different religions, these two men are more similar than they are different. Both have led extremely varied and accomplished careers—Ahmed has been at various times an author, filmmaker, poet, playwright, professor, and ambassador, while Shera has served as a mayor, educator, businessman, spokesperson, and chair of numerous government and nonprofit initiatives. They also share a deep and abiding love for their home country of Pakistan, leading them to work closely together on the Jinnah project, a film intending to revive national interest in the founding father of Pakistan. Ahmed himself has described Shera as "one of the most passionate Pakistanis he has ever met," praising his "love for humanity" and likening him to Saint James, one of Jesus Christ's Twelve Disciples. Most importantly, they share a deep commitment to improving relations between Christians and Muslims, both in Pakistan and in the West. On many occasions, Shera has addressed international audiences on Ahmed's behalf, including a United Nations conference in Istanbul and the hallowed Oxford Union Society, to speak on the topic of Islam.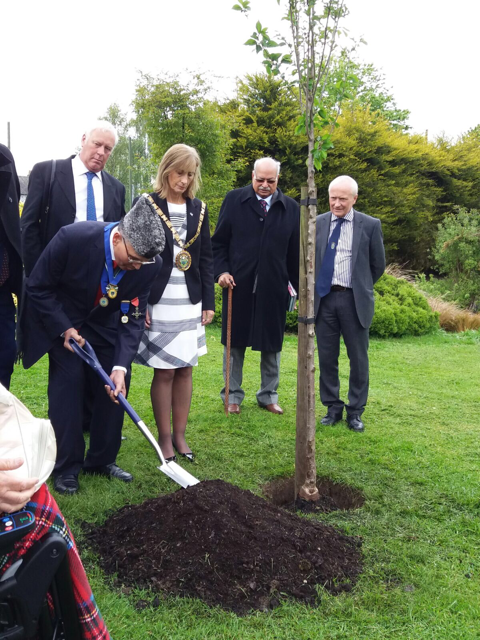 From creating the Interfaith Millennium Project to participating in the Archbishop of Canterbury's Pakistan Focus Group and chairing the Pakistan Christian Alliance, UK and Europe, James Shera has made incredible contributions to bridging these deep divides we face in the modern world. He has walked the walk of interfaith, playing a crucial role in the establishment of a mosque, community center, and burial ground for the Muslim Pakistani community in Rugby, England. In recognition of his enormous contributions to interfaith dialogue, Shera was awarded the Star of Pakistan, the third highest public award by the Government of Pakistan, in 1992, and is now being conferred with the honor of "Freedom of the Borough of Rugby" for his dedication to the community of Rugby and his decades of building bridges at the local, national, and international levels (see accompanying picture).
Ahmed, awarded the Sitara-i-Imtiaz, or Star of Excellence, by the Pakistani government, has himself earned a number of top accolades for his interfaith initiatives which have made a difference in communities around the globe. In 2005, he was honored in an unprecedented Evensong at the National Cathedral in Washington, DC, dedicated by the Episcopal Bishop of Washington, John Chane (see accompanying picture). The next year, he received the first-ever Purpose Prize alongside Dr. Judea Pearl, the father of Wall Street Journal reporter Daniel Pearl, who was viciously murdered in Karachi in 2002, for their work in promoting Jewish-Muslim dialogue around the world. And just this year, he was named the School of International Service Scholar-Teacher of the Year.
While their professional goals and interests are very similar, their admiration for one another runs much deeper. Ahmed and Shera's friendship even extends into the family, as Shera is also quite close with Ahmed's daughter, Dr. Amineh Hoti, a fellow interfaith champion who now serves as the Director of The Centre for Dialogue and Action (CD&A) in Islamabad. Shera treats Hoti like a daughter, and she watches after him like any daughter would her father. Shera even jokes that the three of them together are like the three musketeers fighting for religious friendship and understanding. Shera says that the title of popular Indian movie, "Amar, Akbar, Anthony," can be updated to, "Akbar, James, Amineh," to reflect their closeness.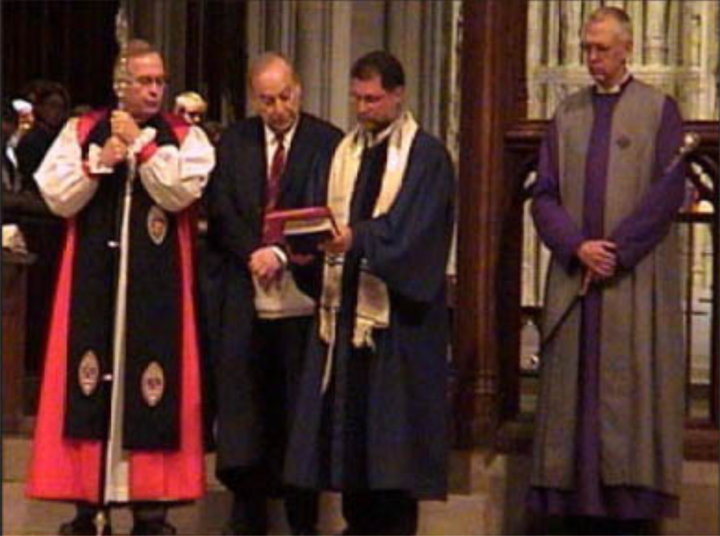 In both small and large gestures, there are many stories of how the two men express their admiration and care for one another. When they were each at Lambeth Palace to speak at one of the Archbishop of Canterbury's last public events in 2012, it had been more than a decade since they last saw each other. The last time they had met, Ahmed was leading a delegation of Pakistani Christian leaders, including Shera, to this very same place, as the first ever Pakistani High Commissioner to the UK to call upon the Archbishop of Canterbury at Lambeth Palace (see accompanying picture). Shera had become unwell in this time, but Ahmed had not learned of his illness through their regular phone conversations. Hoti, who was then living in the UK, was keenly aware that this would be the first time her father saw Shera ill. While going out of her way throughout the evening to help Shera and provide him food and drink like he was her own father, Hoti also tried to shield her father from seeing his dear friend so unwell. Hoti's fears of her father's reactions were realized when Ahmed, who had overseen the most combative and toughest tribes in Pakistan as Commissioner in the Tribal Areas, was so shaken when he eventually saw Shera that he had to sit down.
This same evening at Lambeth Palace, though, even after years apart, Shera introduced Ahmed with the highest praise. Shera described Ahmed to the audience as "one of the two great Akbars Asia has produced - [there is] Akbar, the greatest Mughal emperor, who in his own right tried to bring all the faiths together in India to bring some unity among the diverse faiths and managed to unite India. But this Akbar is a Sufi saintly figure who has no power except the words and wisdom which have been given by God to him to vigorously pursue the mission of God's peace on earth and bring some equality, fairness, and tolerance to a society which is being challenged and tested vigorously by negative forces."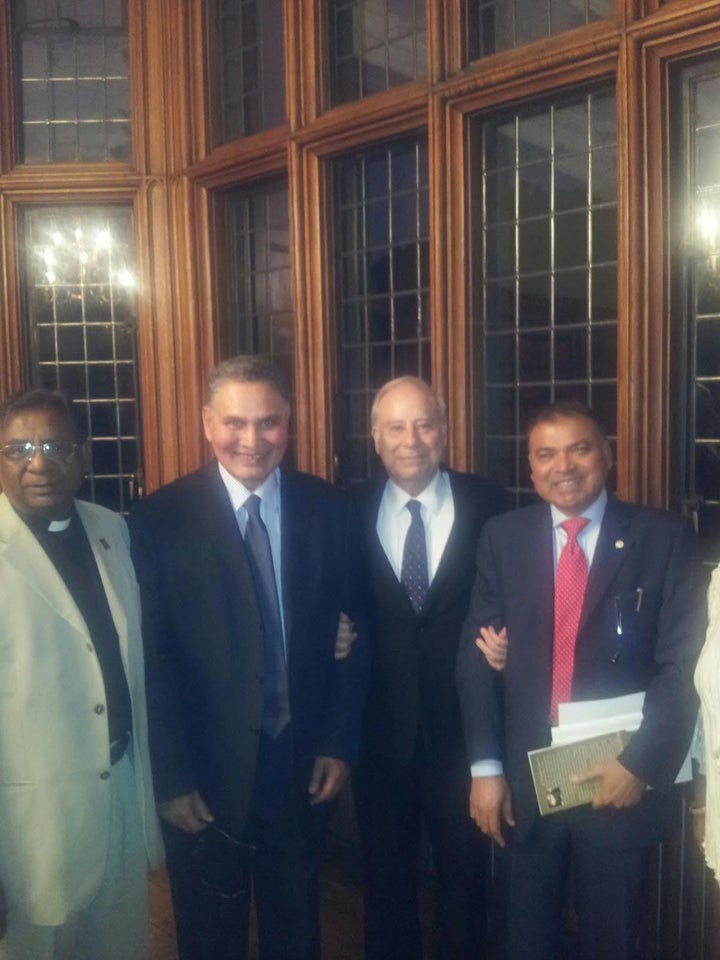 Yet while they now live an ocean apart, Ahmed and Shera continue to maintain their decades-long friendship. Shera texts Ahmed and Hoti without fail every morning with an image of a beautiful bouquet of flowers and a bright "Good morning!" often accompanied by the latest joke or a piece of humorous advice. Their mutual affection for one another, a Muslim and a Christian, which has weathered the test of time and survived in an era of great misunderstanding and tension between Muslims and Christians, shines a bright light in the darkness of these violent and divisive times.
As an American with a Christian background, who is an avid consumer of American news media, I am deeply struck with the possibilities and promise of the message of this friendship, as well as the stark contrast it paints with the typical, mainstream view of Muslim-Christian relations. It is incumbent upon all of us, no matter how difficult it may seem, to remain optimistic and hopeful for our shared future, to believe that the divides between Muslim and Christian, the West and the Islamic world are neither defined nor distinct. It is more important than ever that we muster our courage in the model of Ahmed and Shera to reach out to those around us who may appear to be different on the surface, but who may share more in common with us than we think. In the end, we all share the burden and responsibility of building bridges and sharing messages of peace, one friendship at a time. This is the great challenge facing me and facing my generation.
Popular in the Community