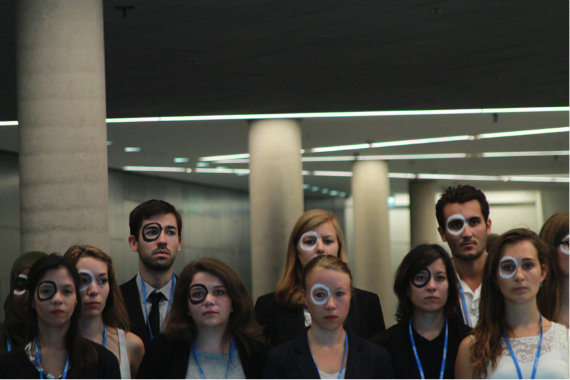 Youth representatives at the UNFCCC negotiations in Bonn, Germany, September 2015.
Photo Credit: Isabel Bottoms
You may not know it, but a meeting being held at the end of this year will determine your future. That is because in December, governments from around the world will come together in Paris to try and negotiate the first universal United Nations agreement on climate change.
If you are a human being, this meeting really matters. If you are a young human being (as the authors of this article are) this matters even more. Scientists tell us that if we are to have a decent chance of protecting human civilisation from this huge threat to its survival we need to act very fast. And if we don't manage to act the increases in drought, flooding and extreme weather events that we are already seeing are going to get much, much worse -- in our lifetime -- and in the lifetime of billions of other young people across the planet.
That is why groups of young people have been showing up at U.N. negotiating sessions throughout the year with circles painted around our right eyes: to remind governments that it is the future of the young people who are alive now -- not to mention the generations not yet born -- that is up for negotiation in Paris. The circle symbol means that we are watching the people currently in power to see whether they are going to take action to protect our future from climate disruption. And it also represents the target that we want them to agree when they come together in Paris -- a target of zero carbon emissions by the middle of this century.
We have worn this eye at marches, in negotiating sessions, at policy forums and in meetings with senior politicians. We are wearing this bold strange symbol because we want to stop the politicians in their tracks and make them think about the moral question that is at the core of the Paris negotiations: does the generation that is in power have the courage and vision to save the future for the people who are too young to have power yet, or who have not yet been born?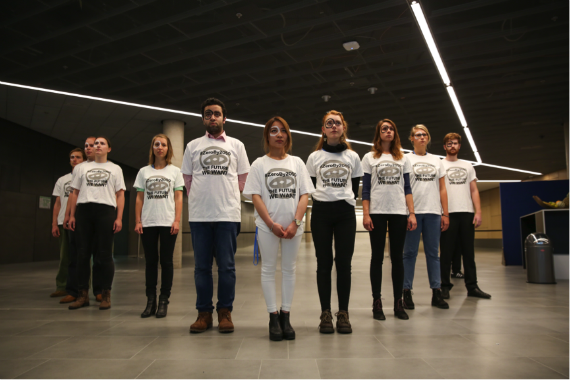 Youth representatives at the UNFCCC negotiations in Bonn, Germany, October 2015.
Photo credit: Kiara Worth, Earth Negotiations Bulletin
A recent New York Times front page featured an analysis by Climate Interactive on how the commitments that the world's governments are making in the run up to Paris are stacking up. Assuming countries follow through on their commitments, the maths tells us that we are on a trajectory to 3.5 degrees of warming -- a climate catastrophe that will cause mass extinctions, threaten ecological systems worldwide and trigger famine, drought and mass migration at a scale never seen before. The commitments currently on the table do reduce warming by one degree below the business-as-usual pathway that the world is currently on and this marginal gain is being celebrated as a breakthrough in the 20 years-plus of stagnant climate negotiations. But this is not nearly enough to secure our future. Depressingly, we seem to be held captive by an addiction to fossil fuels that is entirely a result of human choice, but now seems to be out of our control.
95 percent of global emissions are covered within the current stack of country commitments to the Paris Agreement. This is something to celebrate, in comparison to the dismal reach of the Kyoto Protocol, covering only 14 percent of global emissions. But it is also a reason to be alarmed: within a universal climate agreement, we do not have too many places left to turn to further reduce emissions.
Given this relatively low starting point, what we need is for the world's governments to recognise that the commitments being made in Paris are only the beginning of what we need to get ourselves out of this hole. The most important way they can do this is by signing up to an ambitious Long-Term Goal -- which will set the overall direction of travel that all countries agree that they need to take during and beyond the period covered by the Paris commitments.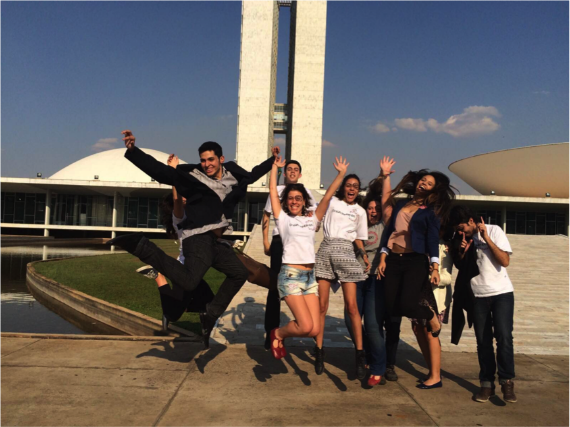 Representatives of the Brazilian youth-led NGO Engajamundo during an action in front of the National Congress.
Photo Credit: Engajamundo
Scientists and campaigners are agreed that the right long-term goal would be to bring fossil fuel emissions down to zero by the middle of the century. That is why we wear the zero symbol painted around our eyes. But governments are being heavily lobbied by fossil fuel interests, and so far, there is not enough consensus around the zero by 2050 goal.
U.S. youth active in the negotiations were happy to see the defence of 'decarbonisation' in the last session, we hope that an internationally unified narrative can encourage the U.S. to strengthen its position on supporting 'a global low-carbon transformation during the course of this century' which it supported in a recent joint statement with China. Brazil's recently announced long-term goal that it intends to end its dependence on fossil fuels by 2100 will also help build momentum, but we need governments to do even better and push for 2050 as the limit year.
Brazil does give us hope though. A group of young people in Brazil, led by Engajamundo -- a Brazilian youth-led NGO -- have completed a very intense period of lobbying for a long-term goal of zero by 2050. The group took ten young campaigners to meet with ten different ministers (including the Minister of the Environment and the Minister of Mining and Energy) during a week long tour of the capital Brasilia. The following week Brazil announced more progressive targets than had been expected.
Only 10 negotiating days within the U.N. process remain between now and December 11th, when we are expected to walk away from Paris with an ambitious universal climate agreement that will indicate a global transformation has begun. The battle over the long-term goal is expected to continue until the final hour of negotiations. We will do anything we can to make it clear to governments that this goal is critical to the future of young people everywhere.
The commitments that governments are bringing to the table at Paris are not enough to secure our future. But agreeing a long term goal of zero by 2050 would set an end date for dirty energy and allow us to come away from Paris with real hope.
Hope that we will see an exciting transition to a world powered by clean energy in our lifetimes.
Hope that we might have a future that we can survive and thrive in.
To make sure our voices are heard and that governments know young people are watching them and need them to deliver a zero target, we organized worldwide actions and marches on the 28th and 29th of November, just before the U.N. Paris negotiations start. Check out what happened in your country and join us -- be a part of the solution to the biggest challenge humanity has ever faced! #zeroby2050 #thefutureisrising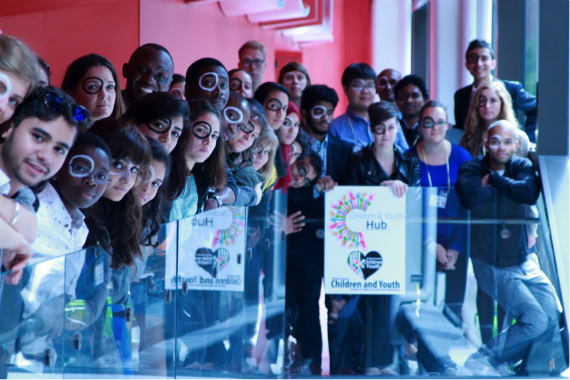 Youth representatives at the U.N. SDG summit in NYC
Photo Credit: Isabel Bottoms
This post is part of a "Youth Voices" series produced by The Huffington Post, in conjunction with the U.N.'s 21st Conference of the Parties (COP21) in Paris (Nov. 30-Dec. 11), aka the climate-change conference. The series will put a spotlight on college or high school activists committed to combating climate change, and is part of HuffPost's What"s Working editorial initiative. To view the entire series, visit here.
Calling all HuffPost superfans!
Sign up for membership to become a founding member and help shape HuffPost's next chapter