After a decade of coming to the Cannes film festival, I was invited to my first "Gala", one sponsored by the Horyou Foundation, a family-run social network organization that gives visibility and funding to over 700 NGOs. I must admit I accepted the invitation reluctantly: parties are notorious time-consumers at the festival and few journalists can afford (time-wise) to go.
I was thrilled that I did. The gala turned out to be a highlight of Cannes--and just like a film!
It all began with the trip out there. Google-Maps said 20 minutes by foot, so I guessed I could make it in ten on my bicycle. Wearing a flowing black evening dress and a silk Cambodian white chiffon scarf, I jumped on my vintage bike and squeaked for miles and miles and miles straight up into the hills, before I realized I was absolutely lost, the sun had set, and my phone (i.e. my map) was dead.
Yet how exciting it was to be high on the firred hills of Cannes, surrounded by mansions and the smell of trees, in silence, broken free from the bubble of cinema below.
A car unexpectedly drove up on the darkened street. In it, a happy young man with a phone.
"Can you please google-find the Villa Saint George?" I said.
He whipped out his phone. The map revealed a maze of lines and squiggles.
"Hmmm," I said in dismay. "Would you mind leading me? You drive, and I follow!"
He laughed and drove off, while I biked behind; every so often he would wait for me on the top of a steep hill.
He saluted me with a great Cannois grin at the gate.
The Villa, owned by a woman named "Pascale", loomed on a hill, elegantly barricaded by a troupe of burly guards in suits.
"Dinner is over!" barked one guard. "You're too late!"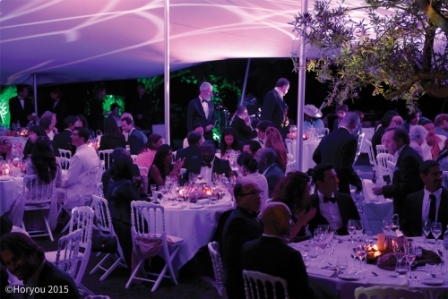 But it was not over. In fact, it had not even begun. I walked up a loop of stairs to the top of the terrace, and saw a spread of brightly lit tables. A woman was singing. A young long-red-haired man was beaming and greeting guests.

"Bonsoir et bienvenue!" cheered the dapper tuxedo-clad man next to me, in French. "Do you know what kind of charity event this is? Do you know about Horyou?"
"Horyou does excellent projects. You should look at the list of the NGOs they support! And that gentleman over there---" he pointed to the red-haired jolly man. "Is the son of the founder, and now its CEO. You should meet him."
We switched to English. My neighbour happened to be a New Yorker physicist cum oil consultant cum wine producer, who had donated the entirety of the wines to the gala.
Excellent wines! I tried the white, the red.
"They serve Californian wines at a French gala!?!"
"Oh," the man shrugged. "The world these days is completely globalized. The manager of my vineyard is French; the grapes are French. It's just the land that is Californian. I myself am a Persian New Yorker. My wine is named after a Persian myth about a wine-drinking rooster: Xurus!"
He proceeded to pour me another glass.
But I was too concentrated on my soup. My first soup made by a three-star Michelin chef! It was asparagus à la crème de cardamon. I photographed it. I tasted the creamy dollop on top. I savored every green drop as if it were gold.
The elder man to my right beamed. "But if I cook for you, you would say the same!" He ran an NGO called "The Meal" to encourage people to consume the products of local farmers. Every few months, The Meal organized a dinner in dozens of countries in the world, where everyone dined at the same time and enjoyed the produce of the local farmers. "The local farmer is a hero of humankind!' the man said. "Without him, we would not be eating."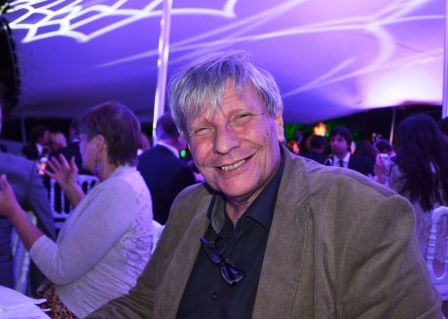 His NGO was supported by the Horyou foundation.
"I too run an NGO," said the Swiss woman next to him, who introduced herself as "Claudine". Claudine supported a woman in Benin who ran a school for girls. "This woman is an angel!" she said with excitement. "The work she does with these girls! These orphaned girls would be completely abandoned in their society if it was not for her. "
Claudine, a former psychotherapist, had an unusual project of her own. She helps troubled women in her own country of Switzerland with her association: "L'Association Pont Universel".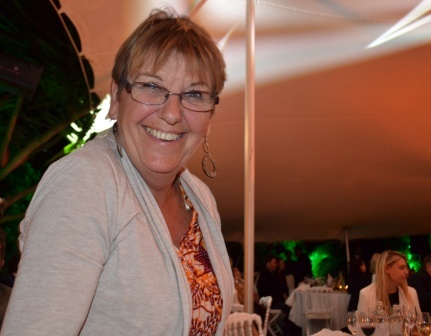 "I organize trips to Africa for women in difficulty' she beamed. "You see, sometimes people get so stuck in a marginalized life, with a sense of stagnancy, going nowhere, and become so depressed about it, that it helps to get a jump-start to another perspective. A trip to Africa is a godsend for these women! A girl will go there, and receive so much love and affection from the local women; she will experience an entirely new way of living! She comes home transformed. My role is to help the women figure out ways to fund the trip--they must pay for the air-flight on their own---and then I organize it for them."
Horyou supports this NGO as well.
Who were these generous people who founded Horyo?
I zigzagged between the chairs and found Yonathan Parienti, the CEO, at his table. He beamed and hugged me to him. "Enjoying yourself? Oh, you want to know facts about our charity? But look, Chow Ching Ling is playing the piano now! Let's enjoy the music and talk after! How wonderfully he plays!"
We stood arm in arm enjoying the sublime chords.
But then I saw the waiters coming along with....the MAIN course.
The main course looked like log rafts coming down stream. Literally, it was wild sea-bass nestled between two halves of a log. With the log-mired fish came a long tube of citron-cream sauce, that we were to drip onto the white flesh of the fish. A glass terrine of local organic vegetables was set alongside.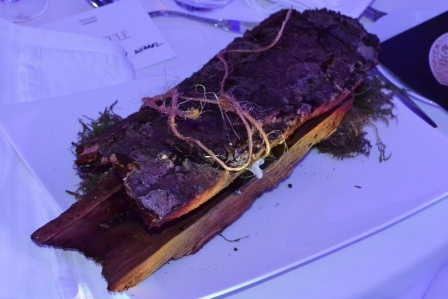 "I've never seen anything like it!" whispered one of the waiters to me, dashing by. "This chef Marc Veyrat is something!"
I still remember the subtle taste of that fish.
"More wine?" asked the wine producer.
The auction was starting. Contemporary paintings were being auctioned, with 80 percent of the proceeds going to help the NGOs.
"Come on, please PLEASE be generous!" said the auctioneer, a white-haired gentleman with a jolly smile.
No one wanted to buy the photograph of two astronauts sitting on a couch.
"They are NOT astronauts," said the wine producer. "Those are famous television characters, don't you know them?"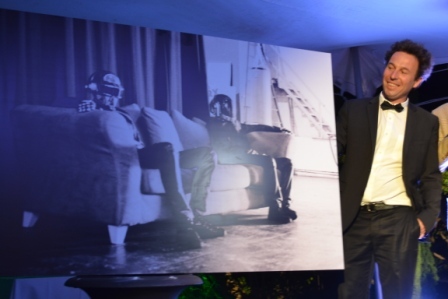 "PLEASE be generous!" called out the auctioneer. "Buying art is good for you! It's an investment! Art is good!"
No one bought the painting.
But then the wine began to flow. One or two paintings sold, for modest prices, like 5000 euros. More and more wine; suddenly the prices were rising! 40,000 euros for the painting of four colors--yellow, black, red and white--splotched on a canvas. The young artist stood next to it, grinning sheepishly.
"Nobody will pay 40,000 for this?" said actress Marisa Berenson, also hosting the event, with a tone of great astonishment. "Please be generous!"
There was a bit too much black in the painting, in my opinion.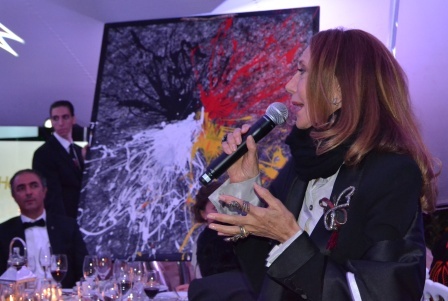 But the guests were jolly nonetheless. The surgeon who did free surgeries in Angola was flirting with a beautiful French girl on the stairs. A couple were kissing, and being photographed in the aisle. The waiters were swinging by with pink and white strawberry puff desserts!
I ran back to my seat for the dessert.

"Are you sure you are a physicist?" I asked the wine producer philanthropist, from whose largesse, I am sure, by that point of the evening, I had imbibed at least one vintage.
"Of course I am. I have a post-doc from Orsay in Paris. That is why I speak French."
"But how does a physicist get into oil consultancy and then wine?"
"Look, don't you think oil is part of the material world? You can't get the oil out of the earth without physics."
I imagined ibid for the wine.
The auction was getting gay. The white haired gent leaned to a lady, and she, inspired, suddenly outbid the man at her table.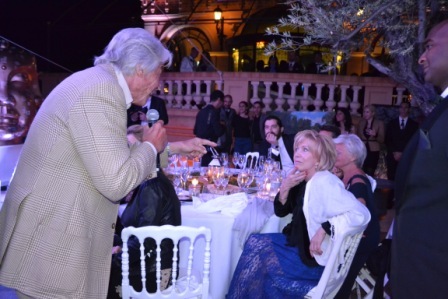 "Sold!" the Auctioner said.
I asked the elder founder of the charity, a sweet grey-haired gent with tearing eyes, what had inspired him to ever create such a wonderful charity that helps out so many people in the world.
He told me--smiling widely, eyes beaming--and then touched his heart.
"But keep what I just told you a secret!" he whispered.
"Aren't Yonathan and his father wonderful?" the African-trip-for-girls NGO woman said to me smiling.
"Both so warm, so kind, so loving!"
"Like father, like son," I said, jumping up at once-- it was pumpkin hour for journalists!
I slipped out the front gate, dashed on my bike, and flew vertically down the slopes of Cannes in a flash--propelled by all the Xurus bubbly!--all the way down the steep curving roads, faster and faster, right down to the moonlit sea.
Calling all HuffPost superfans!
Sign up for membership to become a founding member and help shape HuffPost's next chapter