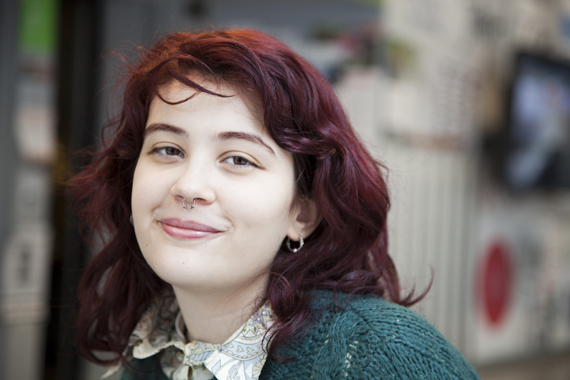 Jessy Jo Gomez, photo courtesy of Julie Hassett-Sutton/Frantic Studio via Global Kids
I grew up in Harlem with parents who were not parentally abled. I took care of myself, and them, and my siblings. Being in the house was always hectic.
One day in high school, somebody from Global Kids came to recruit people for a program called the Virtual Video Project. He said we could get a stipend, and we could work in the virtual world. I applied for it right away. I really liked technology and video games. There wasn't really a program at my school that had to do with games. If there was, it was very male heavy.
In the Virtual Video Project, at first I was really shy. Everybody came from schools in the other boroughs and I was from Manhattan. But I was a little more versed in computers, so I ended up helping other students. That's when I started to gain my confidence. I started to think like a leader when I started to show people how to do things.
The video games we designed always involved social justice issues. We created a machinima called Discovered and it was about a girl in Mexico being trafficked to the US. I played the voice of the main character named Thalia who gets trafficked. We presented it at Emoti-con!, an event where youth can showcase their game projects. It's on YouTube and we had many page views.
There's a program at Global Kids called Playing for Keeps. It was awesome, awesome, awesome, because we got to meet game designers, interview them and ask them, "How did you become a game designer?"
I did a lot of video game design work at Global Kids, but then I got interested in other programs there. For instance, I participated in the Global Kids Annual Youth Conference. After going to one conference, I got invited to work on it the next year. I created a workshop and I also emceed the event. The topic of that conference was children's rights. So, we made a skit about children's rights and for a prop we made a box of cereal called "Rights Crispies." We talked about the Convention on the Rights of the Child (CRC) and the Universal Declaration of Human Rights. Each workshop addressed a different article or different issue. The workshop I made was an overview of the whole CRC.
In your senior year at Global Kids, they help you apply to college. They have workshops that direct you toward scholarships. I had letters of recommendation from some Global Kids staff members, and they helped look over my essays. I won a full scholarship to Parsons through a scholarship called QuestBridge.
The way Global Kids has still influenced me today is I try to bring game design to youth as much as possible. I work with a company called Win to Learn, Inc. where we teach kids game design and programming. It's really important to us for kids to have games as a part of their curriculum.
Even before going to Global Kids I knew I wanted to be a game designer. I would tell people that I wanted to make games to make people happy, but I didn't know what that necessarily meant. When I got to Global Kids, I understood that I wanted to help people. That's a good way of making them happy.