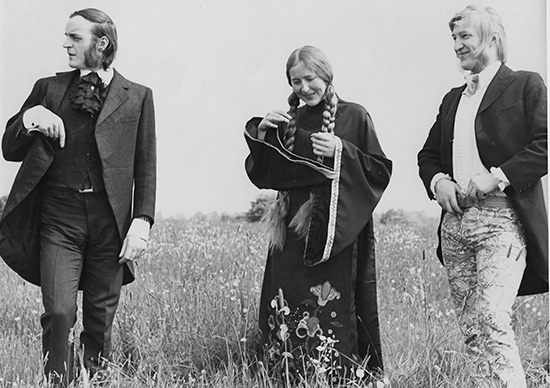 Startling news from the world of English folk: a new album by the superstar' 60s singing group The Young Tradition. It's startling not because they don't deserve to be active, but because two of the group's three members are long dead. Luckily, we can hear them again thanks to these excellent concert recordings made by Steve Mayer. Entitled Oberlin 1968 (three guesses why), the album records an almost-complete concert set of twenty-five songs from English and American folk tradition. They include hair-raising murder ballads ("The 'Prentice Boy"), sail-raising sea chanteys ("Hanging Johnny"), soul-raising hymns ("Idumea"), and eyebrow-raising comic songs ("The Oyster Girl"). All are superb, and the set shows what an impressive and polished group they were at such a young age. Three-part harmonies on songs like "The Innocent Hare" and "The Banks of Claudy" are beautiful, but the times when they drop to two parts for a verse or two, as on "Knight William and the Shepherd's Daughter," are sublime. There are a few spots, such as the choruses of "Byker Hill," where the volume put the recording levels in the red, but mostly it's remarkably clear and listenable for its circumstances and its age. (It also begins in mid-song, presumably at the moment Mayer pressed "record," which is slightly weird.) Notes by Leslie Berman and the band's surviving member, Heather Wood, provide context and background on the songs and the band. Everyone on the scene wishes Peter Bellamy and Royston Wood were still alive, and this album makes us miss them (and treasure Heather) even more.
The Young Tradition's studio version of "Byker Hill"
John Kirkpatrick, a singer and squeezebox virtuoso, is another of the tasteful and talented exponents of English music to emerge from the 1960s revival. He has alternated in his career between folk-rock projects with Morris On, Steeleye Span and the John Kirkpatrick Band, and more acoustic and traditional fare; he was the musician who popped by on the BBC TV Show Victorian Farm to sing and play accordions for the family. His latest solo disc, Every Mortal Place, will appeal to fans of that show, since it's acoustic, and focuses on the rural folk music of his adopted home county of Shropshire. It uses only voices, concertinas, and button accordions, but a wide variety of these instruments gives tunes like "The Great Eastern Polka" and "The What D'ye Call It" extra lift and verve. The songs range from serious carols such as "The Leaves of Life" and "While Shepherds Watched" to ritual and ceremonial songs like "Soul, Soul", and from serious ballads like "Lord Randall" to amusing pieces like "Father Fox." Folk revival standards such as "John Barleycorn" rub shoulders with unusual pieces like "Tommy Suet's Ball" and "The Pompalarie Jig." Whether a chestnut or a novelty, each song is given in a version I've never heard before, and with a meticulous new arrangement that makes it shine.
John Kirkpatrick's "The Packman's Staff"
Fledg'ling Records has also issued The Complete John Kirkpatrick Band, a double-disc package containing all of said group's recordings. It's a shame this band wasn't wildly successful on the festival circuit, because they had a rare combination of chops and broad-based vision, and a deeper grounding in rural folk styles, than most groups in the English folk-rock world. In general, it's tempting to shorthand the band's sound as "Morris On on wheels," which was one of Kirkpatrick's own descriptions, but actually they had more diversity than most of the Morris On projects. They had some of Brass Monkey's quirky charm; one arrangement features mandolin, recorder, tuba, button accordion, and drums. Meanwhile, the presence of woodwinds, as well as guitarist Graeme Taylor's previous experience with Gryphon, allows for a touch of early-music stateliness here and there. Alas, not many people turned up to gigs, and so the band only lasted a few years in the mid-'90s... but they did record a live album, a studio album, and a single track for a compilation, which all appear here. The set is highly recommended for anyone who enjoys Kirkpatrick's work with bigger-name acts such as Steeleye Span, Richard Thompson and The Albion Band. The live album, Force of Habit, was recorded in 1995; it's a set that was intended to highlight some of the unreleased gems of Kirkpatrick's already impressive career, and therefore features everything from tunes he played for Shropshire morris dancers to material he played with Richard Thompson and Steeleye Span, to songs he wrote for theater productions. The studio album, Welcome to Hell, is a more cohesive project, but also contains a wide variety of material, from a mock sea chantey about a beautiful mechanic named Rosie to the hot jazz number "Accordion Joe," and from Kirkpatrick's title song (inspired by the Gary Larson cartoon) to traditional tunes and ballads. Kirkpatrick's sleeve notes are a fun read, especially since he compulsively confesses to every flaw on the recording that you never would have noticed otherwise!
Sadly, I didn't know much about the The Owl Service until they were gone on an "indefinite hiatus." A collective of young English folk-rock musicians founded in 2006, they released two albums and seven EPs, some in several versions. The last, 2012's Garland Sessions, is a remixed, expanded, partially re-recorded version of their first album, A Garland of Song... making it part debut, part swansong. It wears its influences in the 1960s revival on its sleeve; the opening riffs are an unmistakable reference to Fairport Convention's Liege and Lief, while the first lyrics pay homage to The Watersons. In the traditional repertoire, there are references to A.L. Lloyd (again, "The Two Magicians"), Nic Jones ("The Flanders Shore"), and Pentangle ("Lyke-Wake Dirge"), but the band does a good job of reimagining the material. Of the folksongs, "A Child's Calendar" stands out as the most original contribution, but sweet versions of "The Rolling of the Stones," "Turpin Hero," and even the over-covered "Robin Hood and the Pedlar" are enjoyable listening too. The original songs have a compelling, puzzling weirdness: is "The Apple Tree Man" about a supernatural creature from a Charles de Lint story? Is "The Bear Ghost" really about a ghostly grizzly? The arrangements, in the acid-folk vein, mix 60s psychedelic glockenspiel-and-sitar fare with guitar feedback and industrial noise. It can be rough, and it sounds more like a compilation than a cohesive band album, but it's interesting listening from beginning to end. Which makes me happy to report on a rumor that The Owl Service will return to performing and recording soon -- I'll be keeping my ears open!
The Owl Service's fuzzy take on "Robin Hood and the Pedlar"
Related
Popular in the Community