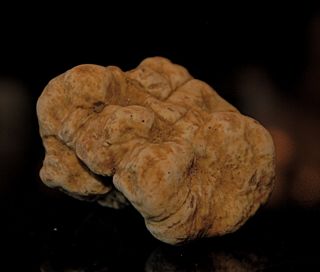 One of the benefits of being the daughter-in-law of Victor and Marcella Hazan is that while at their table I have been exposed to an amazing variety of fabulous wines and exotic foods. Although Marcella continues to cook every day and I enjoy eating with them anytime, late fall is my favorite time of year. December includes the holiday celebrations as well as their only child, cookbook author Giuliano Hazan's birthday.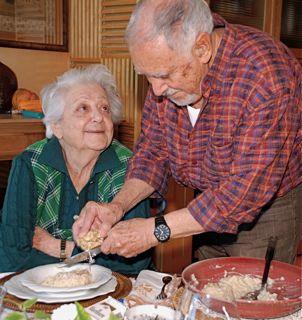 Last week, we celebrated Giuliano's birthday at their house with a gastronomic extravaganza. What Victor called, "a once casual country lunch", is now, due to its expense, saved for only the most special of occasions. Late fall, when the weather turns cold, is the perfect time for white truffle. If you've never experienced a white truffle, it is more aroma than flavor. It literally perfumes the food. Truffles are not mushrooms as generally thought, but tubers. They grow symbiotically with oak, hazel, poplar, and beachwood trees and typically ripen late in autumn. In Italy, you can find both black and white truffles. Black truffles are fairly plentiful in northern and central Italy and are marvelous, but it is the rarer white truffle from Alba that is the aristocrat, much more intensely perfumed than the black and, unfortunately, also much more expensive. The record price in 2007 for a 3.3 lb truffle was $330,000. It's because, like diamonds, the price increases exponentially the larger they are.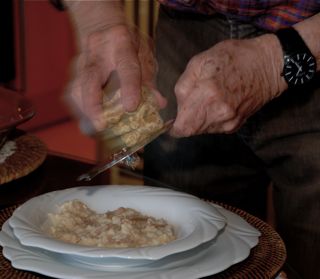 Usually, truffles are prepared very simply. They are shaved over sunny side up eggs, homemade egg pasta, or on veal scalloppine. In the peak of white truffle season, in Piedmont, truffles are sometimes added to every course. One of the most decadent ways to serve them is in a "tortino": thinly sliced boiled potatoes layered with generous shavings of white truffle and a sprinkling of Parmigiano Reggiano. My father-in-law says that although he would not want to eat caviar every day he would have no trouble having truffles every day. Some people believe that truffles were the manna sent to the Israelites through Moses as they traveled through the desert for forty years. My children have no problem eating that kind of manna.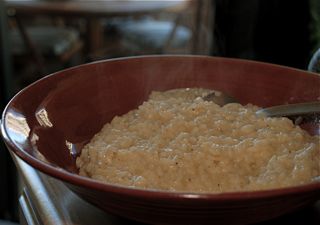 For our celebratory meal we had risotto alla Parmigiana with shaved white truffle. There was a little bit of truffle left over which Victor graciously thinly sliced over toast which had been smothered with excellent butter. We then had a salad of punterelle, the young shoots of the chicory that has a taste vaguely reminiscent of Belgian endive. And for dessert, a variety of Gardini chocolates. Although there are some who feel that there aren't many wines to go with white truffle, the 1998 Barbaresco Giacosa that we drank with the meal was extraordinary.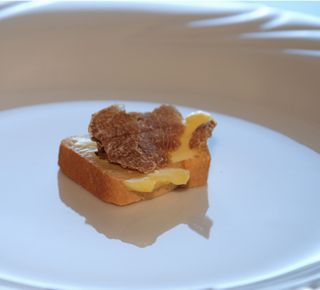 The memory of that meal continues to linger. It certainly was a magnificent way to celebrate, and I wish all of you an equally flavorful holiday season.
I wonder if I'll be able to last until next year?
White Truffles Tortino with Potatoes and Parmesan
10 to 12 ounces boiling potatoes
5 tablespoons butter
An oven-to-table gratin dish made of porcelain or earthenware, about 11/2 to 2 inches deep and 5 to 6 inches in diameter
Salt
Black pepper in a grinder
2 or more ounces fresh whole white truffle, brushed and clean of all surface and embedded grit
3 ounces parmigiano-reggiano (Parmesan), shaved into thin strips with a peeler or vegetable slicing tool.
1. Wash the potatoes, cover, and boil them in their skins.
2. Turn on the oven to 450.
3. When the potatoes are done, drain them and, as soon as you are able to handle them, peel them. Allow them to cool completely, then slice them into thin rounds.
4. Smear the bottom of the gratin dish with 1 tablespoon of butter, then cover with a layer of potato slices sprinkled with salt and grindings of pepper. Using a truffle slicer or; if you don't have one, a peeler or other vegetable slicing tool, slice enough white truffle-very thin-to cover the potatoes. Top with a layer of Parmesan livers, then dot with butter. Repeat the procedure, layering all ingredients in the same sequence, until you have used them all. Top with Parmesan and dots of butter.
5. Bake in the uppermost level of the preheated oven for 10 to 15 minutes, until the Parmesan melts and forms a light crust. Allow the heat of the dish to subside before serving. Serve with slices of crusty, country-style bread.