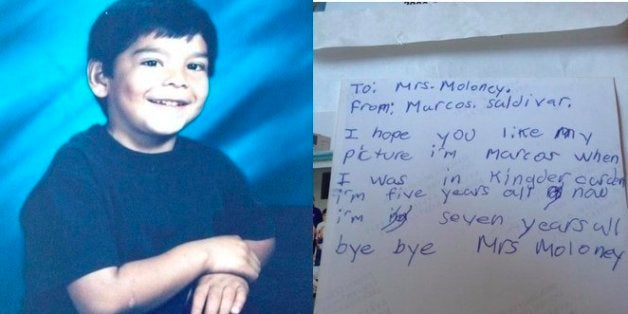 I rejoiced at the news that my first-grade teacher was named Teacher of the Year in Huntington Beach, CA, because no one deserves it more than Mrs. Wood Maloney. So, when she asked if I would write a letter of recommendation as she competed for Orange County's Teacher of the Year, I immediately said "Yes!" And in doing so, I knew I had to launch the #HPHeartsTeachers campaign.
I did this because we often hear stories about violence, dysfunction and everything that is wrong with our education system. While it's important to expose negative stories in order to effect change, it's equally important to recognize the unsung heroes who are already working to effect positive change in our education system. So, in honor of National Teacher Appreciation Day, this campaign is for all the Mrs. Wood Maloney's in our country.
To The Orange County Teacher of the Year Selection Committee:

Isaac Newton's First Law of Motion is that "an object in motion stays in motion with the same speed and in the same direction unless acted on by an external force." This law of nature holds just as strongly when it comes to the immense influence that our public educators can have in guiding disadvantaged students in the right direction. This is why I am very pleased to highly recommend Lisa Wood Moloney for Orange County's Teacher of the Year.

My name is Marcos Saldivar and I am a first-generation college student and graduate of the University of Southern California. I am currently working in New York City as an Associate Editor to Arianna Huffington, President and Editor-in-Chief of The Huffington Post. In this capacity, I routinely encounter very lucky people with elite backgrounds and educations. I know that in this environment, I am the exception, not the rule. I think that Lisa was one of the external forces that pushed me onto this trajectory.

I first met Lisa -- I knew her as Ms. Wood -- when I was a 6-year-old first grader at Kettler Elementary School in Huntington Beach. I was part of an atypical bilingual class, taught by a woman who hailed from England, and designed for native Spanish-speaking students in first, second and third grade. Though I was one of the younger students and did not have the highest level of proficiency in English, Lisa will attest that I kept up with my older classmates. When Lisa reconnected with me on Facebook 15 years later, she still remembered me -- the "happy, but determined, tiny little first grader." Lisa was one of the first people to recognize my hard work and devotion to my education.

My parents spoke limited English, and Lisa's ability to communicate with them in Spanish was integral in helping them stay involved in my education in the best way they could given that neither of them had the opportunity to finish middle school. I firmly believe that without Lisa, the negative education statistics that plague Latino communities would have become my sobering reality. Instead, Lisa was one of the first people who recognized my potential and instilled in me a passion for learning -- whether history, language arts, science, math, music or art -- and she did it in ways that enhanced how I thought creatively, analytically and practically. Her passion for education and for her students extended beyond the confines of her classroom.

One of the greatest qualities that makes Lisa stand out to me is her love for her students. I suffered from bullying as a child, so this compassion benefitted me greatly. Some of the most vivid and traumatizing memories that I have as a child are of being attacked for being effeminate and -- unbeknownst to me at the time -- a gay boy. Being called a joto, or fag, was a common occurrence for me. On one day in particular, I recall a whole mob joined in yelling this slur at me. Lisa's immediate response when I cried to her was to comfort me and instill in me the knowledge that this wasn't my fault, that I was special and that I had nothing to apologize for. Although some of these boys were my classmates, Lisa saw to it that I was never again attacked by them at school -- and most certainly not in her class. She always made sure that her classroom was premised on respect for all students so that it could foster learning and creativity.

I think that very few adults would be able to recount so vividly the influence of their first-grade teacher. Her lesson and her example have followed me up to the present day. I recommend Lisa to you without reservation because her skills as an educator and mentor are exceptional and exactly what our education system needs to effect positive change. If you have any further questions concerning my experience with Lisa, I would be delighted to speak with you.

Warmly,

Marcos J. Saldivar


Become part of the conversation and tell us about your own favorite teacher using the hashtag #HPHeartsTeachers on Twitter and Facebook.
Calling all HuffPost superfans!
Sign up for membership to become a founding member and help shape HuffPost's next chapter