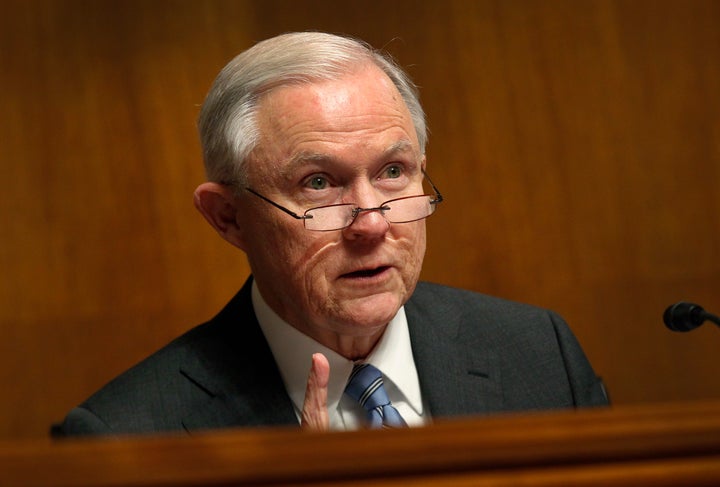 For those who care about the attainment of equal justice under the law, the appointment of Jeff Sessions as Attorney General is a disaster. Sessions' racism and xenophobia, and his well-documented contempt for the LGBTQ community, make clear his intent to pull American criminal justice back to a time when white straight male privilege ruled unchecked.
Sessions first began wielding influence over Trump before he ever donned the Make America Great Again cap and appeared with him on the stump. Sessions endorsed Trump while most other Republicans were running for cover. He showed the kind of loyalty that Trump covets, and in return, earned a blank check to run the Justice Department. With his appointment as Attorney General, Sessions not only became a member of Trump's Cabinet, but also the nation's chief law enforcement officer. That's right: the guy whose well-documented contempt for voting rights, sanctuary cities and the fundamental rights of the LGBTQ community is calling the shots on broad criminal justice policy.
As an American, I am worried. But as a former prosecutor, I know there are concrete steps we can take to resist.
Prosecutors will need to get creative about how to provide fair and equal justice. They must hire and train teams who can handle cases of police brutality. We have already seen Sessions abandon his duty to provide oversight of law enforcement. As a prosecutor, I worked with plenty of great cops, the majority of which are decent and honest people trying to make a difference. Unfortunately, I know that as in any large organization, there are some that abuse their power. In these instances, it is important that the nation's top lawyer understand his duty to provide oversight.
I understand this because I have worked for police oversight throughout my career. Last year I prosecuted Peter Liang, a NYPD officer that killed an unarmed man in Brooklyn housing project. There was a lot of political pressure on us to stop prosecution, but I wanted to show that a badge is not a shield from being held accountable. We won a conviction, but in the end, the DA's office caved to political pressure and recommended a sentence for Mr. Liang that did not include jail time. It was frustrating. I argued for a sentence containing jail time but external public pressure was not enough. If you care about changing how we hold police accountable, organize your community and push your DA to get serious about sentencing in cases of police misconduct.
As a gay man, I am troubled by Sessions' plans for Civil Rights. I was head of the Civil Rights Bureau in Brooklyn and took great pride in protecting the rights of communities that this administration now puts in danger. Again, local prosecutors must provide leadership on this issue because the federal government will not. I have made it a mission throughout my career to be a victim advocate. This work couldn't be more important, especially as we see a national spike in hate crimes. Brooklyn is a progressive and diverse place, but it is not immune from hate crimes. I prosecuted the attackers of Kimball Hartman, a trans woman who was brutally beaten in Brooklyn several years ago. She was clearly attacked because of her identity. I took the case and pressed hard for a conviction. Local prosecutors may shy away from prosecuting these cases because they require a higher standard of evidence.
Now is the time to put pressure on our local District Attorneys to properly investigate hate crimes. In many localities, the idea of a Civil Rights Bureau is new. If your local police force isn't working hard to protect at-risk communities - make some calls, write a letter to the editor – get involved in some way to let them know this is serious. It is hard and honest work and it is important that we stand up to hate crimes and call them what they are.
Prosecutors throughout the nation must immediately do an ethics and values check. They should remind themselves why they became legal advocates in the first place.
We cannot trust this Justice Department to protect us. It's clear that this administration will be either indifferent or hostile to real reform. Local prosecutors must show courage in these tough times. We have a lot of tools available to us to continue the never-ending process of improving the justice system.
Calling all HuffPost superfans!
Sign up for membership to become a founding member and help shape HuffPost's next chapter
BEFORE YOU GO