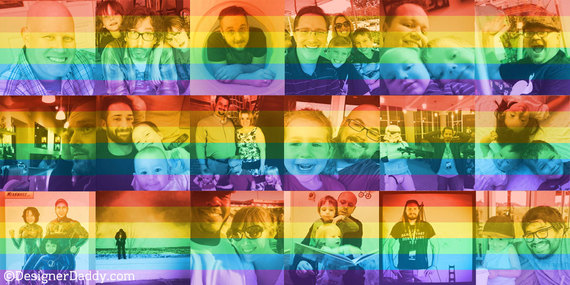 A recent article in the Washington Post repeatedly downplays the significance of 26 million Facebook users changing their profile photos to the colors of the rainbow flag. While I agree that this "slacktivist" gesture alone isn't as meaningful as how individuals live their daily lives, the author's logic is flawed. He accuses the non-LGBT rainbow-bearers of co-opting the symbol of the movement.
"Throughout history, the powerful have taken credit for social progress they did not participate in," the author argues.
By this reasoning, only those who are gay, lesbian, bi or trans can wave the rainbow flag. Taking this a step further, only those who've fought in wars are allowed to wave the American flag.
I understand where the author is coming from. My coming out process was long, painful and deeply personal. Yet seeing the sea of rainbow-colored profile photos is -- if nothing else -- a sign that times have truly changed.
The victory of same-sex marriage can (and should) be shared by the entire country. The fight was rooted in equality, so how can we begrudge anyone the right to celebrate right alongside us? This doesn't threaten or belittle my story; it only serves to strengthen and amplify it.
The day before the Post article was published, I wrote on my personal blog, thanking my straight allies for changing their profile photos -- and for so much more. The truth is, the Supreme Court's decision legalizing same-sex marriage couldn't have happened without straight people -- and not just the five justices that voted in favor of it.
. . . . . . . . . . . . . . . . . . . . . . . . . . . . . . . . . . . . . . .
Thank you. Thank you for cheering right alongside us as we in the LGBT community celebrate a new-found, long-overdue measure of equality. Thank you for the endless sea of rainbow-colored photos. Thank you for voting. Thank you for teaching your children (and sometimes your parents) that not every family is the same, yet deserving of the same respect. Thank you for telling them that whether they grow up to love the opposite gender or their own, you will still love them. Thank you for encouraging them to be whoever they were meant to be. Thank you for trying to understand and to learn. Thank you for asking questions, even if you don't always have the right words. Thank you for being fair and equal in your schools, your jobs, your churches, and your neighborhoods. Thank you for defending us in a fight, even when we're not around. Especially when we're not around.
To friends, families, classmates and coworkers: thank you for allowing us the time and space to come out -- to know ourselves and to be seen, heard and known on our own terms. We realize this is a journey for you, too; we will do our best to remember that.
On a more personal note, I count myself lucky that the majority of my family has stuck around since I came out 20 years ago. I love that they love my husband and my son, and their presence in our lives means the world to me.
I also want to voice my thanks to a specific group of straight people -- the fathers I've met since becoming a dad myself. Some of you I've met in real life; countless others I know only virtually. To varying degrees you've been sounding board and shit-caller, muse and motivator, confidante and comrade. You've made me laugh, cry, think, and scream -- sometimes all at once. Thank you for being my friends, my brothers, my family.
More importantly, thank you for doing all you do as you raise your families -- living your lives as fair-minded men. Among you are those with LGBT fathers and mothers, aunts and uncles, in-laws, siblings, children. Some of you live and work alongside many who are LGBT. For some, I was the first gay person you ever interacted with.
Regardless of your experience, that is how the world changes -- people choosing to love and accept those in their everyday lives that have known hatred, rejection and judgment elsewhere. This is how humanity grows, strengthens, and moves on from a history of bigotry and fear. So thank you for being the parents, children, friends that you are -- and in turn, changing the world.
With much love & gratitude,
Brent
Calling all HuffPost superfans!
Sign up for membership to become a founding member and help shape HuffPost's next chapter