For many years, I've heard people say that critics don't matter and awards don't matter. These people think that it is all about social media and word-of-mouth. But I've never bought that. There are some shows that are critic-proof. There are some shows that don't need to a win a Tony Award to succeed. Then there are those shows that need critics, awards or both.
Recently I went to see A Gentleman's Guide to Love and Murder for the first time on Broadway. I had seen it out-of-town, but had not been to see it at the Walter Kerr yet. It was a random Tuesday night and the house was full. I had been reading the weekly grosses, so in theory I knew it would be full. However seeing for yourself is something else. I ran upstairs to see the how full the upper levels were. There was hardly a seat vacant.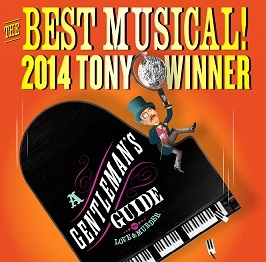 This is what the Tony Award brought to this show. You may remember that Beautiful and Gentleman's Guide were in a pretty close Tony race. My polls weeks before showed Gentleman's Guide ahead, but others felt Beautiful would pull it out. Gentleman's Guide ended up taking it. And it needed it more than Beautiful. Now, voters should not vote for awards based on who would be more appreciative of the award. That is ridiculous. It just so happens in this case, the needier show won.
Beautiful was a runaway hit. After we saw it during previews, my mother said to me while walking out: "I'd see it again." People just like her felt the same way and many folks I know have revisited Beautiful more than once. It recently announced it recouped.
We will never know what fate would have befell Gentleman's Guide had it not won the Tony Award, but I'm pretty sure it would not have been as pleasant. Even with great acclaim and positive word-of-mouth, the show had never been a blockbuster at the box office. Other than holiday weeks, it had trouble achieving 60 percent of its gross potential each week, often falling well below that. Then the nominations hit, offering it a huge boost. Then came the actual Tony Awards -- Gentleman's Guide cleaned up and its grosses went way up. (It has not recouped yet, but, its press agent, Andy Snyder, and I, and I suspect countless others, believe it will.)
The Tony Award propelled the show forward, leading to packed houses, laughing. And that is the other thing -- even word-of-mouth has increased because that show plays better to a full house. There are shows that aren't as dependent on crowd reaction. I've seen Chicago at 100 percent capacity and Chicago at 52 percent capacity and the show played about the same. Gentleman's Guide, being a comedy, is more dependent on crowd reaction. Audience members laugh more when others are laughing. The actors feel the audience and respond to its reaction. Comedies die in an empty house, whether the underlying material is funny or not.
So I am happy Gentleman's Guide won the Tony Award. I didn't care ahead of the big night (unlike the previous year, when I desperately wanted Matilda), but, sitting there with a full house, I was happy for it and the audiences who will leave laughing.
REAL LIFE. REAL NEWS. REAL VOICES.
Help us tell more of the stories that matter from voices that too often remain unheard.