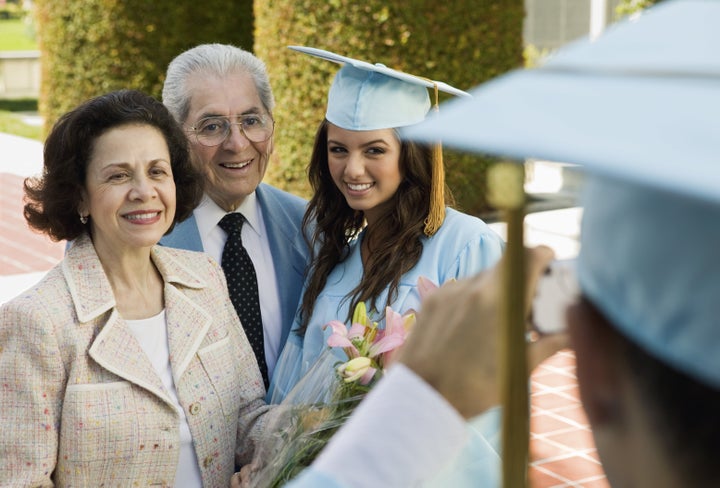 This is the time of year when children, teens and young adults have much to celebrate. They have completed another school year, some are graduating, others are getting married, starting a new career and perhaps moving. Whether it is a preschool or college graduation, every child needs the affirmation and validation from their parents that they are loved and special.
In working with children, teens and young adults whose parents have separated or divorced, I find that many mourn the loss of their family this time of year. Some clients are particularly worried about their end-of-year events; some adolescents have said, "This is my event; I don't want my parents to attend if they can't sit together of if I have to worry that their fighting will embarrass me." Younger children, like the 5-year-old girl I saw this week, fantasize about their parents getting back together. "I close my eyes and pretend that I am at my mommy and daddy's wedding," she said to me.
Certainly, milestones trigger losses for parents too. Unfortunately, rather than taking a step forward, they may react as if they are back in court, fighting over their child like a piece of property. While I empathize with a parents -- it can be difficult to be with your child's other parent who may have hurt and upset you -- it is time to move forward for your child's sake as well as yours. This is much easier said than done. I hope the following tips can help.
1. Think before you act. Think about how you want your child to remember this significant event in his life. How do you want your child to remember your behavior?
2. Consider sitting with your child's other parent at the event. You do not have to like or be friends with your co-parent. Follow rules of civility that you would with anyone else. Be polite, say hello and do not make judgmental statements.
3. Carry a picture of your child with you and at any given moment when you are tempted to "go off" on your co-parent, look at the picture and say to yourself, "I am doing this for you and for our relationship."
4. If your child wants a joint celebration and it is possible to work together with your co-parent, do it. Try to have the event at a public place so that you and your co-parent feel comfortable. Divide tasks to be done and be very specific about what the tasks are and when you each agree to do them.
5. Decide about significant others attending your child's event well before the event. The most important person to please is your child. If your child knows thisis a committed and exclusive relationship, has met and feels comfortable with your significant other, then it may be OK to invite them. However, it is also a celebration for the co-parent, and if this starts a battle or if the significant other relationship began soon after the family transition, be respectful and speak to your co-parent first.
6. Speak to your child directly. What would please him or her? What does he/she need to feel reassured that you and her other parent will "behave"?
One teen called me soon after his graduation last week. "Risa, it worked," he said. "They got along." He was very proud of how he was honest with them and requested cooperative behavior. Please try to do the same for your child.
Popular in the Community