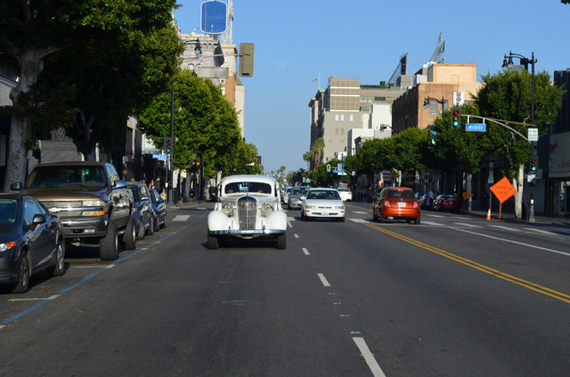 Long before craft brews and premium vodkas, Hollywood's favorite alcohol of choice was gin. Few other cocktails personify the old-world glamor of debonair leading men and sultry screen sirens than the martini, a simple, elegant mix of gin and vermouth with a garnish of olives or lemon twist. It's not the only classic gin cocktail, though. There are also ones such as the Gimlet and the Bee's Knees, just a few of the drinks I recently had the opportunity to sample while on a tour of three legendary Hollywood hot spots with a few other writers and Luke Ford who works for Plymouth Gin. We were shuttled between Musso & Frank, Dominick's and the Sunset Marquis in pristine white old-school vehicles, including a '36 Buick Century, a '37 Studebaker Junior, a '37 Packard Senior, a '62 Rolls-Royce Silver Cloud and my ride -- a $350,000 '27 Packard Presidential limo, which our very dapper-looking chauffeur Doug said was the oldest car officially for hire in the United States.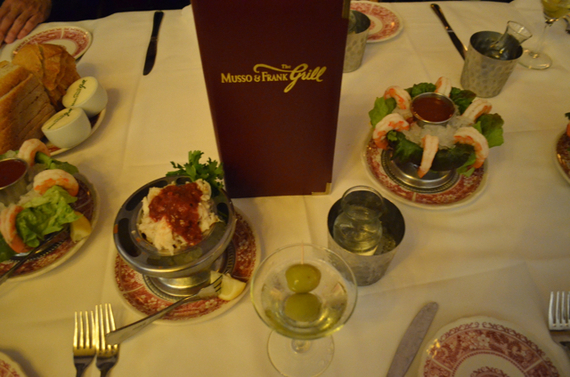 We began at the landmark Musso & Frank, which first opened in 1919 and has been operated by the same family for four generations. Naturally, the drink of choice was a classic martini with a sidecar (not the sidecar cocktail, but rather just a reserve of more martini, not unlike when you get an extra container of milkshake). Assistant General Manager Bobby Caravella discussed the history of the place, including the fact that the "new room" opened 60 years ago in 1955 -- and it's still called that. He talked about how Orson Welles deliberately sat in a booth that was too small for him in order to discourage any would-be starlets or screenwriters from harassing him during lunch. Caravella -- whose personal business card aptly describes him as a "restauranteur" and "raconteur" -- also told us Steve McQueen used to sit in the front booth, claiming it was because he wanted to keep an eye on his motorcycle outside. "I think it was mostly so people could see him," Caravella quipped drily. Several of the employees at Musso & Franks have been there for decades, adding to its classic, familiar vibe. Caravella said people will occasionally ask why the restaurant doesn't clean the murals in the restaurant: "Because that's Clark Gable's cigarette smoke, that's why."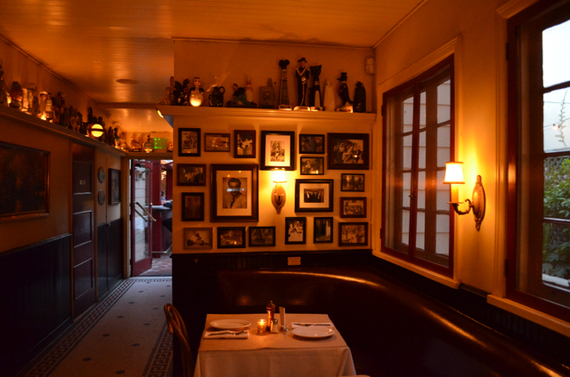 Our next stop was Dominick's, which has been around since 1948. Dominick himself was a cantankerous old Sicilian bartender who fell in with the Rat Pack, and Frank Sinatra became the restaurant's original financier. General Manager Jessica Schmidt told us everyone used to enter through the kitchen in the back. "If you ever came through the front door, they'd immediately kick you out, she said. "It meant you didn't know anybody." Dominick served drinks as his wife Peggy cooked food like steak and pork chops, and the couple's niece served the dishes. Elvis Presley evidently signed all his movie contracts there, and people such as Natalie Wood and Jack Lemmon were also regulars. At Dominick's, we sipped White Negronis, pink gin and Bee's Knees cocktails. Ford said the Bee's Knees was invented during the Prohibition Era to mask the taste of low-quality bathtub gin that had stuff like turpentine in it. (Thankfully, gin quality has come a long way since then.) Pink Gin, meanwhile, came about because of the invention of Angostura Bitters, a popular trading medicine known as a cure-all in the mid 19th century.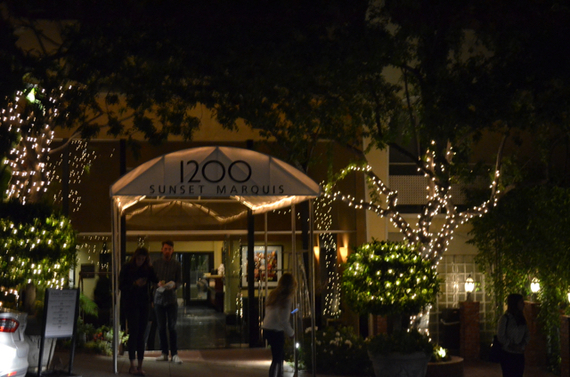 Finally, we ended our Old Hollywood-through-gin-goggles tour at the Sunset Marquis, built by George Rosenthal. Rosenthal is the same man behind the Playboy Club, which he constructed after hitting up Hugh Hefner and Jimmy Hoffa for funding before finding the means to build it himself, and he built the Sunset Marquis as accommodations for people visiting the club. The family still owns the Sunset Marquis, along with other properties such as the Rosenthal Winery and Raleigh Studios. Underneath the entry of the hotel is the NightBird Recording Studio owned by Jed Leiber, son of Jerry Stoller, one-half of the Leiber and Stoller songwriting team who famously wrote songs for the likes of Elvis Presley. The bar itself has a dark, laid-back, rock-and-roll vibe with archival photographic prints of musicians from the Morrison Hotel Gallery, also located inside the Sunset Marquis. There's even a book about the hotel by Mark A. Rosenthal and Craig A. Williams called If These Walls Could Rock, with a lot more history about this intriguing gem that otherwise looks like just another apartment building on a residential street. We washed it all down with gimlets and the French 75, in honor Tony Curtis. He was a frequent regular, and that was one of his favorite drinks. We learned that the Gimlet was created to treat sailors with scurvy, and that it was named after a short, sharp knife that was used to open up barrels. We also discovered that the French 45 was developed at the New York Bar in Paris. It was brought over by WWI pilots and named after the French 75mm cannon, owing to its easy taste going down and its resulting, unexpected kick.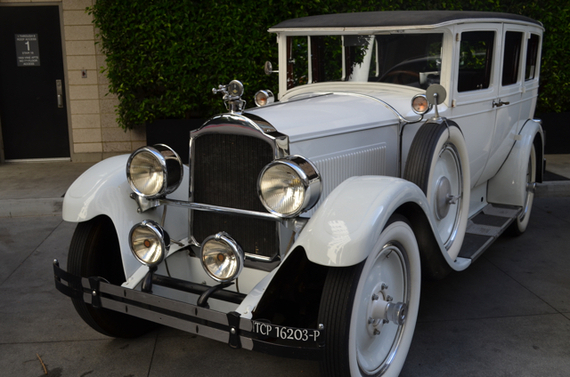 In the end, our fully-immersive crash-course was not just a history of gin and its cocktails, but also a history of a trio of lovely old-school L.A. venues themselves, and in a city where so many historic places have been systematically torn down, it's a rare treat to still be able to visit a few spots where it feels just like you're stepping back in time. Oddly enough, it felt like pairing gin cocktails with a history lesson of each establishment was almost more natural than pairing a meal with a fine wine.
All photos by Tanja M. Laden.