A year ago, Elise Beauchemin, a 12-year-old New Hampshire ballet student, emerged from a performance of Boston Ballet's The Nutcracker with tears in her eyes.

"I'll never be a ballerina," she told her mother. "I'm too small."

A year later, that same Elise Beauchemin, now 13 and a student in the Boston Ballet School, was chosen out of hundreds of dancers to appear as Clara in 14 performances of Boston Ballet's The Nutcracker, at the Boston Opera House through December 31.

"I feel like God opened a door and we're just stepping through it," says her mother, Carol Beauchemin.
For the Beauchemin family, it's more than just a dream come true--it's an exercise in complex family logistics.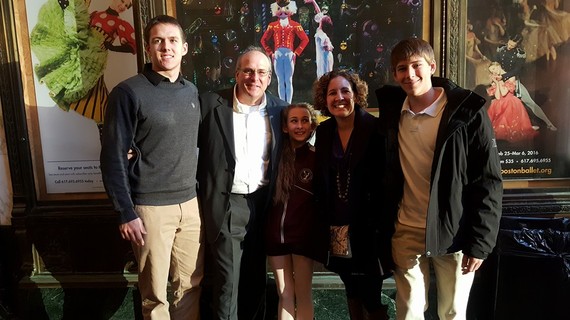 "We live in New Hampshire," Carol says. "I had to take an apartment down here in Boston until June because we couldn't possibly commute back and forth. The cost of living down here is crazy. Safety-wise, we just had to get a feel for walking the streets, but we're in a pretty safe area and we feel good about the whole thing. We're both pretty excited."

Elise had always dreamt of being a professional dancer and had taken classes for years in her community. Carol emphasizes that this whole experience was her daughter's idea, not her own.

"I'm not some crazy dance-mom coaching my kid!" Carol laughs. "Elise is the motivator behind this. But I'm supporting her and I'm her number one cheerleader. I'm that way for all my kids, whatever their dreams are."

Carol committed to doing everything she could to keep the dream moving forward.

What's it like to see your daughter onstage for the first time with a professional company?

"I get teary," Carol admits. "I'm teary now, as I think about all the blessings. It overwhelms me with emotions. She's beautiful on the outside and she's beautiful on the inside.

"I can't even believe that my little girl is onstage with the Boston Ballet. She's dancing with principal ballerinas who are so kind and generous to her, and so encouraging to her.

"It's like, 'Holy smokes, girl! You just turned thirteen and these amazing people are in your life, and they know your name and they're talking to you, and they're giving you pointers.' It's just amazing."

Carol says that the cost of buying tickets to all 14 of her daughter's performances would be prohibitive, so she is volunteering in the gift shop, box office and even as the on-stage bunny so that she can travel the journey alongside her daughter.

"We're enjoying the journey together and having fun and keeping it light," Carol says.

As for schooling, Elise is homeschooling for the time being, at least through the end of this school year.

The whole thing has an other-worldly feeling for Carol.

"The other morning," she says, "I woke up and thought, 'I'm here in Boston in this apartment. I feel like I'm in college again! What am I doing here?'

"And as Elise opened her eyes, I just said to her, 'Honey, is this what you really want? Are you really happy?'

"And she said, 'Mom, this is amazing. Without a doubt, yes. I want to be a principal ballerina someday.'"

Where does it go from here?

"She'll take it as far as she wants," Carol says. "She's driving this. As doors open, she'll keep stepping through them. We'll just trust God and let him keep opening doors.

"My parents came through the Depression, and their attitude is, you have to have an education. Elise isn't so sure she wants to go to college right now. She wants to live the ballerina life. She can do both at Northeastern, but that's still a few years from now. I'm just staying in today.

"We're both just trying to enjoy the journey, wherever it goes. It's all a blessing. If it ends tomorrow, it's okay. It has already been a great thing for her. She will find joy in whatever comes her way in life. That's just who she is."
The Boston Ballet's Nutcracker takes place now through December 31st at the Boston Opera House. For further information, visit www.BostonBallet.org.
REAL LIFE. REAL NEWS. REAL VOICES.
Help us tell more of the stories that matter from voices that too often remain unheard.