The 10th Anniversary of the Massachusetts Conference for Women celebrated those whose work creates positive change and empowers women and young girls. Women came together for personal and professional growth--to connect, inspire and build skills in leadership, healthcare, managing transitions, finding life balance and personal finance. At 10.000+ participants strong, this is the largest conference of its kind in the country, perhaps even the world.
This conference devotes itself to educating women about how to lead--by showcasing the unique journeys of talented leaders from around the country. It is about how these (mostly) women transformed businesses, teams and bottom line - and the impact that has had on their careers, organizations and the lives of others. Using their first-hand experiences speakers and participants explored how integrity, humility, transparency, flexibility, and collaboration were vital attributes to becoming a transformational leader.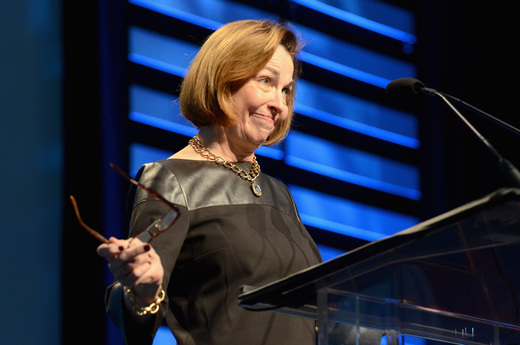 The boundless energy of Gloria Cordes Larson, President of Bentley University, MA Conference for Women board president, and pioneer in the Boston Community spoke volumes about her commitment to the advancement to women and leadership. She has been blazing the trail at the women's conference since its inception.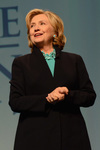 Hillary Rodham Clinton, the rock star at this year's conference began her keynote by acknowledging the pain and frustration that so many of us are feeling about our criminal justice system. She asked, "Aren't these our sons? Aren't these our brothers?" Each of us must try even harder to see the world through our neighbors' eyes--to imagine what it is like to walk in their shoes--to share their pain, their hopes, their dreams. These our our streets, our children, our fellow Americans, and our grief."
Electric energy ignited the auditorium as Hillary remarked that; "We are all leaders.Pick a problem and find the solution...We cannot rest until everyone has the opportunity to flourish...Talent is everywhere but opportunity is not." Our charge is to unlock the potential in each other, for together we are stronger and better. We need each other to achieve our goals and to feel safe.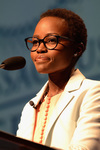 Academy award-winning actress for her performance in "12 Years a Slave" and Yale graduate Lupita Nyong'o spoke eloquently about her dream to pursue her passion in acting. Lupita's path seemed unimaginable for a girl growing up in Kenya. Each step of the way she dared to risk failure and ridicule and kept moving forward. Lupita urged us to share our dreams out loud, for this is how they become real. "Our dreams arise deep within our imaginations and deep within...The more we fail, the more liberated we become from the 'shackles of the ego.' As we tap into our inner child we can find joy and let go of our defenses and become real...The solution is not running from fear but carrying on in the face of it...You can fear failure and you can fear success." Teary eyed Lupita ended by saying, "Going for your dreams is hard and never gets comfortable, but it gets familiar, and you carry on because you care."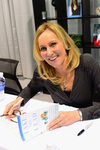 Betsy Myers founding director of Bentley's Center for Women and Business speaks globally about the changing nature of leadership. Her mission is to enable all women to realize their leadership potential. Myers is the author of "Take the Lead: Motivate, Inspire, and Bring Out the Best in Yourself and Everyone Around You." Myer's work with the Clinton and Obama administration revolved around helping and promoting women in their leadership endeavors. She continues to advocate for women at Bentley. Myers said that, "Leadership is about a melding together of the head and the heart. Men and women must partner up to promote parity in leadership and compensation. Leadership creates a feeling within us that makes us feel noticed and deeply valued. We need to engage in self-knowledge, in self-awareness, and be strategic about how we "show up" in our organizations, businesses, and communities."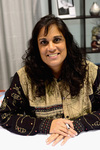 Ritu Sharma is co-founder and president of Women Thrive Worldwide, a leading voice on women's issues in U.S. foreign policy and author of the acclaimed book, "Teach a Woman to Fish." Her work is about how women are triumphing over the forces that threaten to keep them in poverty, and how those in the United States and elsewhere can and must help. She made two strong recommendations: 1.Whenever possible buy food and products with fair trade labels as this ensure that women are being paid fairly. You might pay fifty cents more for a chocolate bar--but it will definitely taste better! 2. When you purchase clothing or household goods, ask if the store has a "sweat shop policy.' Ritu's book provides scripts that detail how to best go about delivering this question.
Ritu also suggested that American women need to step into their power on behalf of underserved girls and women around the globe. "Getting involved in these important causes and speaking out for others is a great way to use your voice and then apply this strength in the workplace when it will feel less risky. Somehow claiming your power for others first paves the way for claiming it for yourself in all aspects of one's life."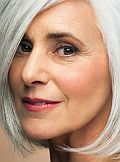 Elissa Campbell, named by People Magazine's as "Most Beautiful Real Woman Over 50" sees herself as a catalyst for changing the ways in which women of all ages are projected and perceived in the media, marketing, advertising, work and our daily lives. "We need to see images of real women, living real lives, in real time! It is the substance within a product or a person that provides true beauty and lasting power."
John Gray, relationship expert and best-selling author of Men Are from Mars, Women Are from Venus spoke about his new book, The 8 Blind Spots between Men and Women in Business. John's focus is helping to create a world where men and women understand, respect, appreciate, and work together.
Loretta LaRoche, stress management consultant and comedian, brought her unique approach, using humor as a coping mechanism. She got us to breathe deeply through tears of laughter--making us all feel more alive, present and connected.
The collective consciousness of the participants and speakers at this inspiring conference was that, ultimately we are all connected and everything is possible if we come together and assume our birthright as leaders and choose to make a difference for the greater good of all.
Photo credit to Lisa Lake/Getty Images
Related
Popular in the Community