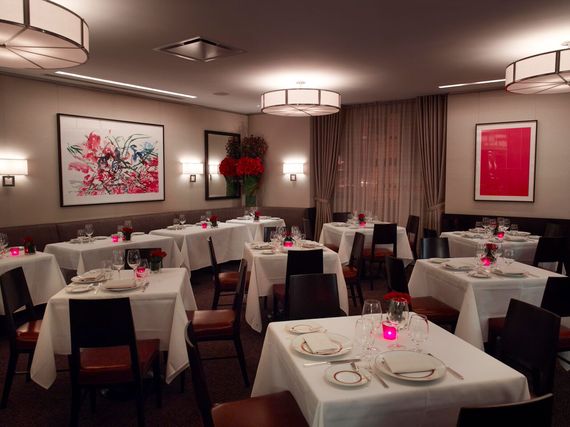 Daniel Boulud has not been the first master chef to trade his prior principles for a huge profit. Once he swore he would never have a restaurant in Las Vegas, and now he does (an earlier entry failed); he said he needed to be in his kitchens to guarantee the level of excellence he demanded, but now he runs sixteen restaurants on three continents, including seven in NYC, so that's a tough commitment. I assign no blame; it's become what celebrity chefs do.
Like his French colleagues Guy Savoy (with seven), Joël Robuchon (24!), Alain Ducasse (25!!), and Jean-Georges Vongerichten (30!!!), Boulud no longer pretends to keep his finger in every pot, even infrequently. Nor are his restaurants all carbon copies of each other, ranging from his deluxe namesake NYC flagship to his Épicerie pastry shop and charcuterie-driven Bar Boulud. The quality of these units varies, of course--many are little more than management contracts--but of those I've dined at, the quality, overall, remains at an admirable level.
Café Boulud was Boulud's second restaurant in NYC, after moving Restaurant Daniel from East 76th Street to much larger quarters on East 65th Street. From the start Café Boulud was to be somewhat more casual than Daniel, though its Upper East Side regulars tend to dress well to dine at the Café, and the service staff is first class, from the suave manager, Sherif Mbodji, to the highly affable sommelier, Eduoard Bourgeois, previously at Hôtel de Crillon's Restaurant Les Ambassadeurs in Paris, Château Les Crayères in Reims, and Restaurant Daniel.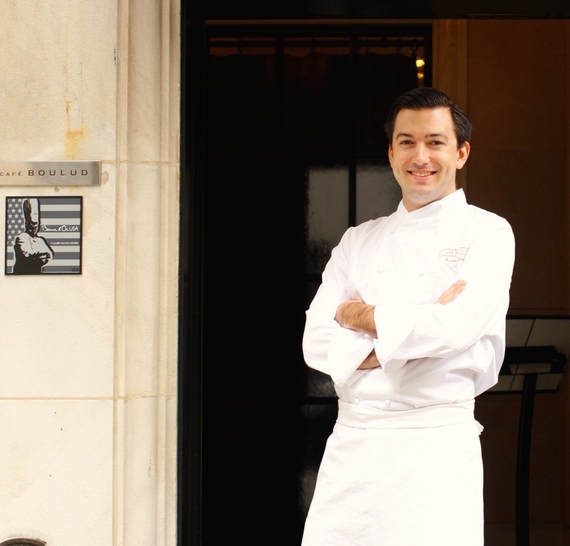 Café Boulud's menus have long been "inspired by Daniel Boulud's four culinary muses: la tradition, classic French cuisine; la saison, seasonal delicacies; le potager, the vegetable garden; and le voyage, flavors of world cuisines," all executed by Executive Chef Aaron Bludorn (above) at breakfast, lunch and dinner seven days a week. It's a daunting undertaking but on any given night the place is doing turnovers of seatings until ten o'clock.
The wine list is impressively international, with some excellent moderately priced choices on up through some of the most expensive bottlings in the world, with 35 wines by the glass, kept fresh via the Cravin system.
Over the years I've tended to slide towards the la tradition and la saison, with occasional choices from the other menus, as anyone might; you need not stay within a category. The prices are à la carte at dinner, but at lunch you may opt for two courses for $39 or three for $45.
My recent night dinner allowed for a bit of lagniappe on Chef Bludhorn's part, which included a barely coddled egg with shavings of white truffles, with which there is no more perfect match than a fine Champagne, in this case Charles Heidsieck.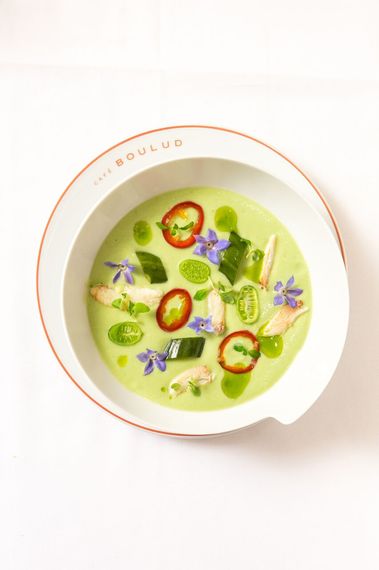 The foie gras dishes here--offered both seared with hazelnut, quince, parsnip brioche, and vanilla ($29), or as a roulade with mustard and "hidden rose apple" ($26)--are always among the most dependably delicious choices, but a dish of plump panzerôti pasta came with a drab tomato sauce that seemed more ratatouille than Italian. Maine peekytoe crab became a fad item a decade or so ago and I for one wonder why: The shreds of meat have very little flavor, and combining with green apple, yuzu, crème fraîche and hackleback caviar ($29) did nothing but make it taste salty.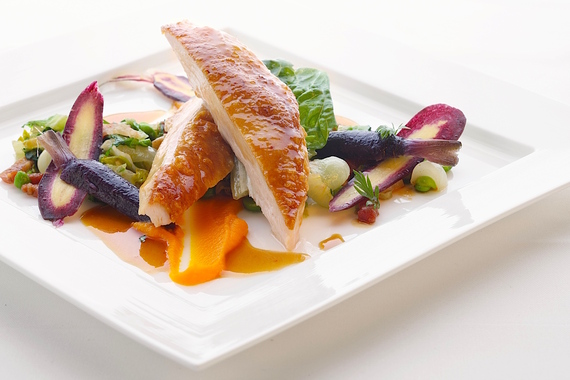 This being the start of game season, New Zealand venison with sausage, sweet potato, Swiss chard, Seckel pear, pecan crumble and red wine jus ($46) was very appealing, and I also loved a roast breast of pheasant that was a special that evening. Poulet aux chataîgnes with chestnut pasta, braised leg ragȏut, salsify and jus de volaille ($39) was a superb example of what happens when you take a first-quality chicken and cook it to perfect succulence and add autumnal notes.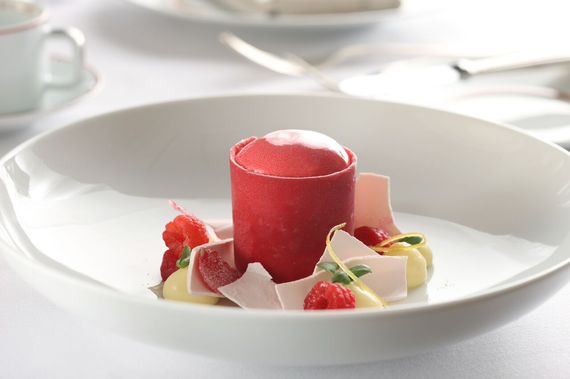 In the same seasonal style, Pastry Chef Ashley Brauze brought a "Caramelia blackout" biscuit with pecan bavarois, caramel popcorn and dark chocolate ice cream ($15), a coffee délice with coffee mousse, espresso granité, cocoa nib and condensed milk ice cream ($15), and, from the le voyage section, a marvelous cardamom-scented kulfi pistachio cake with pomegranate coulis ($15). Mont Blanc vacherin with Mandarin orange sorbet, Cognac cream, cinnamon meringue and chestnut ice cream ($15) was lighter than one might imagine and thoroughly refreshing at meal's end.
The dining room itself is a stunning example of NYC sophistication, adorned in colors of cream and dark brown and perfectly lighted from above, with added color from artwork and sprays of flowers.
Café Boulud is one of those restaurants whose consistency seems not just a product of having been around long enough to make things go smoothly, but, with an ever-changing menu and dependence on the seasons, it is the result of everyone there caring, starting with the man whose name is on the door.
Breakfast daily, lunch Mon.-Sat., dinner nightly, brunch Sun.
CAFÉ BOULUD
20 E 76th Street (off Madison Avenue)
212-772-2600
cafeboulud.com