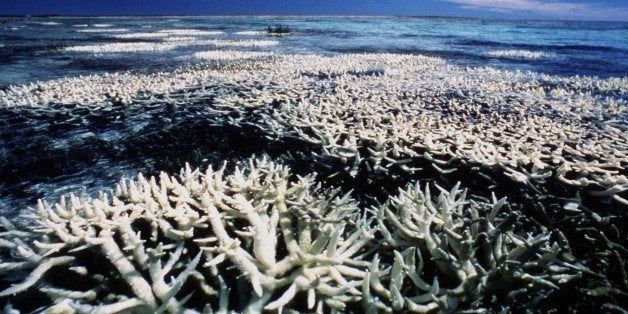 After centuries of exploration, we are yet to fully understand the vastness of the ocean space. We have better maps of the surface of Mars than we do of the ocean floor.
Just a generation ago, we believed the infinite oceans would simply take all we threw at them -- pollution, waste, overfishing. But we can no longer take the world's largest ecosystem for granted. Many marine and coastal zones are on the brink. Around 30-35% of critical marine habitats have been overused or destroyed and ocean dead zones are expanding. In April, researchers reported that almost all of the Great Barrier Reef has suffered coral bleaching due to record warming, exacerbated by burning fossil fuels.
With the current unsustainable trajectory, most of the world's fisheries could have collapsed beyond recovery by the middle of the century and there will be more plastic in oceans than fish by weight in 2050 according to new research. However many of the drivers of ocean decline are reversible and the solutions will lead to greater long-term benefits for everyone.
The ocean economy is growing fast: a recent report from the OECD estimates that the economic output from oceans will outpace global economic growth in the next 15 years. Already today the ocean economy provides livelihoods for more than 10% of the world's population and it is worth $1.5 trillion. Particularly strong growth is expected in aquaculture, offshore renewable energy, fish processing and shipbuilding.
The oceans are key to the future of food production, shipping and renewable energy.
The predicted growth must not come at the expense of the planet or the next generation. We believe a healthy ocean -- and healthy planet -- is every child's birthright. The right institutions, science and technology to succeed are now within our grasp.
Meeting the Protein Challenge
Take the extraordinary growth in aquaculture. In the past two decades, no other food production sector has grown as fast. Today, aquaculture makes a major contribution to human nutrition by providing animal protein consumed in countries like China and Indonesia.
The sustainability of fish farming has come under intense scrutiny due to its use of feed derived from wild fish, destruction of mangrove forests and antibiotic application. However technological breakthroughs are allowing for more sustainable production, which is essential if we are to meet the growing demand for protein. A good case study is Norwegian fish farms, which are among the most sustainable in the world, proving that large-scale fish farming with reduced impacts on the environment is possible. Further steps are needed to truly operate fish farming using sustainable fish feed and zero pollution. Sustainable growth in aquaculture in Norway is enabled by a cohesive science-policy-business interface. The model is a blueprint for success: strong academic institutions, robust policy making mechanisms and cooperation with the private sector.
A Global Partnership for Ocean Health
World oceans are largely poorly managed and weakly governed. Marine stewardship is essential to protect future food supplies. This requires political leadership to set a global agenda for ocean health. We call for a set of interconnected actions to achieve this.
First, there is a need for coherent governance and more robust multilateral mechanisms to protect ocean health. The economic signal that a marine catastrophe is looming is largely invisible. The oceans Sustainable Development Goal can provide momentum for sustainable use of oceans. We call for a global partnership to implement this goal.
Second, much fishing takes place away from prying eyes on the high seas. However, technology is opening up new opportunities for greater transparency. For example, SkyTruth is using big data from satellites and publicly available radar to identify illegal fishing boats worldwide. Advancement of monitoring and surveillance technology, coupled with better governance, can prevent illegal overfishing. This is imperative to stop the declining of fish stocks worldwide.
Third, in order to foster collaboration and generate new knowledge, we need global knowledge-action networks and increased investment in research for marine stewardship. The right networks are already emerging. The EAT Initiative is an ideal place to bring together different sectors to drive change. In three years it has emerged as the leading forum in the global food dialogue. The Stockholm Resilience Centre is leading research on food security, global economic dynamics and ocean health. The Nordic region -- led by Norway, with its long history of research excellence in sustainability and marine and maritime science -- has the skills to lead this initiative for ocean health.
Clearly, the oceans are no longer infinite: we are now a big world on a small planet. This requires a dramatic shift in worldview for a transformation. A healthy ocean will have more than just economic benefits. It will improve our health and wellbeing, and enhance the resilience of Earth to support our long-term future.
This blog post is part of a series produced by The Huffington Post and the EAT Foundation, in conjunction with the latter's inaugural EAT Stockholm Food Forum (Stockholm, June 13-14, 2016). The third EAT Stockholm Food brings together some of the world's brightest people in the fields of science, politics, business and civil society to shift food systems toward greater sustainability, health, security, and equity within the boundaries of our planet. To read all of the posts in the series, visit here. For more information about EAT Stockholm Food Forum, read here.
Calling all HuffPost superfans!
Sign up for membership to become a founding member and help shape HuffPost's next chapter