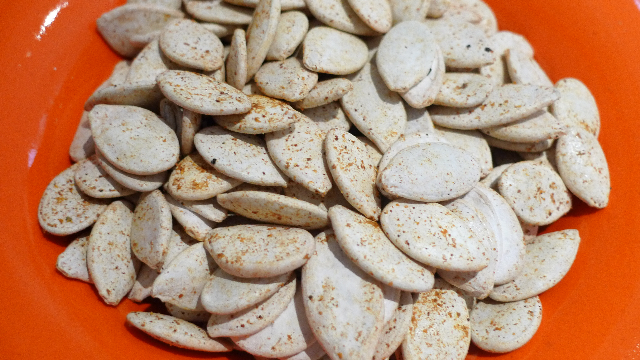 I don't know about you, but as someone with multiple food allergies, the parties that I most dislike attending are those that only serve passed hors d'oeuvres. Inevitably, these are the parties that leave me starving and grumpy by the end of the night, what with all of the mini quiches and blinis with creme fraiche and caviar.
Although Thanksgiving isn't exactly known for being a holiday heavy on the hors d'oeuvres, it's true that just about everyone that I know enjoys a little cocktail and snack before the gluttony begins. This year, I found myself wracking my brain thinking of something that everyone at our feast could eat. I'm allergic to wheat and eggs, two are vegetarian and one of the children has multiple food allergies to things like soy and citrus. I had finally just decided to forgo the snacks when I was buying pumpkins to hollow out as vases for the table. Why not make roasted pumpkin seeds? Better, still, why not make them slightly more exciting by making them into curried pumpkin seeds? Sometimes, I even surprise myself.
More surprising still was my revelation that I didn't even need to scoop out the pumpkins to successfully make these recipes. I like to thoroughly test everything that I put up, and I was really under a time crunch with my mother here last week, so, I went to the corner deli, and bought some salted, roasted pumpkin seeds (that were not cooked in soybean oil and did not have a disclaimer about being prepared in a facility that also processed nuts). How exciting when it worked! This snack takes less than five minutes to make and even my mother, the most discerning of foodies, gave them the thumbs up.
So sit back and volunteer to bring the hors d'oeuvres this year!
Curried, Roasted Pumpkin Seeds
1-5 ounce package of roasted, salted pumpkin seeds (about 1 3/4 cup)
2 teaspoons olive oil
1/2 teaspoon curry powder
Pour the roasted pumpkin seeds into a large mixing bowl and drizzle them with the olive oil. Sprinkle in the curry powder and, using your hands, toss the seeds with the oil and the curry powder until they are completely and evenly coated. Pour the pumpkin seeds into a serving dish and serve immediately.
These are best eaten the day made but can be stored in an airtight container at room temperature up to two days.