4:40 a.m., Monday, January 21, 2013
Stooping over the dead man, Detective Ben Brown notes a large bulge under the left eyebrow, most likely caused by a bullet that entered the back of the victim's skull. The man is lying faceup, his half-open eyes staring vacantly into the freezing predawn darkness. Brown inspects the victim's attire: thick black jacket, gray sweatshirt, gray pants, and spotless Timberland boots, one of which still has its leather tag. At least he died in new shoes, thinks Brown. Standing straight again, he sniffles and jams his hands deeper into the pockets of his black overcoat.
The investigator's eyes trace two long rivulets of blood that run from under the man's head down the sloping road that wends through the large apartment complex. For a few moments, Brown stares at the blood, until his attention is drawn to a white plastic grocery bag that's been picked up by the whipping wind. As he watches, the bag flutters over the corpse, pirouetting in the glare of floodlights powered by hammering generators. The detective turns slightly to the right, shifting his focus to the broader scene: a single trash can, the back wall of one of the apartment buildings, a long metal fence bordering the access road.
From behind, Brown hears leather soles scuffing on concrete. A moment later he's joined by his sergeant, Tony Schartner, who comes to a stop by his left side.
"It's f-f-fucking cold," says Schartner, who has a pronounced stutter.
"It's cold to the bone," says Brown, his whispery voice almost lost in the wind.
The two men step back and watch an evidence technician photograph the victim. Brown is blinking hard against the pulses of incandescent light when a patrol officer approaches. The officer tells Brown that the area has been secured and no witnesses have come forward. He points to his right, past the fence, and says he found the victim's parents standing just beyond the police tape. Pulling out a notebook, he provides Brown with the dead man's name and age.
Brown thanks the officer and jots down the information in his own notebook. A name and the presence of next of kin are the first pieces of good news the detective has received since being awakened at 3:15 a.m. and alerted to the homicide—his homicide—in Forestville, a working-class neighborhood in Prince George's County, Maryland, on the outskirts of Washington, DC. The fatal shooting, he was told, occurred just fifteen or so minutes earlier on the 3300 block of Walters Lane. Brown knows the neighborhood well: he has investigated at least eight murders in the area, and none has been easy to solve. Why should it be otherwise? Walters Lane, a jumble of boxy apartment buildings and strip malls, is governed by the code of the street—Do not snitch—and police officers spend an inordinate amount of time simply trying to find witnesses willing to give their real names.
As he drove to the scene, Brown thought about one of his first homicides in the neighborhood: the shooting of a female drug courier in her sports car. In the weeks following the crime, Brown had developed her dealer as a suspect but had been unable to turn up even a single good witness. Seven years later, his most vivid memory of the case is that of police officers struggling to pry the three-hundred-pound victim from behind the wheel of her car. Brown has never forgotten the lesson of that night: Not even the dead cooperate on Walters Lane.
Trim and fit, with slicked-back salt-and-pepper hair and deep crow's-feet framing his hazel eyes, the forty-four-year-old detective is an Eagle Scout, the father of two Eagle Scouts and a Boy Scout, and a faithful Catholic. He believes that he does God's work, and his right bicep bears a tattoo of the archangel Michael, patron saint of police officers. But a decade of murders has hardened him to death—a not uncommon occurrence in his profession—and he rarely feels much empathy for his victims. In truth, it's been a year and a half since a homicide really got to him: in the boiling summer of 2011, a Washington, DC, police officer shot and killed his mistress in a park and left their eleven-month-old daughter to roast to death in her mother's Kia. After conducting an experiment that proved that the interior of the car had reached 125 degrees, Brown could no longer control his emotions, and he broke down crying.
Most homicide cases, however, do not involve such innocent victims, and now, as he stands at the scene, Brown suspects that this one is likely to be far more typical. After all, what kind of person would be out on the street at such an hour in such a dangerous place? It's fucking Walters Lane, he thinks. Just one shit bag killing another.
As Brown and Schartner watch the evidence technician take photographs and inspect the scene, they are joined by Detective Jonathan Hill, a rookie homicide investigator who has been canvassing neighbors and talking to the responding police officers. Hill tells Brown that no one has admitted to seeing anything or has provided any useful information. He then steps around Schartner for a closer look at the body. The rookie—known for his sarcastic wit—frowns, clears his throat, and speaks in a mock-anchorman voice:
"Here is yet another young black man who voted for our beloved president and now, sadly, won't be able to attend his inauguration."
Sign up for more essays, interviews and excerpts from Thought Matters.
ThoughtMatters is a partnership between Macmillan Publishers and Huffington Post
The two veterans smile: in just seven hours, Barack Obama is scheduled to deliver his second inaugural address on the west steps of the U.S. Capitol. As white men, Brown and Schartner could never get away with Hill's joke. But Hill, an African American who is the son of one of the DC police force's first black officers, is quick to find humor in almost any situation.
All three detectives are fairly certain that their victim had no intention of attending the ceremony that will take place just seven miles from where they are standing. A line drawn from the crime scene in suburban Maryland to the inauguration's majestic venue would cut through neighborhoods both run-down and quaint, busy avenues and quiet residential streets, the polluted Anacostia River and the tony row houses on Capitol Hill. At one end of that short distance there is hope—the nation's first black president will once again take the oath of office—while at the other is a familiar and ignominious reality: yet another black man has been murdered on the streets of a crime-plagued neighborhood.
Prince George's County is a microcosm of the new America, a suburban sprawl of nearly 900,000 residents to the east of the nation's capital. Spread over 485 square miles, it is one of the most diverse collections of communities in the country. Its population is 65 percent black, 14.5 percent white, and 16 percent Hispanic. It encompasses farmland, low-income apartment complexes, traffic-clogged highways, middle-class subdivisions, and affluent enclaves. It is home to big-box retailers, mom-and-pop stores, and countless strip malls filled with nail and hair salons, convenience stores, and churches. It is both poor and prosperous. With a median household income that is $20,000 greater than the U.S. average, it is the highest-income majority black county in the nation. Yet it has extreme pockets of poverty, especially inside the 87 square miles enclosed by the Capital Beltway.
High crime rates and underperforming schools have cast Prince George's County as the ugly stepchild of the Washington region. It has little of the luster of the gentrifying District, the charm of historic Alexandria, Virginia, or the leafy suburban aura of either Maryland's Montgomery County or Virginia's Fairfax County. In 2011, when former Prince George's county executive Jack B. Johnson pleaded to corruption charges, admitting he had accepted hundreds of thousands of dollars in bribes while in office, and was sentenced to seven years in federal prison, the region reacted with a shrug: Well, that's PG for you.
For years, the county has also endured far too many killings. From 2001 through 2011, PG tallied at least 90 homicides a year, a staggering toll for a suburban jurisdiction of its size. As recently as 2005, the county recorded 169 murders, a per capita rate that far outstripped the country as a whole. That pace finally slowed in 2012, when 64 people were slain. The reasons for the drop are complex and will long be debated; PG's police department credits several of its most successful initiatives, including a more intensive focus on particular hot spots, the closing of troublesome nightclubs linked to many violent confrontations, and better integration of other county agencies into the fight against crime.
As 2013 began, the twenty-five detectives and five sergeants in the PG Homicide Unit took some comfort in the recent slowdown in the county's killing machinery. Lately they have had more time to work their cases; they have even begun to dig into a number of old files. But they have also been feeling apprehensive. They've seen such lulls before: two years earlier, in January 2011, they were hit with twelve murders in just eleven days, a spate that followed a brief respite not unlike this one. As they raced from body to body that January, the unit's detectives were forced to skip anniversaries, birthdays, school plays, and youth hockey games. They still recall that period—a savage test of their endurance and abilities—with horror and reverence. And they wonder if another test is coming.
When Ben Brown returns to the office about twelve hours after standing over his victim on Walters Lane, he is anxious. Clearing this murder has been way too easy, he thinks. In quick succession, he interviewed the dead man's parents, extracted the name of a key witness, interviewed the witness, and identified the killer, who was then arrested in northwest Washington. After driving into the District, and despite the congestion caused by the president's inauguration, the investigator found a parking space right in front of the DC homicide office. And minutes after Brown introduced himself to the suspect, the man confessed that he had killed the twenty-one-year-old victim to steal his backpack and take revenge for an earlier act of violence. Improbably, the case had gone from a stone-cold whodunit to what PG detectives call a "smoker" in less than a day.
Brown is superstitious; he's convinced that because he caught this easy-to-solve case, his next one will be colossally difficult. So he's not happy when he finishes up a report, looks around the PG homicide office, and sees that the place is buzzing. Detectives are talking loudly into their phones, questioning witnesses in the office's three interview rooms, and hurrying out to their cars. Brown's killing is the third in just four days; it's been months since the unit has handled so many murders in such a compressed span, and everyone is hustling.
Brown thinks back to a comment made by his lieutenant the previous month. One night, as Lieutenant Billy Rayle was holding court with several investigators not far from Brown's desk, he said that things had been too quiet for too long. Rayle--a hard-living, fun-loving cop whose appendix would burst a few days later, keeping him out of work for four months—seemed to have a sixth sense for when a run of killings would commence. Rayle had been a supervisor in the Homicide Unit for six years, and that night he told his detectives that the tide was about to turn; there was simply too much pent-up violence on the streets, and it needed an outlet. The unit was due.
"We'll catch a few more this month," Rayle predicted on that calm December night. "And in January, it will get busier. But February--watch out. Be ready for February. It will be a good month for murder."
 
 
Copyright © 2016 by Del Quentin Wilber. Excerpted from A Good Month for Murder.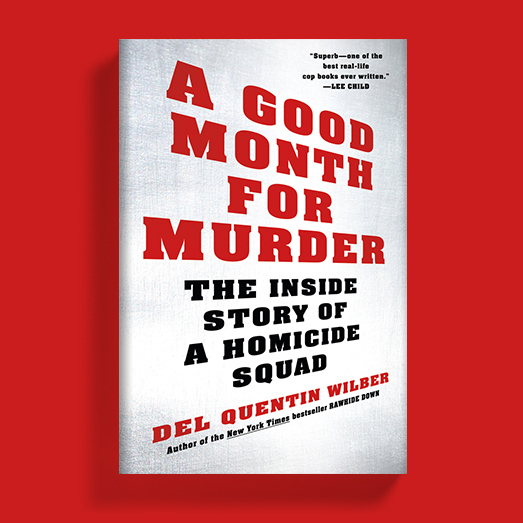 Del Quentin Wilber is the New York Times-bestselling author of Rawhide Down, an account of the attempted assassination of Ronald Reagan. An award-winning reporter who previously worked for The Baltimore Sun and The Washington Post, he now covers the justice department for the Los Angeles Times. He lives in Bethesda, Maryland.
 
Read more at Thought Matters. Sign up for originals essays, interviews, and excerpts from some of the most influential minds of our age.
Calling all HuffPost superfans!
Sign up for membership to become a founding member and help shape HuffPost's next chapter