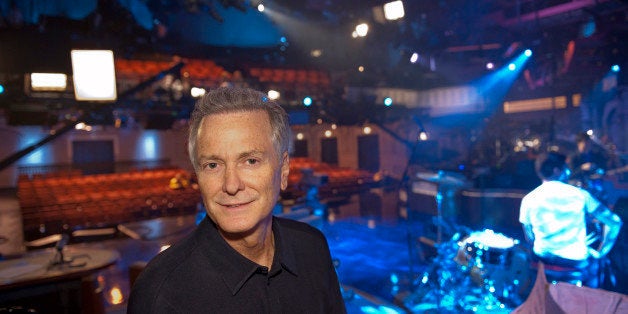 In the early evening of May 20 the words "used to be" will be grafted to the end of my name. Around 5:30, I will ask CBS Technical Director Tim Kennedy to "please fade to black." Later I will remove the few remaining personal items from my sunny office with the four windows and set out to civilian life. When my feet touch 53 street I will take my place among "ex" ball players, "former" Congressmen and "used to be" ship captains. I will be referred to as "the former director" of Late Show with David Letterman. Along with the name change, comes the surrender of an all-access pass to New York City.
Consider the sound of six hands clapping. In March of 2012, the cast of the Broadway show Once was booked on Late Show. On the Friday before the appearance, I walked eight blocks south to the Bernard B. Jacobs Theater with a Late Show producer and my assistant. We sat in the darkened house as Cristin Milioti, Steve Kazee and the entire cast treated us to a very private performance of "Falling Slowly." We were invited onstage where these big-time performers warmly introduced themselves and asked if "we would like to see it again?" "Ah, thank you. We'd love to see it again."
Show business is filled with effusive strivers who realize their dream and can't stop telling you about it. Sorry, but yes, there was a younger version of me from the north shore of Staten Island desperate for a one-way ferry ride. Manhattan scared me -- it was loud, uncomfortable and uncaring, and, for reasons thousands of smarter people have tried to explain, absolutely magnetic. I had no choice. I needed to step off on the New York side and stay there.
One arctic January night, I rode the ferry again but this time I "owned" it. Late Show needed a new opening montage and I was given the resources and creative freedom to light up a boat named "The American Legion". After crossing the harbor with the ferry's captain, I grabbed a taxi to the West 30th street heliport where a pilot and camera crew harnessed me to the floor of a helicopter that was missing its doors. We did multiple passes across the bow of the ferry that was following a route and speed I requested. Later we buzzed the icons. I got a close look at the rivets dotting the roof of the Chrysler building and dangled my feet over the spiky crown of the Statue of Liberty. "Big deal" you say, "directors get to do that stuff all the time." True, but on what scale and how often? I was in show business every day for 20 years or 1040 Sundays if Billy Crystal is counting. I had a blast. If things didn't go well on Tuesday (they often didn't), I had the rest of the week to get it right (I often didn't.)
When my time at Late Show ends I will have directed over 3700 broadcasts, three openings and dozens of single camera shorts. I was treated to a private tour of the Empire State Building. I rode in blimps, police cars and the back seat of a taxi with Buzz Aldrin, who listened politely as I explained how to hold a pen in zero G. I had free run of Yankee Stadium and was part of a group that convinced George Steinbrenner to berate our Stage Manager, Biff Henderson. Mr. Steinbrenner turned out to be a great guy but the people around him seemed very nervous.
I put in hundreds of miles wandering the city streets with writers and camera crews in search of "found comedy". On one of the many days when the funny refused to reveal itself, a call was put in to City Hall. Forty five minutes later, we were standing on the porch of Gracie Mansion as Rudy Giuliani lectured us about the waters of the Long Island Sound, the Harlem River and Upper New York Bay converging off his front yard to form the currents of Hell Gate. He reminded me of a know-it-all uncle.
If Joaquin Phoenix can romance an operating system, can I love a building? In 1992 I was invited to abandon my comfortable union gig in the art deco halls of NBC and travel a few blocks west to a smelly, broken down theater that saw its glory days in the 1960s. There was no guarantee of long-term employment, but there was the opportunity to help refurbish of one of the world's most famous stages. Money blew down Broadway as the corporate might of CBS dragged a neglected ocean liner out of mothballs and made it seaworthy again. It was intoxicating. A dazzling broadcast facility was dropped into a swirl of fresh plaster, deep pile carpeting and velour seats. Everything was new; everything was possible.
I roamed the grand old building unchallenged, no one told me to leave (actually there was one time in 2003, long story). Instead stagehands and security people acknowledged me with snarky, absurd salutations that can only be traded among people who've shared changes of seasons and cycles of life. I've crawled through every accessible inch of The Ed Sullivan Theater. I've examined the pumping system that tames the stream running beneath the building and I've spied the plump rats who shared the stage with Letterman. I've climbed the sketchy iron ladder to the roof and stepped out a restaurant window onto the iconic marquee where Paul McCartney marked his return with a summertime street concert. I've pondered my good fortune in front of the René Bouché pencil drawing of Ed that hangs in the inner lobby and I've seen the looks of reverence from the many people I've taken through the place.
In October of 2002 Warren Zevon showed up for rehearsal; he was dying from mesothelioma. This was his last Late Show appearance and final public performance. He would be dead in less than a year.
Warren was a Late Show regular and covered for Paul Shaffer during the rare times Paul was unavailable. He was one of those guys you never saw coming. He didn't enter a room -- he appeared. On this day a rolling silence announced Warren's arrival. He took in our frightened, sad faces for a few perfectly timed beats and said, "I think it's the flu." Later, Warren and Letterman had a compelling and surprisingly amusing conversation during which Warren shared that he may have "made a tactical error in not going to a physician for 20 years." With the time he had left, Warren told us he intended to "enjoy every sandwich." He performed three songs, focusing every witness to a deep look at the abyss.
Each day, Late Show started with a blank page that demanded to be filled. There were plenty of smart ideas, but we often resorted to spectacle. We broke windows, blew up pumpkins and spilled thousands of marbles from seven floors up. We hosted presidential candidates, presidents and former presidents. (There's that "former" word again.) We re-enacted the Civil War and marched Marines under our marquee and through the aisles of the theater. We watched Philippe Petit take a wire walk 14 stories above an airbag that the city demanded, but he assured me would do nothing to save his life.
And then there are the folks, the humans who kept the assembly line moving. Late Show is populated by smart, stylish people with wicked senses of humor and impossibly fast minds. They gorge on popular culture and carry generous supplies of intuition and insight. Somehow they soldier on through jealousy, rage, dysfunction, cancelled guests, evolving technology, relentless scrutiny, tardy rock stars, fierce competition, 4 am calls, failed comedy ideas and a very demanding boss. They are clever, resilient and, at their core, among the most decent people you could ever hope to meet.
And then there's Letterman -- someone who relentlessly drove himself and the rest of us to the outer envelope of effort and clear thinking. In a random close encounter you're likely to be charmed -- what a great guy, so well-informed and so interested in what I have to say.
I grew up around funny people. Sarcasm and irony was my native language, finesse was an alien concept. Humming just beneath the surface of banter and insults was a bond allowing us to endure life's cruelties with silliness. Funny people are strong. They counter fear and the indignities of living by surfacing the ironic, the ridiculous and the unexplainable. If tragedy is never taken seriously, then nothing can be tragic, fear is eliminated. To be in the presence of funny people is effortless and exhilarating, to be around people trying to be funny requires you to pay attention -- it's work.
When Dave was still at NBC hosting his 12:30 show, there were lavish Christmas parties. He'd buy out the Rockefeller Center Skating Rink and staff and crew would eat, drink and skate together. It was magical. Imagine sliding around on that famous ice minus the crowds, while envious tourists studied us from the plaza above.
As the evening wore on, small support clusters gathered to strategize about the best moment to approach Dave. We all wanted a little face time to register gratitude and maybe say something clever. People agonized over when to make the move and what to say. It was like lining up to visit Santa Claus, except Santa was a moving target, easily irritated and there would be no sitting on his lap.
It didn't feel right to bother him while he was skating; you weren't going to interrupt him while he was eating and there was never an easy way to join a conversation he was having with someone else. I was new to this world and couldn't reconcile the degree of angst hovering over the room. Smart people were struggling to measure the conditions of saying "thank you" to their boss at the company Christmas party. It seemed way too difficult but, like everyone else, I was thrilled to be included and desperately wanted to be invited to the next party and beyond.
As I silently raged against my diffidence and fear of celebrities, I was steadily reminded by more experienced partygoers that "you have to go up there." Time was running short. When I spied a gap around his table, I jumped. It was like stepping off the wing of a shrieking airplane. Beyond the pressure of coming up with something smart to say was the added burden of being evaluated by a gaggle of eavesdroppers who would overhear my remarks and report to the rest of the party. There would be judgment.
Before I was frightened off by the intense, narrow eyes that screamed "Oh God, here's another one," I stuck out my arm and said "Well Dave, it's time for the annual hand shake." I was sure that lampooning the absurdity of it all was something he'd appreciate. Turns out I was very wrong. Professional funny people don't like wise guys. My stab at neighborhood humor was met with soul-searing silence. "Thanks for everything," I stammered as he reflexively gripped my hand. "No Jerry, thank you," came the kind-of-loud reply. I slithered away reduced. I spent two agonizing hours trying to get it right and he dropped me with four words and a scowl. I wanted to stick my head in a bucket.
Spread over 25 years my Letterman encounters, occasionally direct sometimes by proxy, were dominated by similar miscues, garbled intentions and remorse. I never seemed to say the right thing, but the stakes got higher -- I was the director, perfectly positioned to screw things up and I often did. Despite an earnest desire to please, I never left work thinking I got it right.
Among Dave's many gifts is the uncanny ability to turn the simplest task into something unwieldy. Watch him dial a phone or attempt a tweet. He's also someone who can stare down the barrel of a single camera and distill the most complex human frailties with sideways insights that are hysterical and ultimately reassuring. The maddening part is the impossibility of predicting which version you're going to get.
Long before Paris Hilton, the obnoxious Housewives or the family Kardashian was Dave, antagonizing Bryant Gumbel with a bull horn or taunting General Electric's upper management with a gift basket. Dave pioneered reality television. If he was happy, you knew it and there was no escaping the times he was pissed. Search the night he announced the birth of his son or the time someone accused him of being a "non-voting Republican."
Brilliant writers showered him with scripts, concepts and set ups. Most pitches were rejected and the rare ones to make it through were drastically altered. Even the best ideas were a threat to his effort to spill his thoughts out in real time. The memorable nights were when he was on a rant or a roll and the vitriol or joy flowed fresh from his uniquely wired brain. While he filleted himself in pursuit of perfection, David Letterman harbored a deep disdain for anything suggesting rehearsal. The observations, the comedy, the biting conclusions had to be conjured in the moment. This was not a teleprompter guy, if it was being read, it wasn't a conversation, and if it wasn't a conversation you're not a broadcaster.
Dave is painfully self-aware. He lives in a state of perpetual examination and is incredulous that others don't make the same effort. If they did, the world wouldn't be populated by so many fools. He is easily the fastest knife in any fight and lights, microphones, cameras and direction only interfered. He was impossible to please, and if you stumbled into doing something right, he was convinced it would lessen your next effort. Was it simply some noble, Midwestern work ethic? I may never know.
Dave possessed a fierce drive to honor his opportunity. He threw everything he had at the show and left nothing on the table. Defying an earlier generation of generic NBC executives, David Letterman did become the uncontested heir to Johnny Carson. He walks off with his dream fully realized. He also gave me and many others a shot at their own professional dreams. The entertainment business is deep with people who passed through Dave's world and have gone on to considerable success.
Now it's time to hand the keys to a new owner. One day you're a big shot with fat budgets and vast resources and the next day you're not. Like the high school we leave behind or the vacated summer rental, someone kind of like you will occupy the space that was once yours and create memories of their own.
When Warren Zevon was leaving the theater that early autumn evening the impossible silence returned. The stage was dim and the theater's ghost light was in place. As Warren gingerly lowered himself into the backseat of a town car, Stagehand Kenny Sheehan attempted a goodbye -- "We'll see you around, Warren." A weary grin came to Warren's face as he reached for the door. "Yea, I'll see you somewhere."
Popular in the Community