I am sitting in the top floor study of my grandfather's house in Hermoupolis, Syros. The sweltering heat has baked the terracotta tiles and ornate balustrade of the expansive verandah just beyond the study window and they exude a glaring heat.
There are screams below of overexcited children plunging into the sea from the jetty beneath the impressive church of St. Nicholas the Rich. The sun and the allure of the sea tempt me to venture out onto the terrace and admire the view to Tinos and Mykonos or to gaze at the industrial bulk of the Neorion shipyard. But today, I resist.
I remain rooted in the relative mustiness of the room, which seems to cling to it even though it has been sympathetically restored by myself in a palette of cream and crimson with a grand wooden desk Pappou would have liked, extensive mahogany cabinetry, a soft welcoming sofa and an efficient fireplace. No amount of redecoration can change this house... its photographs, its sensed memories make it a time warp.
Michael Pnevmaticos came from a line of Kassiot ship owners who owned ships from at least 1824. Born in Kassos, he was raised in Constantinopole and educated at Robert College, a school that exists to this day. His father decided that as the owner's son he could never learn the hard way if his apprenticeship was on a family vessel, so Pappou was sent off to sea on other owners' ships, sailing ships as well as steamers. Eventually, of course, and very young he became a captain of his own. After marrying Sophia Nicoletto and having his first child, my mother Myrto, he moved to Syros.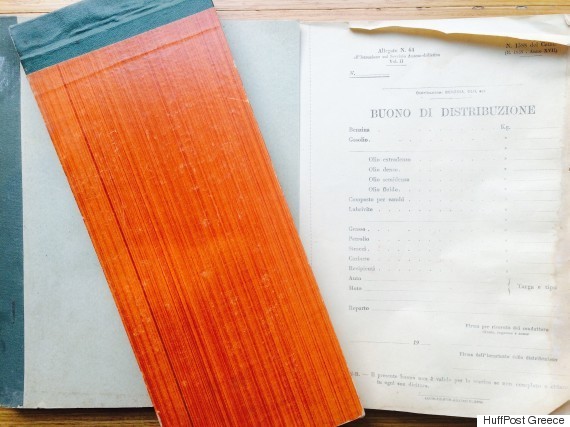 I am surrounded by photographs of ships and ship owners, all long dead, sepia coloured lost in time. Photographs of my grandmother and 9 cousins or friends in fancy dressed lady's maids and a small picture of my mother disguised as a haughty Chinese aristocrat. On the shelves are dusty thumbed books, hefty volumes flanked by small note books full of Pappou's neat handwriting. In this temple to diligence, I banish the idea of going for a swim...
I spent much of my early childhood in Monaco with my grandfather. He was thin and in his old age somewhat morose, given sometimes to self-pity and obsession, not the best company for a distracted four year old. I spent long days and evenings entertaining him, twirling my chubby frame around the elegant living room to a record of Mario Lanza's "Drink, Drink" playing on the gramophone.
This always snapped him out of his melancholy. Other things would cheer him up like fresh, plump oysters which his equally morose male nurse would sadly rinse with water so as to reduce the salt in them. He also enjoyed upsetting my grandmother who whiled away days and nights at the Bridge Club, threatening to die while she was at her card game.
When I finally got to leave Monaco for the relative excitement of London or Athens, his glazed blue eyes would swell with tears and he would sit me on his bony knee, caress my hair and tell me that he would never see me again.
The concept of death to this four year old had really only applied to Dicky, a yellow canary, whose cage was in the sun drenched dining room in Monaco. This cheerful room with its cherry wood furniture upholstered with red leather looked out over the roof terrace of the Hotel de Paris. Every day at noon, a white haired plump gentleman would sit in an armchair in the shade and smoke a cigar. "That", my English nanny said proudly, "is Winston Churchill. He won us the war".
So Dicky was the only being who had died in my lifetime, hence Pappou's demise seemed unlikely and distant. I brushed away his tears and wriggled out of his grasp.
Indeed after that last of many visits with him he did die and I never saw him again.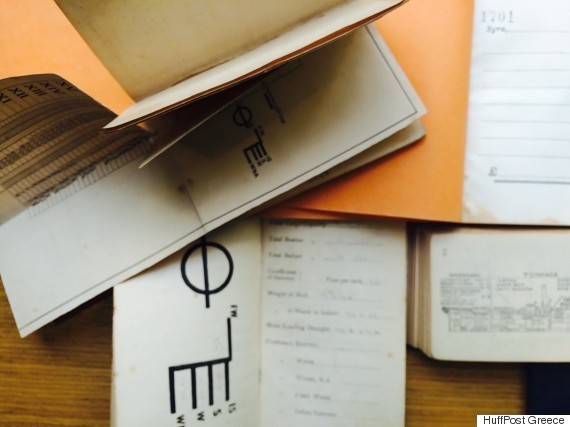 Pappou's study in Hermoupolis - a chamber of nautical curiosities. Let us begin with a small and well thumbed booklet, C.H. Barley's "Book of Useful Information" printed in Wales. This remarkable volume displays diagrams of every type of engine from motorcars to steam winches, also propeller shafts diagrams of boilers, a dictionary of electrical terms, dynamos, a glossary of parts, a list of the sailing days it takes a ship to go from London to A as in Accra to Y as in Yokohama.
Captain Michalis, as he was known, meticulously kept a miniscule diary dated 1935 with his deliberate, tidy writing chronicling neither meetings nor social engagements but rather daily payments. There are also two shipmaster's pocket books for the steamers "Chalcydon" and "Heraclios" complete with a plan of the ships.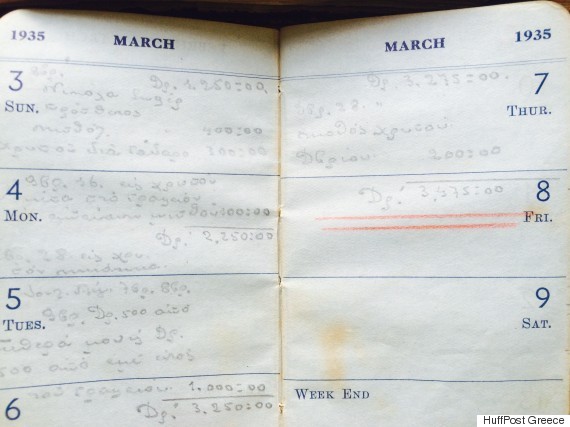 The library also contains faded volumes of NAYTIKA XRONIKA from 1931 to 1940 and, oldest of all a tattered pamphlet entitled Official Austro Hungarian Veritas Rule Book, written in Italian and dated 1891, printed in Trieste. This booklet and the Rules it contained, concerned the final steamship Pappou's father John Pnevmatikos, in partnership with Basil Rethymnis ever purchased: the Austro-Hungarian ship "Grazia" of Trieste which they renamed "Leonidas" on acquiring her in 1898.
His bookshelves are further crammed with leather-bound Lloyds Register of Shipping vessel lists, Hull and Machinery Construction Rule Books, Contract specifications for various ships he ordered from the Northumberland and Doxford Companies (s.s. "Hadiotis" - 1929, s.s. "Themoni" - 1929, s.s. "Themoni" - 1938 and m.v. "Kassos"- 1939), his nautical instruments from his time at sea; a sextant, a chronometer, a compass, a ship's clock; and various company documents of the Syra-based Kassos Steam Navigation Co., of which he, his Rethymnis cousins and Stathes Yannaghas family were shareholders, as well as their family owned London agency, Rethymnis & Kulukundis.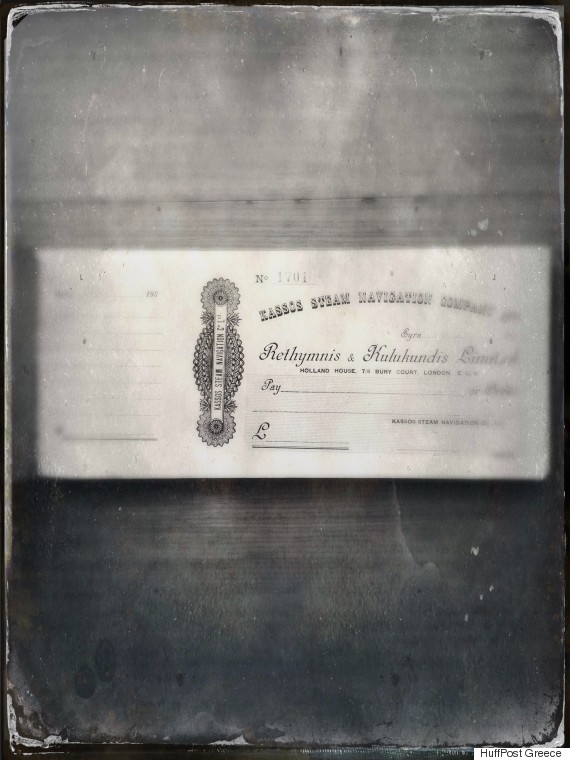 I had stored all the library's contents in a storeroom in Moshato, near Piraeus which was flooded in 1993 so in addition to the test of time, these books also have traces of mud to make them even more faded and fragile. Their power, their story however is eternal.
My thoughts go to the sea again - how it ripples a few meters below me, how it would embrace me and buoy me up, refresh and restore me. However I prefer to delve into the consciousness of my grandfather, even though a heaviness envelops me as I do so.
Here he worked, with two photographs on the wall, one of a ship he loved, the s.s. "Chrysopolis" and which was lost in June 1936; and one of the launch party in 1938 of the s.s. "Agios Georgios IV" at Bartram's in Sunderland, showing him, his cousin and business partner Nicholas Rethymnis, Violet Mavroleon (the sponsor) and her husband Basil, the shipowner host, George Nicolaou, and the Lentakis brothers, Michael and John.
He particularly liked this room, high up overlooking the sea because, with his binoculars he could espy ships arriving and leaving the port, as well as what was going at the shipyard, to which the family liked to bring their ships for survey and repair work.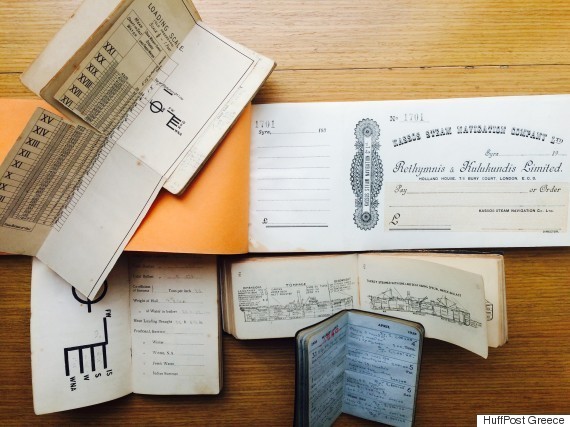 Just outside the harbour wall is a dismal brown scrubby island called Gaithouronissi in the vernacular with a smaller island adjacent to it. They are officially known as Didymoi or Twins. On them sits a lighthouse and stories about ships that ran aground here abound.
One of Pappou's ships did exactly that, the s.s. "Panagia". One can imagine Pappou's reaction to the unfortunate but obviously distracted Captain. Michael Matantos, my beloved cousin and co-author of this piece, tells of a ship steered by a dog who successfully navigated the spot, unlike the hapless Panaghia.
Finally my mother told me that one of my father's ships, from the Chandris Shipping Company, also fell foul of Gaithouronissi, therefore occasioning my parents to meet. Another memory, treasured like all the rest and viewed from this study. There is no room I love so much.
Related