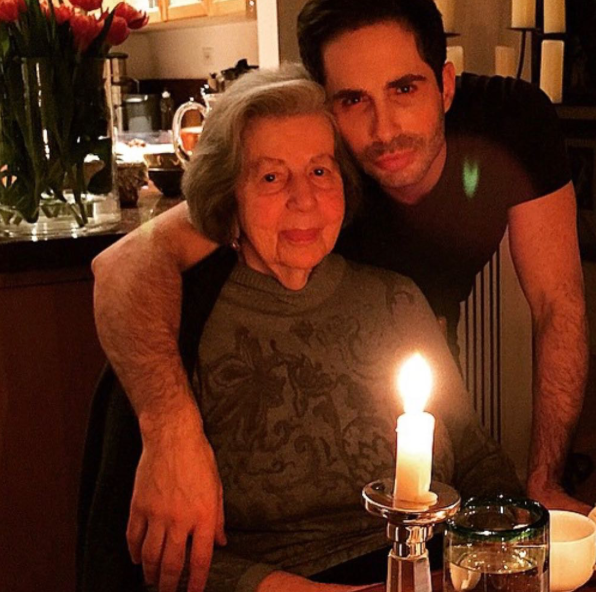 My beloved grandmother died the other day. Her remarkable, nearly century-long life and difficult death raised issues that many of us have faced, or will.
Her name was Maryam Treyvas, and I called her "Babulya," the Russian word for grandma. She was born almost 97 years ago in Moscow, and became a respected pianist and teacher at the famed Moscow Conservatory. She and her colleagues were evacuated to Siberia during World War II, she endured her brother's incarceration in a gulag, and she lived through the evil era of Stalin.
She and my grandfather only had one child, my mother, and when I was 7 years old, Babulya took early retirement, so she could pick me up each day from school. Until I was that age, we all lived in one apartment (a typical Russian set-up), with my grandparents in the living room and my parents and me in the only bedroom. I would jump into my grandparents' bed when I woke up and spend the morning with them.
We also stayed every summer in a country house, and since my grandfather and parents were working, Babulya and I were constantly together for three months each year, often going to pick berries in the forest. I loved doing that; Babulya, not so much. She was an intellectual, music was her life, but she did it because it made me happy.
Just last year, she reminded me of something I'd forgotten: how we would bake cakes together in the form of a letter, to celebrate someone's birthday or other occasion. She truly was a second mother to me.
"As a gay boy, I was bullied in school, and she staunchly defended and protected me. Our country house was my safe place, and so was being with Babulya."
As a gay boy, I was bullied in school, and she staunchly defended and protected me. Our country house was my safe place, and so was being with Babulya. At some point, a friend of hers said, "Watch out; I think your grandson is gay." When I was about 17, and had been seeing a girl for a while, I sat Babulya down and revealed that although I truly loved this young lady, I really didn't like dating girls. She took it well. Her own teacher had been gay, and the Moscow Conservatory was filled with talented gay friends, so it was not something unknown to her. In fact, she's the one who told my parents about it.
I graduated with a law degree in Moscow, and even though my grandparents and parents would have preferred that I become an attorney, they accepted and were fine with what I ended up doing for a living.
They also understood that as a gay Jew, the only way out for me was the airport. I left Russia in 1995, eventually made my way to the U.S., and after getting my green card in 1999, began bringing my family here… first my grandparents in 2001, then my brother, and finally my parents. Babulya left behind every material thing she had collected in her 80 years, from furniture to dishes to crystal chandeliers, arriving in New York with four pieces of luggage and the trepidation of having to start a new life from scratch.
Fortunately, I was in a position to make the transition as painless as possible. I rented my grandparents an apartment in Brooklyn near Brighton Beach (known as "Little Russia" for its large population of immigrants from the Soviet Union), and furnished it with everything they could possibly need, including a piano. Babulya began entertaining new friends who came over to hear her play, and I took her to concerts at Carnegie Hall and the Metropolitan Opera. She was even impressed with the parks amidst the skyscrapers. "There are trees and squirrels in the middle of a city!", she marveled.
And then, her happy new life began to disintegrate. My grandfather passed away in 2007, and the following year, my mother, who had been diagnosed with cancer upon her arrival in the U.S., also died, at the age of 58. Babulya was devastated.
She carried on, however, and I was still taking her to concerts well into her 90s. Then, one year ago, a stroke left her struggling to speak. We had always talked on the phone every single morning and evening, but now, it was difficult. She could barely form words after a subsequent stroke, and required aides 24 hours a day. In addition, she became blind, and the combination of losing her sight and her speech made her into a recluse, afraid to even go outside in her wheelchair.
Two weeks ago, a third stroke landed her in the hospital. I rushed there and she knew it was me, but by the next day, she was unconscious. The doctors inserted a feeding tube in her nose, which she somehow managed to pull out, so her arms were tied to the bed. Her hands were dark purple from the nurses' attempts to find a vein, and the doctors said in a few days, they would have to insert a feeding tube into her stomach.
There was no living will, no health directive, but I knew she would not want this, so when the doctors offered to stop nutrition and hydration, I agreed. Incredibly, after 48 hours, Babulya regained some degree of consciousness, making sounds and patting and squeezing my hand. I could not see her suffer without food and water, and asked them to resume feeding her. But by the next day, she had again pulled the tube out. I was overwhelmed and heartbroken, as this dignified old woman who had been through so much was subjected to more medical tests and procedures, all the while tied to her deathbed.
I sat next to her, and she continued to hold and pat my hand. I left the hospital to take a break, but soon got a call to return; it was over.
In my grief over this incalculable loss, I am revisiting the decisions that were made. Should we have discussed end of life issues, and signed legal documents? Was I correct in asking the doctors to resume providing food and water through the feeding tube, even though there was no hope of her regaining any meaningful quality of life?
Those questions will haunt me for a long time. On the other hand, I always knew the decision to bring my family to the U.S. was the right one. I was amazed to find a letter just last week that Babulya had left for me, thanking me for helping them emigrate, for providing them with a new home, and even for taking them to all the shows.
But I am the one who should be thanking her. I know how to love, because she gave me so much love. She was my "safe place," always. An old Jewish proverb says "Only love gives us the taste of eternity," and I will be eternally grateful for having had a loving Babulya in my life.
Popular in the Community