After 35 years of Episcopal parish ministry, the Rev. Barbara Schlachter had an epiphany in her family's homeplace, reading NASA scientist James Hansen's memoir on climate change as her first grandson was put to bed: "I was the grandmother in the room and my heart was wide-open with love for this family and for the young children we were adding to the family." Embracing "older means bolder," Barbara launched the 100 Grannies for a Livable Future, and cofounded the Iowa City Climate Advocates, with an unabashed call for fellow "grannies" to become a group to be "reckoned with" and take urgent climate action now.
"What do we have to lose compared to what our grandchildren may not have?" Schlachter declared. By the time of her second grandson's birth, Schlachter had been arrested in front of the White House in 2011, protesting the proposed Keystone pipeline.
One of the most inspiring, caring and tireless climate activists in the heartland, the Rev. Barbara Schlachter was truly a "grannie to be reckoned with" in Iowa City and the nation, a prolific newspaper columnist on climate issues, and her passing from complications with cancer this week has profoundly affected communities with a reminder of her enduring and powerful presence.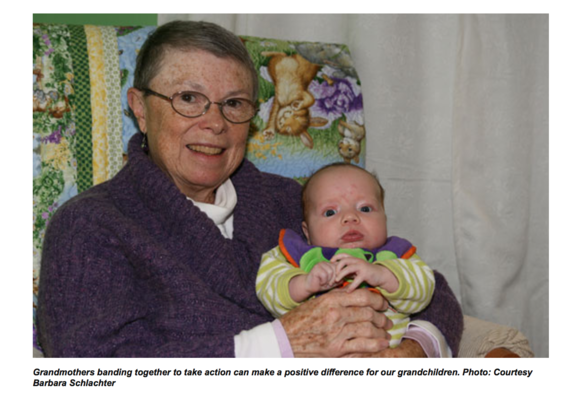 "Barbara was completely committed to ensuring that God's creation would thrive long into the future," wrote Iowa City Mayor Jim Throgmorton, who worked with Schlachter as part of the Iowa City Climate Advocates. "In part, that meant doing everything she could to reduce carbon emissions and minimize the severity global warming. Her moral commitment to this noble endeavor was rock solid and inspirational."
"No single sentence or quote can capture her expansive spirit, vision and graciousness," said Dianne Dillon-Ridgley, a long-time friend and fellow environmental justice leader. "Her iron will, grit and determination; her humor and delightful silliness; her love of beauty and her grandchildren; her tolerance and patience for those who haven't quite caught up with her plan. There is a massive rip in the fabric of our community and our hearts just ache."
"Barbara daily demonstrated that love is the greatest motivator," said Elizabeth Christiansen, director of the Office of Sustainability at the University of Iowa, who noted Schlachter's intergenerational influence. "Her love of people and our planet willed her to action. She was an example to all of us. If a grandmother from Iowa can stand up, take charge and work for change, we should all ask ourselves what we're doing to build a better world."
Along with Schlachter, the 100 Grannies led forums, marches, and community initiatives on an array of issues, including community rights, clean energy, the Bakken pipeline, and zero waste.
In a Press Citizen column last spring, Schlachter drew a comparison between her cancer diagnosis and climate change: "I continue insofar as I am able to be active in action related to climate change, and it has given me pause to realize how cancer and our runaway reliance on fossil fuels are so similar to each other. "
Having launched a call for other "grannies" around the nation to become more engaged as "guardians of the Earth," Schlachter invoked her adopted Iowa prairie for inspiration:
What is amazing to me is that prairie grass roots go deep, as deep as 15 feet. Because of their deep roots, they can withstand wind and drought. They need fire from time to time to renew them, and they are of the earth itself. They also do not stand alone. They are always in community; always dense. They can break a plow trying to break them. And they are beautiful in all their colorful diversity. So, the example to us is root deep, stand tall, stay together, and don't be afraid of the fire of your passion for climate justice.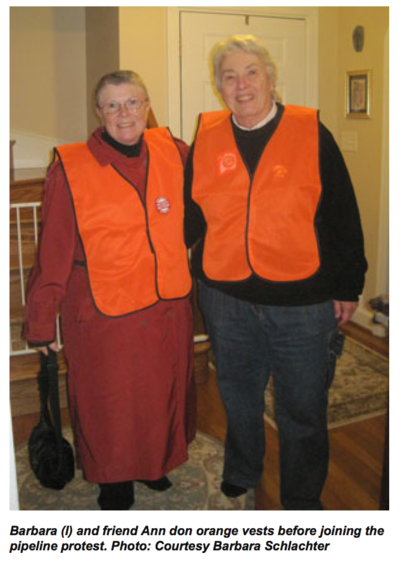 "Barbara was one of the greatest fighters for the common good that I ever have had the pleasure to work with," said Johnson County supervisor Mike Carberry. "Her work with the Iowa City Climate Advocates and 100 Grannies for a Livable Future in particular should be remembered. She was a beacon of light that we will continue to follow."
Her last newspaper column held out hope for the Paris climate summit last December: "We have much at stake in Paris this month. May there be something good to remember. May we be dancing in the streets."
Beyond her work on climate change and clean energy, Dillon-Ridgley also recalled Schlachter's dedication to racial justice issues:
We shared a deep commitment to the future, to community, to sustainability and nature and certainly to our faith, but not everyone will know of her deep commitment to racial justice, equality and dignity. I didn't actually meet Barbara until she retired from her parish responsibilities; but I already knew I was going to like her as Mel had included stories of their life together in his sermons for years....What I could never have anticipated was that in short order I would come to love her! Our first venture together was in 2010, to celebrate the 100th birthday of Pauli Murray, poet, civil rights activist, attorney, feminist and the first African American woman to be ordained an Episcopal priest. We planned a full-on birthday bash and while we had a modest number of attendees, Barbara's joy and enthusiasm couldn't have been greater if we had had thousands. Shortly after we went together to an AME gospel service together, cementing that I had found a true "SOUL SISTER".
"I have always seen creation as a gift from God and where God is revealed," Barbara wrote in a blog, Blue Planet Green Living. Her parting words serve as a fitting challenge of her life's work:
"I believe we are called to be partners in the ongoing care and use of creation. Teaching my grandchildren to be caretakers of creation and to live in harmony with it and in community with people the world around is part of my call. And so is taking action to protect the planet I will leave behind. Will you join me?"

Popular in the Community