This grapefruit smoothie with chia is perfect if you're needing a quick and healthy breakfast on the go. It's packed full of nutrients and flavor, plus it can be made the night before for an even quicker morning.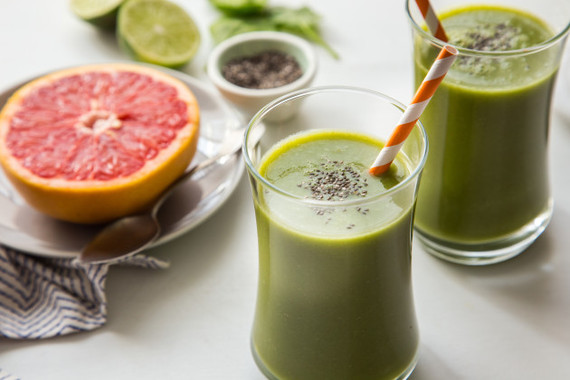 I am never one to complain about the winter. The winter is glorious. Snow, cold weather, hot chocolate, thick sweaters -- what is there to complain about? While I adore winter, I'm willing to admit a small amount of discontent once March rolls around and we're dealing with the piles of gray snow and the glazed over eyes of my fellow winter weary Ohioans. Luckily, we're not there yet.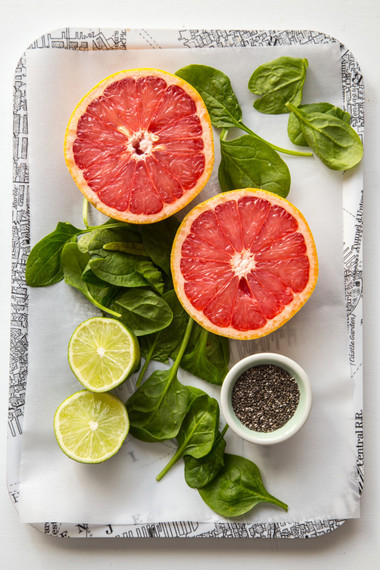 One of my favorite winter foods that never fails to put a smile on my face is citrus. The mountains of bright colored citrus that fills the grocery stores this time of year brings me utter joy -- limes, lemons, oranges, clementines and grapefruit as far as the eye can see. They are a much welcome respite from the apples and bananas that by this time of the year, I'm rather sick of.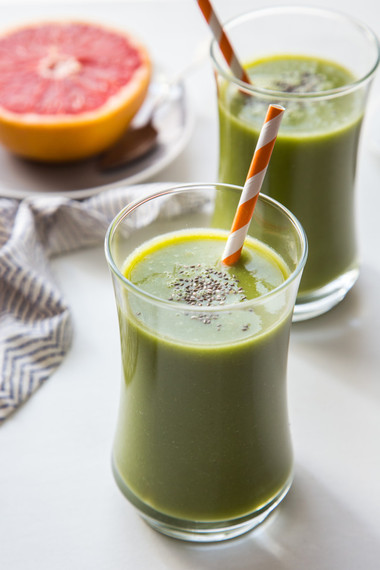 The thing about citrus is that it can be easily incorporated into both sweet and savory dishes alike, adding bursts of flavor and making just about any boring winter fare brighter. One of my very favorite ways to enjoy citrus is in a nice refreshing drink, and with it being January and all, I'm back on the smoothie bandwagon in attempts to shed a bit of padding that I gained over the holidays.
Yes, I am quite aware that smoothies alone will not help me lose a few pounds, especially if I follow them up with a handful of chocolate chip cookies. However, I'm cutting back on the cookies and I figure that a green smoothie is an awesome way to quickly get a bunch of healthy foods in my body that I might not otherwise consume in one afternoon.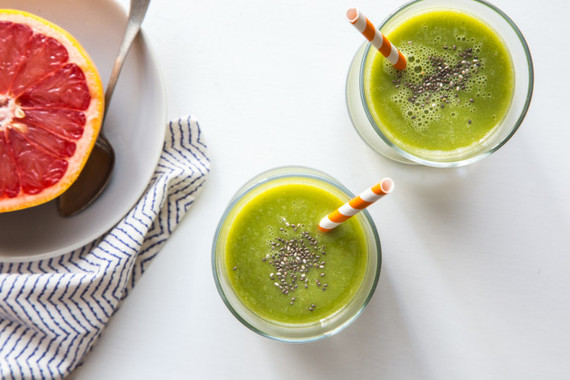 Pink grapefruit is one of my favorite citrus to add to a smoothie. It's both sweet and tart and so refreshing, not to mention nutritious. Mixed with lime, cucumber, spinach and a bit of chia, this grapefruit smoothie is packed full of nutrients and a great on-the-go breakfast or lunch. Plus, smoothies are so versatile -- mix and match ingredients to your own liking and know that you've got a glass full of goodness. Just be sure to skip the cookies afterward.
Emily is known for her absurdly beautiful food photography and coffee co-dependencies on her
. On Food Fanatic, she shares a third addiction: fabulous
.