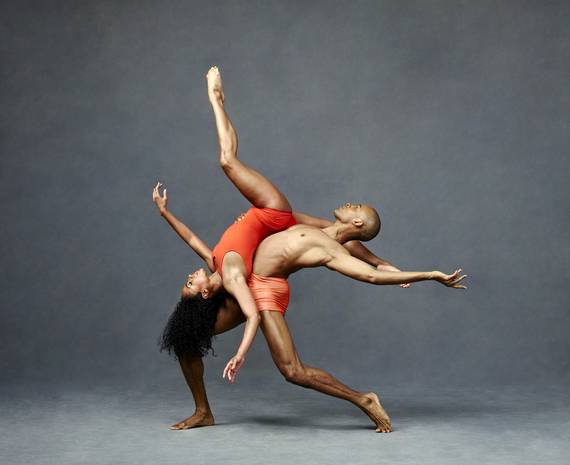 Previewing THE ALVIN AILEY SEASON 2015-2016 was like drinking a cup of hot chocolate in front of a roaring fire, on a frosty night. Gifted Artistic Director, Robert Battle, is not only exceedingly able, charming and gracious, he is surrounded by fantastic talent, an outstanding staff and a devoted board, thus the stars are aligned for a meteor shower of dancers to set the stage aloft with sparkling long swan like arms and arched backs.
Between each of the four excerpts of dance pieces the audience previewed, Mr. Battle gave an overview of what we were about to see and paid tribute to those who inspired the work. He talked about the man himself, Alvin Ailey, who was a genius and an inspiration to Mr. Battle, as well multitudes of dancers through the years. A moving description of the astounding, totally gorgeous, and practically surreal Judith Jamison followed; (one of my personal childhood heroines), which touched those of us listening to him talk about the Ailey Company and its special place in the hearts and minds of the American cultural equation.
The evening opened with Awakenings, choreographed by Mr. Battle. We were able to see every nuance behind the title in the dancer's physical expression of what it means to be in conflict. Opening and closing ourselves off to enlightenment and ignorance, until we finally release the germ that holds us so tightly to our habits, then and only then, can the transformational possibilities which life holds be delivered. He did a beautiful job showing us that state of being through movement. Music by John Mackey.
Next in line was Paul Taylor's Piazzolla Caldera re-staged by Richard Chen See, which was dynamite! A sexy, saucy modern tango tour-de-force. Rich with drama and exquisitely danced by all. Music by Astor Piazzilla and Jerzy Petersburski.
Love Songs by Alvin Ailey and re-staged by Masazumi Chaya was an exciting solo dance piece, featuring statuesque, elegant Jamar Roberts. He gave a captivating performance, as always. Music and lyrics by Donny Hathaway and Nina Simone.
The final excerpt for the evening's previews from Alvin Ailey's 2015-2016 season was, Open Door, by Ronald K. Brown which was a flowing landscape of magical modern dance with strong West African influences, set to the great sound of Arturo O'Farrill and the Afro-Latin orchestra.
Do not miss this season! It's a WOW! Dec 2-Jan 3 Alvin Ailey at New York City Center
Calling all HuffPost superfans!
Sign up for membership to become a founding member and help shape HuffPost's next chapter