The Greek-American businessman, John Catsimatidis, will be flying to Greece aboard his private jet in order to receive the entrepreneurship award of The International Foundation for Greece, at an event to be held at the Acropolis Museum September 1st, where he will be honored along with other distinguished Hellenes such as Costa-Gravras, George Stephanopoulos and Rita Wilson.
Catsimatidis, along with the other recipients, will also be honored by a special stamp to be issued by the Greek Post Office (ELTA) in the series "Distinguished Greek Personalities" which was initiated by the International Foundation for Greece.
Deeply moved, John wipes the tears from his eyes for the appreciation shown by the Greek state. His portfolio in the billions, his Forbes' list status, his friendship with umpteen famed American politicians, his popular radio show...all add to this unique moment that prodded his native country to present him with this great honor.
At heart, however, John Catsimatidis remains the simple child that left the remote Aegean island of Nisyros at 6 months old to come to the United States and achieve the American dream. Although a tycoon today, he never forgot his roots and is quick to proclaim his cultural identity at any opportune moment. You have been selected by Hellenic Post to be honored by a stamp in their limited edition "Distinguished Greek Personalities" series for this year. What does this mean to you? "Having been born in Greece and having left at 6 months old, it makes me proud to have been asked and somehow makes the spirits of my past family, those of my mother, father and grandparents, look down from above and be proud."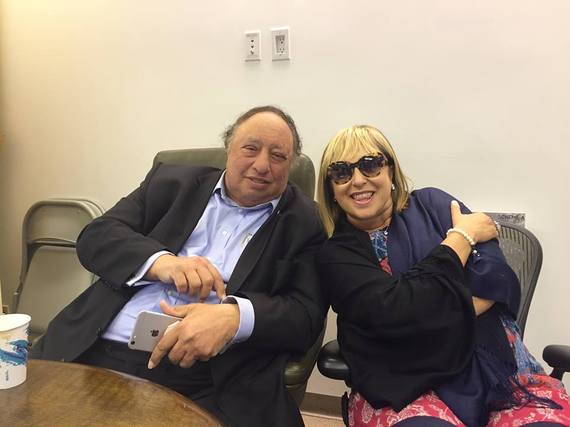 John Catsimatidis with the author of the interview Justine Frangouli-Argyris How do you see this gesture towards you as a Greek-American? "That there are more successful Hellenes abroad than are left in Greece and that they aspire to help their heritage." Do you feel honored but, at the same time, obligated to give back to your native country? "I feel very honored and have always tried to help the land of my ancestors." You submitted an offer for the Hilton Hotel in Athens but another group emerged as the winning bidder. Are you planning some other investment in the tourism sector in Greece?
"We have been trying to invest in Greece and we will try again."
How do you see things evolving for Greece?
"Greek government needs help and common sense."
Do you think the country will come out of its financial difficulties anytime soon?
"Yes, with more negotiation with its partners."
Was "Brexit" a shock to you or did you expect it?
"I believe the British were upset with the election of a Muslim mayor in London and adopted the position that England is for the English, voting against any further immigration."
Do you see "Grexit" as a possibility anymore?
"It depends if the Germans offer a better deal to Greece or not. The Greeks should not be made to suffer like they are doing."
What is your opinion of the migrant crisis?
"Invasions of European countries should stop. Special safety zones for immigrants should be established and the refugees should be returned to their countries of origin once peace is achieved."
How do you view the current political scene in the U.S? Who will win the presidency? Are you supporting either candidate?
"If the election were to be held tomorrow, Hillary would win. However, we are still 2 months from polling day and will have a better view of things after the first debate on September 26th."
What suggestions could you make to the Greek government in order to encourage more Greek-American investment in the country?
"The establishment of a European Union guarantee that foreign investors in Greece will be protected from "unusual" taxation in order to satisfy European demands imposed on the country."
Will you be meeting with any Greek government officials?
"I always welcome meetings."
What is your biggest dream that you have not yet realized?
"To make my parents' spirits proud of me."
Do you have any plans to take another run at politics?
"Yes, I think I have one more run left in me."
Photos: Justine Frangouli-Argyris
Calling all HuffPost superfans!
Sign up for membership to become a founding member and help shape HuffPost's next chapter