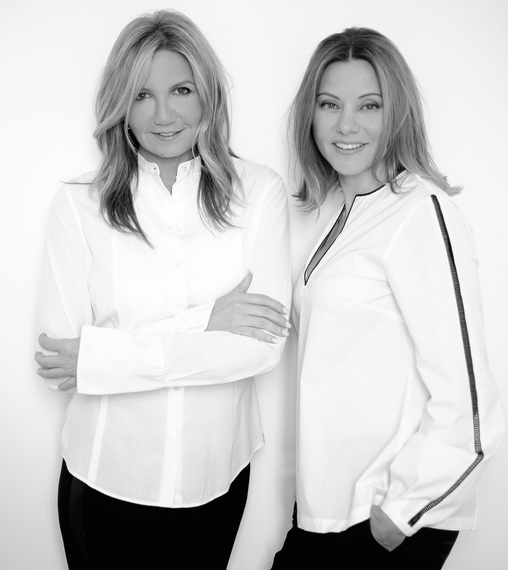 Zeus+Dione co-founders, Mareva Grabowski and Dimitra Kolotoura
Dreams are very private. In fact, more often than not, we don't share our dreams with others just because we feel that would make us vulnerable, or, worse yet, the other person might ridicule the dream and tell us that it's "never going to happen." It's rare when two people share a dream and, in fact, build on it together.
A few years back, longtime friends, Dimitra Kolotoura and Mareva Grabowski, were vacationing at Dimitra's house on the Greek island of Syros. Naturally, the discussion turned to the Greek economic crisis and the general negativity regarding the world's perception of Greece. "We asked ourselves what we could do to help," Mareva says. As a, "romantic reaction to the phenomenon," the label Zeus + Dione was born.
Although neither has a background in the fashion industry (Dimitra headed her own PR firm and Mareva was an economist at Deutchbank) a shared "passion for fashion" was always a part of their friendship.
"We used to talk about everything we loved," Mareva says. "Shoes, dresses, everything. But we were too busy with our day jobs to focus on fashion any more than that." Fast forward to today and we're sitting in their sunlit showroom in the Kolonaki area of Athens amidst the beautifully displayed racks of intricately and meticulously crafted garments, hand tooled sandals and perfectly slouchy, whipstiched handbags of their latest collection.
"We were in (upscale Parisian department store) Le Bon Marche two years ago dreaming of our label being sold there and now... it is!" Dimitra says as she glances at all their label's offerings surrounding us.
But even though the birth of the Zeus + Dione label seems to have the makings of legend, don't expect for one moment that it came about in a blink of an eye. "We didn't leave anything to chance," Dimitra shares. "We both have business backgrounds and we always spoke about real-time things. We moved according to our strategic business and marketing plan with clearly defined targets." This is undoubtedly what has helped fuel the success of their label in a relatively short amount of time. "Most fashion brands are run by artists and they miss that contact with reality. We know that things don't always go as planned and that there are many intangible variables to consider."
Having a great business plan and not being idealistic about anything is the first piece of advice they'd give to anybody with a dream and a product they believe in. The second? To have unique capital. "No business works on equity," Mareva says, fully revealing her economics background. "Unless an entrepreneur has financial backing it's not sustainable. There are plenty of people out there who have great ideas, know-how and skills. However, nobody can develop a business without financial backing."

Both agree that leaving stable jobs and going into the "unknown" was extremely difficult. Are they satisfied with their new-found success? "We don't feel like we've succeeded yet," says Mareva. "We're still in beginning with a long way and even more work ahead of us." It's especially difficult thanks to one of the factors that was a big catalyst to them beginning Zeus + Dione -- their homeland's financial struggles. "Our country has very bad publicity," says Dimitra. "And it's worse now than when we began." Mareva agrees. Hence, the toughest part of their job is financial. "Ninety percent of our sales are international and international buyers question us because we're a Greek company."
The impact of a possible boycott because of the "made in Greece" label would be felt not just by Dimitra and Mareva, but also by the over 100 skilled artisans they employ around Greece. "These people are committed to us and to the brand. They have a pride in everything they make. And we are very close to them," Mareva says. It's a running company joke that the ladies are "married' to their silk producer in Soufli, Kostas Mouchtaridis. The unique, artisan quality of silk they produce together is definitely one of the things that makes Zeus + Dione stand out in the best way possible.
Dimitra and Mareva's passion for their job is so evident. What inspires them on a daily basis? "Interacting with our team," says Dimitra. "It's never boring. There's always so much going on and so much to do. We get to share our ideas and then see them materializing!" Mareva chimes in, "Our problem is that the day ends and we wonder where the day went!" In fact, they often find that they are emailing each other at 3 a.m. "Is that normal?" Dimitra wonders aloud; Mareva and she exchange a glance and then they break out into laughter.
The truth is that the only way to accomplish all of the innumerable hurdles in not only their chosen industry but also their homeland is to possess a strong dedication and drive despite the sometimes seemingly insurmountable obstacles. "In the end you do find the way; you have to move mountains to do so, but you do," they both agree.
To call these two inspiring would be redundant. They prove that building a dream together with a trusted friend requires dedication, perseverance and determination. But also, that if two friends share a dream then that teamwork establishes a rock solid foundation from which it can thrive.