While the spotlight is focused on Hollywood this week for the Academy Awards, Matt Petersen, President and CEO of Global Green USA, wanted to "raise awareness, help support the work of Global Green and have fun" at the 7th Annual Global Green USA Pre-Oscar Party held at Avalon Hollywood on Wednesday night.
"Given the enormous attention that comes to this city during Oscar's week, it's an opportunity to work with celebrities as well as with $75 ticket buyers to bring attention to the environmental problems and the solutions," says Petersen. "It's an enormous spotlight to put on not just the organization, but the issue of fighting climate change."
Despite the unexpected rain, celebrity supporters in attendance included: Leonardo DiCaprio, this year's nominated Director James Cameron and his wife Suzy Amis, Jessica Alba, Benji and Joel Madden, Serena Williams, Nia Vardalos, Ian Gomez, Juliette Lewis, Mia Maestro, Josie Maran, Sharon Lawrence, Slash Hudson, Johnny Galecki, Mark McGrath, Stephen Dorff, Maiara Walsh, Carter Jenkins, Roma Maffia and more.
The theme for this year's event was "Greener Cities for a Cooler Planet" to promote the organization's initiatives to promote smart solutions to climate change by creating healthy, green communities.
Instead of a red carpet, the event of course had a green carpet made of synthetic grass. At the very start of the carpet, leading the way was the new Chevrolet Volt electric vehicle, which was plugged in and ready for its close-up.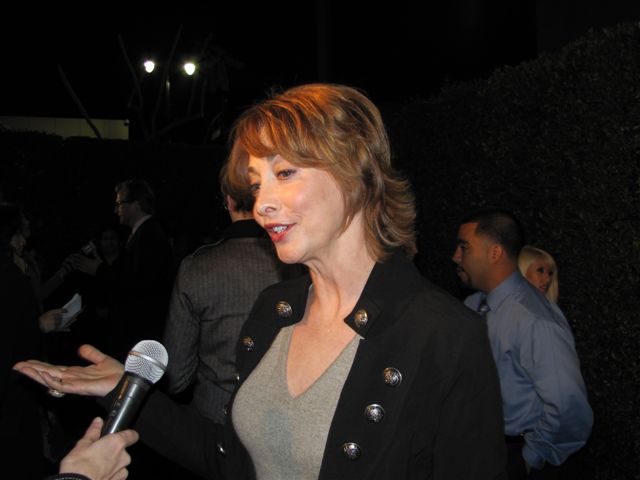 Actress and Global Green LA Committee Member, Sharon Lawrence, was there to support the organization and to talk about other local green foundations like LACAUSA training youth in green jobs and Green Wish. The last time I met Sharon I made a cake out of myself by quoting her back to her here. Luckily she didn't remember, but once again was nice enough to stop and spend a good few minutes talking to me.
"Something that I do every day? I've been driving a hybrid for awhile and I'm really excited by the Volt and am waiting with bated breath for that to come out. I use a lot of biodegradable products, I'm really clear about no parabans and stuff like that," Lawrence said.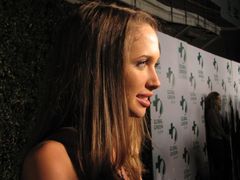 Desperate Housewives' Maiara Walsh, who plays the young Ana Solis (Gaby's mischievous niece), walked the carpet too and shared some ways she lives green.
"I drive a Prius, I recycle like crazy and I changed all my light bulbs to fluorescent light bulbs," said Walsh. She also commented that the cast of Desperate Housewives recycle on the show and some of the characters drive hybrids, which she said is good for viewers to see.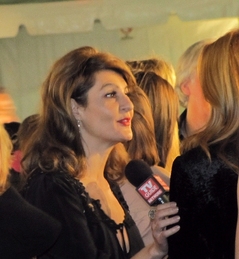 Nia Vardalos from My Big Fat Greek Wedding and My Life in Ruins also attended the event. For her green tip she recommends, "Unplug your charger, your cell phone charger during the day, because even when it's plugged into the wall it's using energy."
In addition to some musical performances, guests were treated to the official unveiling of the eco-friendly gown Suzy Amis Cameron plans to wear on the red carpet at the Academy Awards this Sunday, as part of her "Red Carpet Green Dress" design campaign to benefit Muse Elementary. The stunning blue dress is made from 85% sustainable material, mainly peace silk. Suzy and James Cameron meanwhile also spoke to reporters about their passion for creating green schools and healthy learning environments for kids.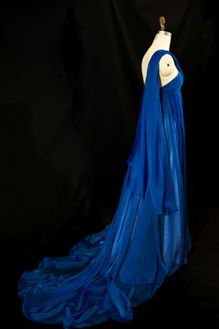 Calling all HuffPost superfans!
Sign up for membership to become a founding member and help shape HuffPost's next chapter