Thanks to one man's vision and another man's mission, an environmentally friendly stove is offering hope around the globe in some unexpected ways.

It all started when a 65-year-old retired carpenter named Fred Colgan met Damon Ogle, an engineer with a new "green" stove design.
"I asked him if he thought it was something we could take to the world and serve poor people with as a nonprofit," said Colgan. "I guess we were in the right place at the right time, just two stubborn old guys who wanted to make a difference."
Fred and Damon immediately got to work hand-building prototypes of a stove that featured a combustion chamber made of stainless steel surrounded by lightweight insulation. At operating temperature, which can reach 1100 degrees Celsius, the stove literally "burns up the smoke," and captures over half the energy generated by the fire.
Nearly three billion people worldwide cook on inefficient, biomass fires, contributing just as much to global climate change as car tailpipes do. InStove reduces the amount of fuel needed by up to 90 percent, or the equivalent to the carbon footprint of up to 2.7 American households. Overall, they save up to 88 tons of firewood each year.
Here's where the nonprofit aspect comes in: individuals and organizations raise money to buy the stoves at cost and donate them to developing countries overseas, where they're used in hospitals, clinics, schools, refugee camps, and orphanages.
Many people in the developing world rely on institutional settings such as these for their food security, and Pastor Jonah of Uganda is one of them.
One day, Jonah found himself looking out at the children in the slums of Kampala, most of them AIDS orphans, and felt called to be their father. With no experience, no budget, and no plan, he just started taking them into his own home. Currently, he cares for 54 adopted orphans.
"I could not send all of my children to school, because it starts at 7:30am and ends at 5pm. Because I couldn't afford to pay for their lunch, they couldn't stay," he said.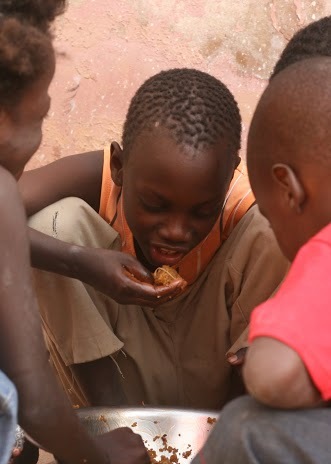 Because his new InStove can keep a meal hot for seven hours, he now cooks dinner late and feeds them from the same pot in the morning, which means two meals for the price of one. Thanks to the stove, he can afford to send them all to school. The orphanage is also stretching their fuel budget twice as far, and significantly reducing their household's carbon footprint.
"Pastor Jonah is currently building a school, and is planning to install more InStoves in the kitchen later this year," said Colgan. "His new stoves are aboard a container scheduled to arrive in Kampala in May."
Less firewood also means less smoke emission, which can be harmful for the cooks. Marcela Boclande, who just gave birth to a son, Jose, is the cook in the Tudisha Bana Bimpe Nutrition Center (the name means "let's feed the children well). Like many African woman, she will be bringing her baby to work with her, tied to her back.
Thanks to their new InStove, she says, she won't have to cook over an unsafe stove that exposes her and Jose to smoke and fire, putting themselves at risk of eye, lung, heart disease and burns.
"There is so much less smoke to breathe today," she said. "I am happy that the kitchen will be cleaner for Jose."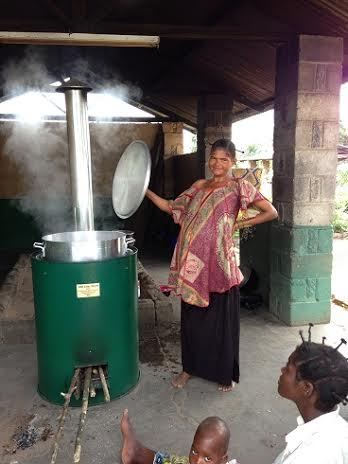 Deborah Akot, also a school cook in South Sudan, currently lives in a conflict area on less than $5 a month. She was so grateful for her InStove that she presented Fred with her bible, her only possession.
"The stove allows me to live without worry about burning my legs and feet," she said.
Because the stove can be used indoors, it provides another added benefit to women who use it.
In Haiti, it's dangerous for women to cook outdoors; it puts them at risk of gender-based violence, abduction and murder. Cooking inside, however, is usually not possible when you have to cook over a fire. Earlier this year, an InStove was delivered to a Haitian cook named Evane Montpremier, who told Fred that she prays in gratitude for the people who made the InStove she received because now she can cook indoors.
"It protects me so I don't have to go outside when it is dark. I finally feel safe," she said. "I'm going to pray for the people who made this stove."
Related
Popular in the Community