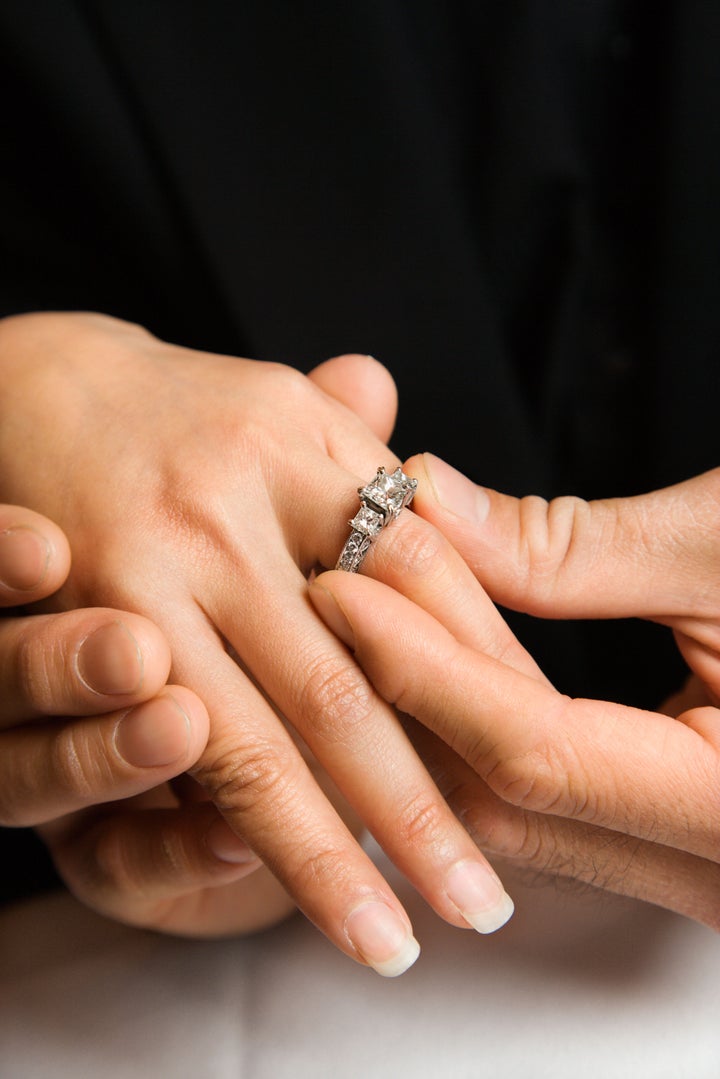 Planning on popping the question on Valentine's Day? Congratulations! It's one of the most romantic days of the year and you'll be ensuring an extra occasion to celebrate every February 14th. Approximately 10 percent of annual engagements take place on V-Day -- the culmination of engagement season (which runs from Thanksgiving through February). What does this mean for you? The pressure is on to impress and stand out from the crowd. She'll be re-telling the story of your engagement for the rest of her life, so be sure to give her something to brag about.
To help you in your quest to land the ultimate Valentine, here are five tips and five proposal ideas that may come in handy as you plan. You may also want to check out my recent HuffPost blog on general proposal tips.
1. Beware of the upcharge. Just like pro sports teams charge extra for tickets to a big rivalry game, restaurants and florists will raise prices for Valentine's Day. This may mean more to you if you're on a tight budget or blew all your money on the ring. Consider combatting the costs with incorporating a home-cooked meal. If your plans are going to include hitting the town, start saving money a few months in advance. For flowers, keep your eyes open for online deals which usually start popping up around mid-January.
2. Speaking of restaurants... In some cases, your favorite eatery may be ditching its normal menu in lieu of a special one-night-only, four-course meal. Beware of this if your favorite entrée or dessert plays into the proposal. Additionally, don't forget about the crowds. Book your reservations at least a month in advance.
3. Don't be cheesy. Let's be honest, Valentine's Day is inherently a tad on the cheesy side. Every relationship is different and the cheese factor might not be the same for everyone. However, there are a few overdone (or just plain stupid) tactics that I'd strongly urge against, such as putting the ring in her dessert, proposing via a stadium jumbo-tron, staging a flash mob or tying the ring to a helium balloon.
4. Length matters. While planning your February proposal, keep in mind that the average engagement lasts just over a year. If you and the bride-to-be have your hearts set on getting married in the same calendar year, a Valentine's Day proposal may present a challenge. It's certainly possible to pull off, but be prepared for some speed planning!
5. There's no harm in asking for help. One of the biggest trends in the wedding industry is the emergence of proposal planners. These specialists take care of perfecting your vision of her dream proposal. They'll bring in vendors, take care of logistics and most importantly, help you keep the entire thing a secret. If you're feeling the pressure and need a little help, consider this valid option.
Stumped for proposal ideas? Here are five creative ideas get you started:
1. Vintage Valentine's Day cards. Remember the old Valentines that you'd give out to your classmates in middle school? If you're artistic, consider creating a set of your own -- perhaps having each one give a clue to what the next portion of the date will be. The last one contains -- you guessed it: the ring.
2. Recreate your first date. From the obvious (dining at the same restaurant, watching the same movie) to the almost forgotten (wearing the same clothes, playing the same CD in the car), she'll be stunned when you take her on a stroll down memory lane. Something tells me she'll enjoy the ending a bit more this time around.
3. Spoil her. Regardless of what you've got planned for the evening, schedule her day around being pampered. Start things off by booking her appointments for a massage session and a mani/pedi. Seal the deal by surprising her with that dress she's been talking about ever since you guys saw it at the mall. You've still got to secure that "yes" from her, but these suggestions will go a long way toward knocking it out of the park. Again, keep in mind you'll be fighting Valentine's Day crowds and book at least a month prior.
4. Incorporate a beloved local trademark. No matter which city you live in, there's that one destination that screams "home," such as the Space Needle, St. Louis Gateway Arch or Griffith Observatory in Los Angeles. These spots make great proposal settings because of their history. They also make a great backdrop for a night you'll never forget.
5. Party hard. You've gotten down on one knee. She's said yes. That's pretty much it, right? Not so fast. If you want to go the extra mile, set up a surprise engagement party with close friends and family to top off the evening. She'll love celebrating the moment with those closest to her (along with showing off her ring). And they'll respect you for including them. It's truly a win-win.
Related