Looking for a place a little, er, unconventional to tie the knot? How about on top of a 2,000-year-old Maya pyramid? Or maybe in a church named after 11,000 virgins? Or on a beach where old-time movie stars used to whoop it up? If ideas like these ring a bell, consider these 10 spots south of the border.

Bring your alibis: Still popular with musically minded couples after all these years is the Hotel California in the village of Todos Santos, about an hour's ride from Cabo San Lucas at the tip of the Baja Peninsula. Some say it's THE Hotel California, the one in the Eagles' song from the '70s. Some say it isn't -- but it's still a fun place to wake up in the morning...married.
Andy and Meg were here: For thatched-roof luxury, it's hard to beat the La Casa Que Canta resort overlooking Zihuatanejo Bay. Nuptial-minded couples have been coming to this Pacific Shangri-La ever since Andy Garcia and Meg Ryan burned up the silver screen at the hotel in the 1994 hit, When a Man Loves a Woman.

Promises on a pyramid: Exchanging vows atop the soaring Mayan pyramid at Coba out in the Yucatan Peninsula is a real high. Be prepared to shell out hefty tips to the registry official performing the ceremony and to the four official witnesses (required by Mexican law) for climbing up the 140-foot-high pyramid.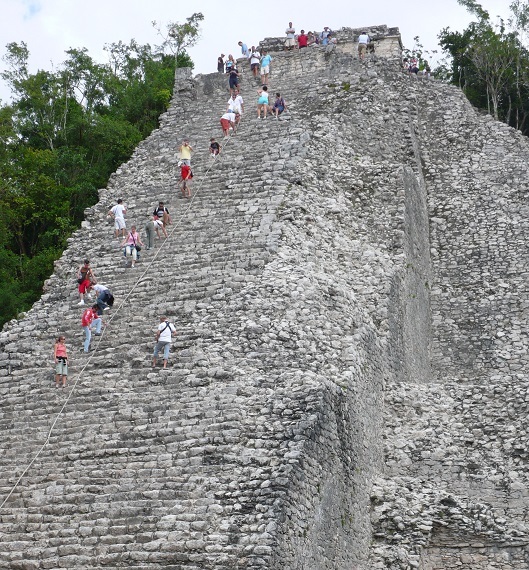 Did anyone bring the ring?

Underground altars: Ancient ceremonial caves thought to be paths to the ancient Mayan afterworld lure some couples to Merida, Cancun, the Riviera Maya and other spots dotting the Yucatan. If bats, spiders, scorpions and the like turn you off, "wet" marriages can be arranged in the underground streams and rivers crisscrossing the peninsula.
11,000 virgins: Make your wedding a legend. Swap your vows at the little town of Cosala up in the hills of the western state of Sinaloa at the Church of St. Ursula -- so named for a legendary 4th century British princess said to have had 11,000 virgin handmaidens.
How dry I am: Old-time movie fans can mosey around in the footsteps of John Wayne, Clark Gable, bad boy "Fatty" Arbuckle, Mae West and other stars who sailed down the Pacific coast to Mazatlan during Prohibition (1920-1933). There were speakeasies (illegal bars) all over the place back in the States, but the law was a great excuse for the stars to zip down to Mazatlan's Olas Altas hotels -- Mexico's first beach resort -- to whoop it up.
A little insurance: Thinking about having a family? Consider getting wed on a site full of the sacred alters, shrines and temples of the Mayan fertility goddess Ixchel. Her sanctuary is on the island of Cozumel (nowadays famous as a diving mecca) about 17 miles off the Caribbean beaches of the Riviera Maya.
Where the action is: Share your joy with just about everyone in town at Marimba Park in the balmy city of Tuxtla Gutierrez down in Chiapas. There, among thousands of dancers who show up every night, you can say your vows while musicians bat out hip-shaking salsas and merengues on the wooden slats of their xylophone-like marimbas.
Where the action isn't: It's usually pretty quiet in Campeche on the Gulf of Mexico. A perfect spot for a private wedding ceremony is on a three-story-high wall built around the city in 1704 to protect it from pirates. Instead of walking down the aisle, you can stroll off into the sunset on a mile-long walkway studded with cannons.
Guahdahlah-harrrr-ah: Wouldn't it be fun to hitch up surrounded by dozens of mariachi bands belting out such brassy favorites as Cielito Lindo, La Bamba and Guadalajara? You'll find a block-full of bands lined up sombrero to sombrero at Guadalajara's Mariachi Square, where they audition for parties, weddings, bar mitzvahs and the like.
Before heading south, you should bone up on Mexico's laws on civil and religious ceremonies, rules on blood tests and all the documents you'll need. Besides info offered by the Mexico Tourism Board among good commercial sources is Mexperience's Complete Guide to Getting Married in Mexico.