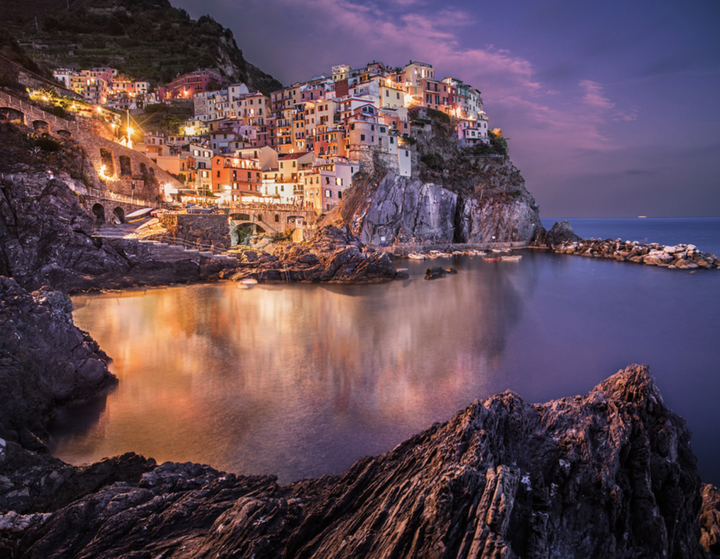 Manarola, Monterosso, Vernazza, Corniglia and Riomaggiore are five medieval gems set high on cliffs with a sheer drop to the sea and surrounded by incredible greenery protected by a nature park. Called "Cinque Terre"— five towns—they have been a destination celebrated by painters and poets of all eras. And they're a must for anyone traveling to Italy in spring and summer. To understand what the place is like, just look at a few pictures. To figure out what to see and where to stay, read on.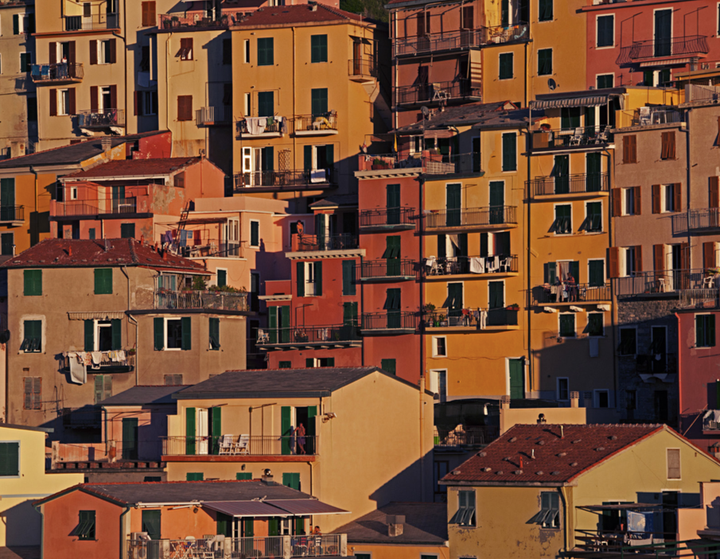 MANAROLA
Manarola is a place of the heart. Those who go there (like me) always return; they love to wander through the carugi (alleys) and swim in one of the coves (the locals call them "lo scalo" and "palaedo"). Then there are the walks: from the church of San Lorenzo you climb through the vineyards on the hillside to enjoy different views of the town. The Arpaiu, in the upper part, is a belvedere with a sheer drop to the sea, from which you can admire the other towns of Cinque Terre and, above all, the best sunsets in Manarola. I recommend looking for a room with a view of the sea (the location of the La Torretta lodge is ideal).
When it's too hot or the town is crowded (it happens in summer when trains arrive from La Spezia—cruise ships dock there—and the streets are packed) you're best off with a place all to yourself overlooking the sea. When evening falls, at happy hour after they've all gone, head down for a glass of Pigato (a Cinque Terre white) and a moment of sheer laziness, perhaps buying a bottle at a food shop and sipping it as you sit on the reef. For dinner try Aristide, a restaurant that's been open since 1964 and is still run by the family. It offers traditional Ligurian fare: be sure to try the pesto, stuffed mussels and fish ravioli. For shopping, at GP Store 1971 you'll find clothing, pottery and interesting souvenirs; for food, try Claudia e Alberto, who offer local cheeses and other delicious specialties.
ARISTIDE
Via Discovolo, 290
tel. +39 0187 920000
LA TORRETTA
Piazza Della Chiesa, 20 Manarola SP
tel. :+39 0187 920327
GP STORE 1971
Via Discovolo 227.
CLAUDIA
Via Discovolo 282 Manarola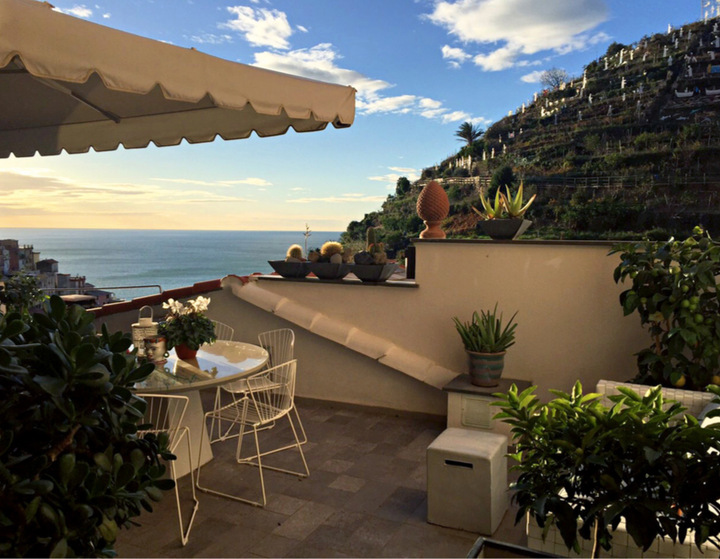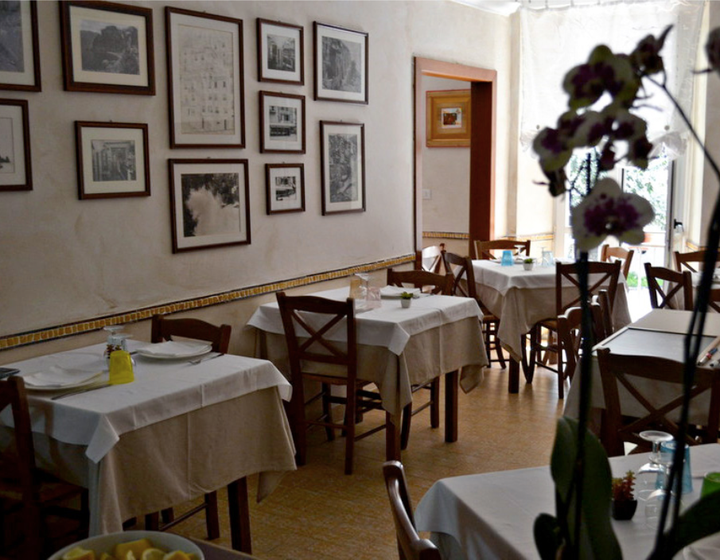 MONTEROSSO
Every time I go back to Monterosso, I visit the Capuchin convent (you'll find signs on Via Fegina, to the left). You head up the trail—about 10 minutes—and reach a statue of St Francis with the wolf, and a view that will take your breath away. Returning to the shore, after the tunnel you come to a clearing where local children (lucky them, what a life!) always play soccer and grownups observe the sea, vying for a bench. Heading back, after the train station you'll come to Cantina di Miki. Miki is a historic restaurant of Monterosso and the Di Faina family has been cooking fish and other luscious dishes for 35 years. Run by their son Manuel and his American wife Christine, Cantina di Miki relies on the same suppliers (for fish and other ingredients) as the other restaurant, a guarantee of quality, but offers a younger and more carefree atmosphere (the terrace overlooking the sea is delightful in the summer). From the menu: tagliolini "alla Monterossina" with fresh anchovies, capers, toasted pine nuts, cherry tomatoes and Taggiasca olives (the pasta is homemade). There is a wide choice of local wines, which are definitely worth ordering to help maintain the way the grapes are grown, on terraced plots enclosed by walls laid without mortar. Given the steep lay of the land, this is the only way to create plots for vineyards. For stylish shopping, there are leather sandals (plenty of different models for each of the Cinque Terre) at Lanapo, as well as pottery (glazed stoneware cups) at Fabbrica d'arte.
For a place to stay, I recommend leaving the center and heading uphill: the rooms at La Cabana have terraces with stunning views (and some have Jacuzzis).
LA CANTINA DI MIKI
Via Fegina, 90
tel: +39 0187 802525
LA CABANA
Loc. La Cabana, 2
tel: +39 0187 819209
+39.0187.819222
FABBRICA D'ARTE
Via Vittorio Emanuele tel: +39 0187 817488 LANAPO
Via Roma, 48