Getting involved in nonprofits is a lot of work, either as an employee or board member. There is a constant need to raise visibility, do more with less, and, in the process, constantly raise funds to keep the momentum going.
On the flip side, there can also be a lot of work for potential donors to determine which organizations they ultimately give to. Donors have the right to ask a lot of questions. How much of my donation actually goes toward the charity? Do I feel confident my contribution will really make a difference?
In the D.C. area, I've just learned about a resource that helps answer these questions and many more, especially during the giving season that we are about to enter.
The 2015-16 edition of the Catalogue for Philanthropy: Greater Washington features 76 charities across Washington D.C., and nearby Maryland and Virginia. The nonprofits all have budgets below $3 million and work on the environment, arts, education and human services.
The Catalogue helps donors to give with confidence because it does the important work of charity evaluation so donors don't have to. Each charity in the network has been vetted by local experts to ensure excellence in programming, finances and, of course, impact.
When people give through the Catalogue, there's no need to write multiple checks to multiple charities. Donors can give online or by mail and have their funds distributed as they direct, with no administrative costs.
The featured nonprofits join the Catalogue's existing network of more than 330 vetted charities since it started 12 years ago.
I like what founder Barbara Harman says about the purpose of the Catalogue: "Our vision is to transform the Greater Washington community -- turning watchers into doers, and bystanders into givers -- and make it a better place to live, for everyone."
Since being founded they have helped raise $29 million for wonderful local charities "working on the front lines of change."
While the print edition is distributed to 25,000 households across Greater Washington, the full collection of charities is also available on the website. Visitors may also request free copy of the Catalogue at the website.
The Catalogue is a nonprofit itself, and takes no fees for this service.
So this holiday season as we begin our quests to find "the perfect gifts," please consider the gift of giving, made so much easier thanks to a phenomenal local resource.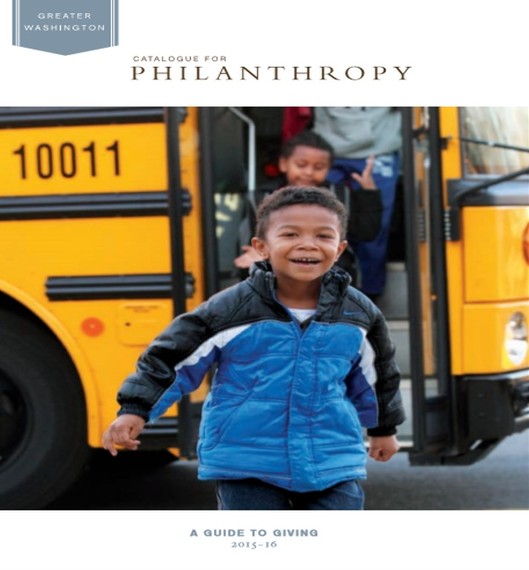 REAL LIFE. REAL NEWS. REAL VOICES.
Help us tell more of the stories that matter from voices that too often remain unheard.