Sturgill Simpson may not be a household name, but the 38-year-old singer will compete Sunday in the coveted Album of the Year category at the Grammy Awards ― against many of the world's biggest stars.
Simpson's third solo studio effort, "A Sailor's Guide to Earth," is up against mainstream heavy-hitters: Beyoncé's "Lemonade," Adele's "25," Justin Bieber's "Purpose" and Drake's "Views."
Even Simpson himself was surprised when the nominations came out in December, telling the Los Angeles Times, "In terms of what happened today, this never even crossed my mind. When we came off the road at Thanksgiving, I really thought, 'Well, that's it for this one. We've done everything,' and I started thinking about what to do for the next record. This has all been slightly surreal to say the least."
Read on for more about the man behind "A Sailor's Guide to Earth."
This isn't Simpson's first rodeo. 
His sophomore album, 2014's "Metamodern Sounds in Country Music," received a Grammy nomination for Best Americana Album. It also became a critics' darling, ranking on Rolling Stone's 50 Best Albums of 2014 list. 
Before going solo, Simpson played in a bluegrass band called Sunday Valley. The group released an EP in 2004 and made an appearance at the Pickathon Festival in Portland, Oregon. But they didn't get too far, Simpson says. "We couldn't travel because the bass player had a great gig with the fire department," he told Rolling Stone.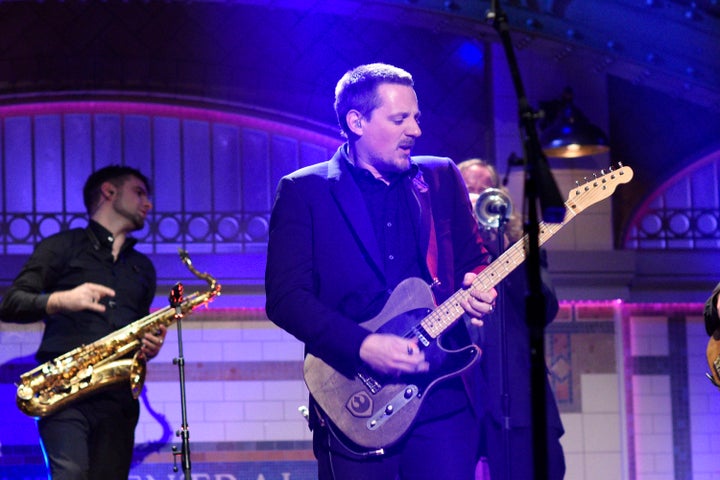 Simpson comes from a family of coal miners. 
Born in Jackson, Kentucky, Simpson grew up listening to music. His grandmother had 45s by Otis Redding and Sam and Dave, and his older cousin introduced him to the likes of Cream and Jimi Hendrix. 
"I was the first male in my mother's family not to work the mines," he told Rolling Stone. "Mom was a secretary, Dad was a state cop. We lived in a prefab house just off the highway. When I was in second grade, we moved to Versailles, just outside Lexington."
He has a wide range of musical influences.
David Bowie, Nirvana, Sly and the Family Stone, Bill Withers, Marvin Gaye, Pink Floyd, George Harrison, Curtis Mayfield and T Rex all inspired Simpson's latest album. You can add Walt Disney to that list, too. "Those old-school Disney movies with the symphonies and strings are great!" he told American Songwriter. It's no wonder. Simpson says he's been watching old Disney movies with his son, who was born in June 2014.
He's a former U.S. Navy sailor.
The Kentucky-born singer made an on-the-spot decision to enlist in the Navy. 
Simpson spent time doing service in Japan and Southeast Asia. But the three-year stint eventually came to an end.
"I wasn't very good at taking orders," he admitted.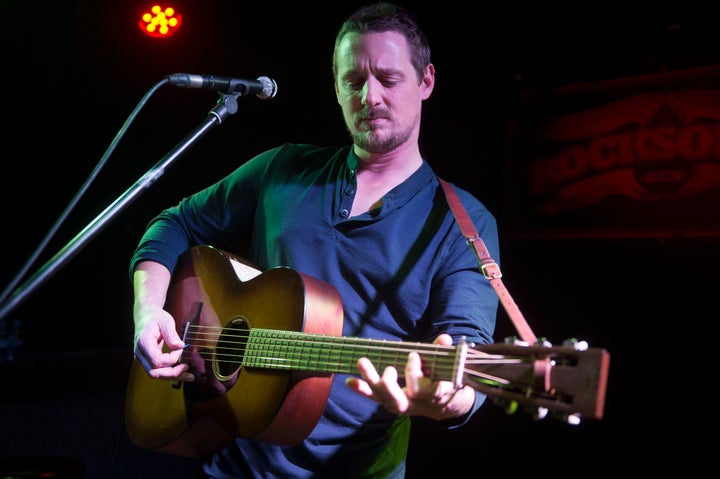 Simpson's wife encouraged him to get serious about music.
Music faded into the background, when in 2006, Simpson decided to take a job working at a Salt Lake City railroad freight-shipping yard for the Union Pacific Railroad. After four years, his girlfriend (now wife) urged Simpson to pick up the guitar again. 
"My wife was a big catalyst for the move to Nashville. I had started really seriously writing for the first time in years and playing at home a bit," he told Fader. "She said 'You don't exactly suck at this. You should know that you tried before you wake up at 40 and I'm stuck with your ass all miserable.'"
It's a good thing Simpson gave music another go. No longer miserable, Simpson has carved out a musical career for himself. He's also up for Best Country Album on Sunday ― and will perform on the Grammys stage, possibly inching closer to becoming a household name. 
Calling all HuffPost superfans!
Sign up for membership to become a founding member and help shape HuffPost's next chapter
BEFORE YOU GO
PHOTO GALLERY
Grammys 2016