What comes to mind when you think of the Amalfi Coast? Sceneries that rival even the best Instagram filters, basking in the sun on a beach? I think about discovering each town through my taste buds by indulging in gelato, pizza, fresh seafood, and of course, adding lemon to absolutely everything. With so much to see and do, it can be overwhelming to find a good restaurant after a long day spent sightseeing - so I've taken the guesswork out of it for you. Here's my guide to some of the best places to eat on the Amalfi Coast:
Don't be fooled by G.A.S. Bar's tobacco shop interior - or the fact that they refer to themselves as an American bar. Climb up to their patio for a spectacular view of the coast alongside locals sipping espresso and playing Scopa. To beat the heat, I kept ordering their crema di caffè, which is like a Starbucks Frappuccino but better. In the evening, G.A.S. Bar turns into a restaurant with pizza starting at €3! My pizza of choice was generously topped with fresh ingredients and the flavors were on point.
If you're headed to Amalfi's main square, track down Cuoppo d'Amalfi to try the local street food. I found it after seeing several Italians walking around with fried seafood cones in hand. After navigating a maze of tiny streets, you'll find this small eatery on Supportico dei Ferrari. Ignore its dingy appearance - sampling their fresh seafood is a must.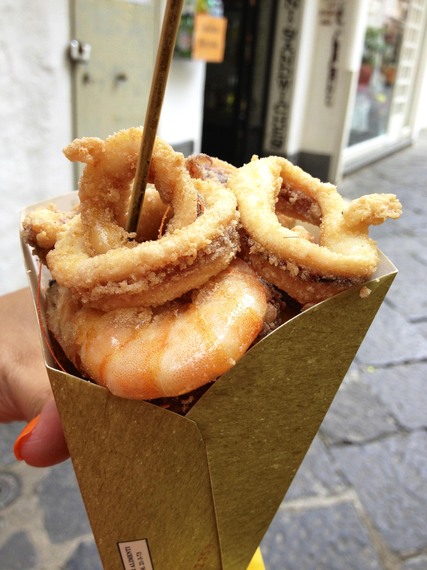 Cuoppo d'Amalfi / Photo Credit: Sofia Mazzamauro
Once you've built up an appetite for dinner by walking through the city's winding streets, head over to Trattoria Da Gemma for a lemon and prawn risotto for two. At €40, the mouth-watering rice dish is infused with lemon and topped with a layer of shrimp. The result is near perfection. The cherry on top is their elevated outdoor terrace, which is perfect for watching the city unfold. End your evening with a gelato from Cioccolato e Gelato Andrea Pansa. You can't go wrong with either chocolate, hazelnut, pistachio, or lemon.
For the best pizza in town, visit Pizzeria Da Franco. Its backdrop, in true Italian fashion, consists of a display of prosciutto hanging from the wall and a Neapolitan pizza oven in the back. The eatery usually has a long lineup of regulars chatting up the staff while waiting for their takeout pizza.
Mimì Bar Pizzeria is known for its lemon specialties - their slogan is "Save Water, Drink Limoncello," so you know they're not joking around! My pizza arrived topped with mozzarella di bufala, arugula, bresaola, and of course, lemon zest. Pair your meal with one of their signature citrus cocktails (Limoncello Cosmopolitan, anyone?). It's all about lemons in this region, so be sure to try as many dishes that feature the ingredient as possible.
Want to have a chauffeur pick you up in Positano and drive you to one of its best restaurants? Il Ritrovo is your classic Italian fare done right. Because of its elevated location, the restaurant is difficult to reach. Simply give them a call when you arrive in Positano's city center and they will accompany you there and back. Seated on a lovely terrace surrounded by greenery, facing the sea, I opted for their set menu during my visit. It included a salumi platter, tagliatelle with mushrooms, sausage, and tomato sauce, a main composed of various meats and vegetables, and tiramisu for dessert. Ending your meal with Limoncello will wake you from your impending food coma!
Before heading out for dinner, be sure to stop by Franco's Bar for a drink on their patio overlooking the water. A bustling hotspot in Positano due in part because of its location above the popular Le Sirenuse hotel, this bar has quickly become the place to be and be seen. With patrons eyeing coveted seats that give on to Positano's spectacular coastline, Franco's Bar fills up fast. Order the elderflower spritz and nibble on their complimentary chips, olives, and the occasional fried seafood cone.