There are loads of bras out there and so many styles to choose from that no wonder 85% of American women are wearing the wrong-sized bra: it's overwhelming. We likely fall into a cup we like, think it's the one we should wear forever and possibly never think about switching.
How many of you reading this right now have bras that are years old? Two years? Five years? More?
Don't worry: it's not uncommon. But it's time to consider getting a bra that really fits and finding the best style that will offer you the support and comfort you need for your cup size.
Here's a way to decode some of the bras available and what cup sizes they can work well for. Of course, there is crossover (e.g. A cups will find fabulous contour bras out there), so this is meant simply as a guide to get you started to better fitting bras you love.
Wireless Bra (Ideal cups who can wear this: AA, A, some B)
Wireless bras are also know as soft cup bras and are as the name says minus the underwire. They are ideal for women size AA or A who don't always need a maximum amount of support. Whereas in the past they have been identified as offering limited support, today's wireless use other elements like padding, seams or lining to shape and support the breasts.
Push-Up Bra (Ideal cups who can wear this: A, B)
Push-up bras create the appearance of increased cleavage and volume using angled cups (which often have underwire), demi cups and/or different varieties of padding including graduated padding, which is thicker at the base of the cups and tapered towards the top of the cups.
Contour Bra (Ideal cups who can wear this: C)
The signature of this bra is that it's known to hold its shape (if you accidentally squished it in your luggage it would spring back to life). The beauty of this style that sports an underwire is that it sculpts and smoothes and provides a symmetrical shape without adding size to the chest.
T-Shirt Bra (Ideal cups who can wear this: C)
These are seamless, ultra-contoured bras created to be undetectable under everything from thinly milled T-shirt to light, clingy knits. Words like smoothing, invisible, soft touch and barely-there are descriptors often used to describe the cups of these bras. An added benefit: many T-shirt bras have wider bands in the back to account for back flab and to smooth out the appearance of the back when wearing a T-shirt. These bras have all the advantages of a contour bra.
Full Cup Bra (Ideal cups who can wear this: D)
Full cups cover most if not all of the breast, offering both more coverage and support.
Demi Cup w/ ¾ cup coverage (Ideal cups who can wear this: D)
While most demi-cup bras typically only cover half of the breast, a more secure option for a D-cup is one that has ¾-cup coverage that doesn't sacrifice an ounce of sexiness.
And for the ladies from Cake Boss who were all over size D cups, look at the variety of bras that worked for them below!
Lisa's Seamless T-Shirt Bra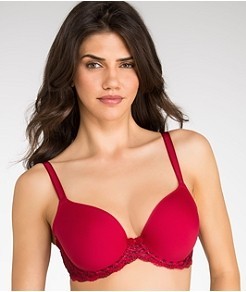 Wife Lisa
Came in wearing: 34C demi-plunge bra
Actual size: 32G
New bra: Wacoal La Femme 30th Anniversary T-Shirt Bra in Jester Red, $62
The result: A seamless contour bra with all of the great support she was lacking (her previous bra was floating off of her body) without adding any weight to the size of her chest.

Lisa's Lace Full Cup Bra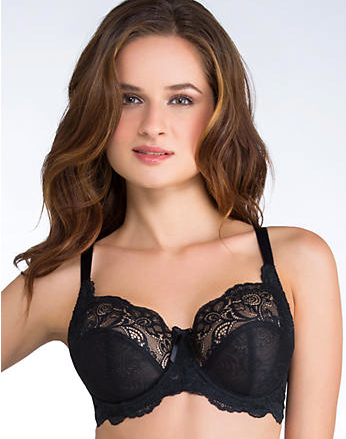 Sister Lisa
Came in wearing: 36D push-up bra
Actual size: 34 DDD
New bra: Panache Andorra Full Cup Bra in black, $62
The result: This lacy number offers maximum amount of surface area coverage that took care of previous side spillage that she was concerned about and a tremendous amount of support without sacrificing any sexiness, which she specifically requested!
Maddalena's 3/4-Cup Demi Bra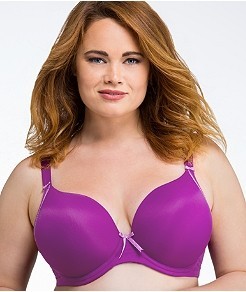 Maddalena
Came in wearing: 44C wireless bra
Actual size: 44E
New bra: Elomi Bijou Convertible Seamless Bra in black, $70
The result: Since Maddalena came in wearing a wireless bra, the transformation into this ¾-demi was incredible. By lifting her up it greater defined her waist, and as she said, 'It woke me up!'
Grace's 3-Part Bra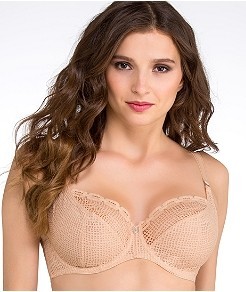 Grace
Came in wearing: 34D plunge push-up
Actual size: 32F
New bra: Freya Fio Balcony Bra in nude, $58
The result: In her 3-part bra, which namely means her bra cup was divided by three seams, Grace got added support: the more seams, the more support and shaping! And this bra helped to bring everything front and center for her.
All bras from BareNecessities.com.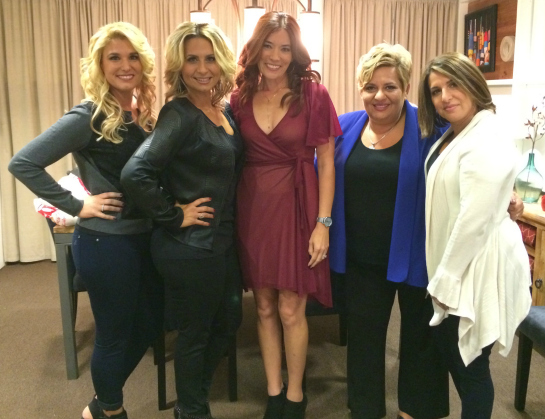 Support HuffPost
A No-B.S. Guide To Life
Related
Popular in the Community