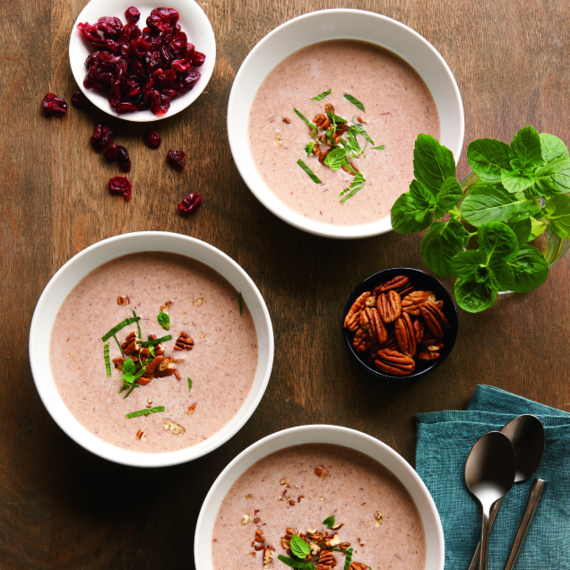 The holidays have arrived, and with that often comes temptation around every corner -- creamy eggnog, refined carb-loaded stuffing and flakey, buttery pastries. It's no surprise when, come January, you jeans are fitting a little tighter. However, it is possible to partake in delicious and satisfying holiday festivities without adding inches to your waistline.
Enter recipes that are full of healthy fats that keep you feeling satisfied and well-nourished. To avoid that all-too-familiar post-dinner food coma, look for recipes that focus on food and ingredient quality. You'll also want to steer clear of dishes that are low in refined carbohydrates and sugar.
This seasonal recipe for Coconut Cranberry Soup is delicious and full of flavor. Be sure you get dried cranberries that are sweetened naturally without corn syrup. You want to avoid hidden sugars at all cost. If you can find young Thai coconuts in a local market, by all means use them. Their fresh flavor is a treat.
Ingredients:
1⁄3 cup dried cranberries
1 cup filtered water, freshly boiled
1 piece (1 inch) fresh ginger, peeled and thinly sliced
1 cup chopped peeled cucumber
2 teaspoons ground cinnamon
1 teaspoon fresh thyme leaves
1 can (14 ounces) coconut milk (or 1 young Thai coconut, meat and water)
1 tablespoon Bulletproof Brain Octane oil (or MCT or coconut oil)
1 tablespoon chopped almonds or pecans, for serving
1 teaspoon thinly sliced fresh mint, for serving
Instructions:
In a small saucepan, combine the dried cranberries and hot water and set aside to rehydrate for 10 minutes.
Add the ginger, cucumber, cinnamon, and thyme.
Bring to a boil, then immediately reduce to a simmer and cook over medium-low heat for 10 minutes. Transfer to a blender.
Cover the blender lid with a cloth (in case the lid leaks) and blend until smooth.
Add the coconut milk and Brain Octane oil and blend again until creamy.
Serve with chopped nuts and mint.
Want to fill your holiday table with delicious and nourishing dishes? You can find more recipes like this in Bulletproof: The Cookbook.