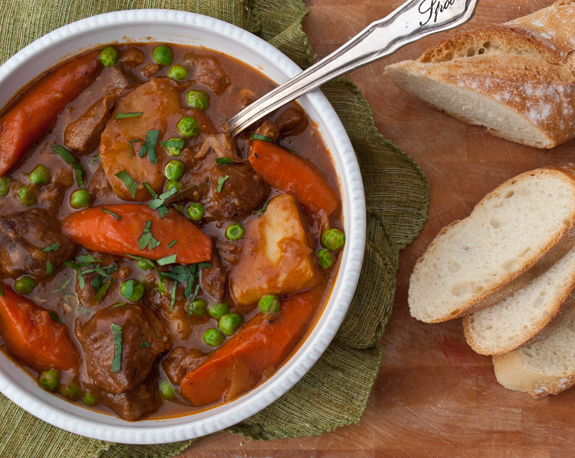 In this traditional Irish stew, lamb is braised in a Guinness-spiked broth along with carrots, potatoes and bright green peas. Served with a crusty loaf of bread, it's the perfect hearty fare for a St. Patrick's Day feast.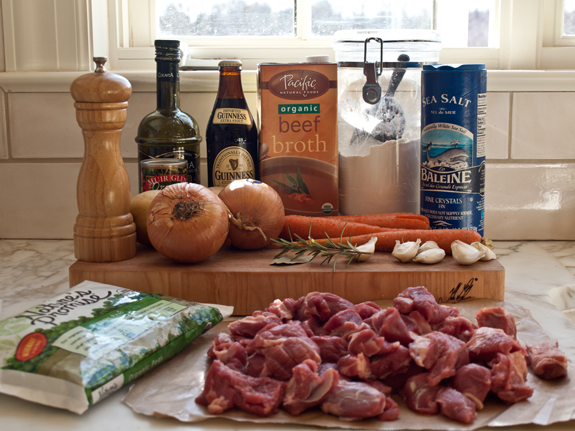 Before we get to the recipe, you want to be sure to select the right cut of meat, which is lamb shoulder -- not leg of lamb, which is best for roasting or grilling, and won't get tender in a stew. Have your butcher trim as much of the excess fat as possible, or you can do it yourself when you get home. You can see some of the excess fat in the photo below where the yellow arrow is. Simply loosen those little flaps of fat with a knife and they pull right off.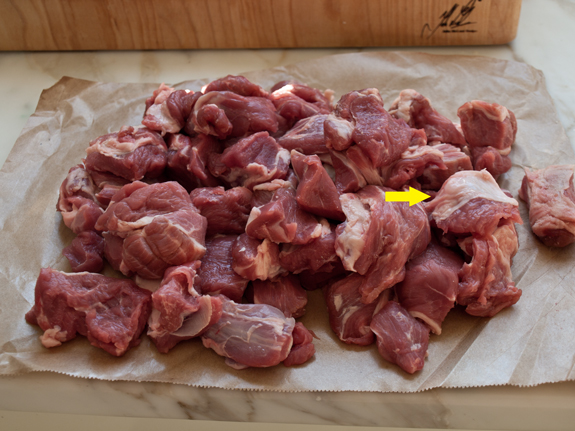 Season the meat with salt and pepper and then brown it in batches in a large pot or Dutch oven. Be sure the oil is very hot and don't crowd the pan or the meat won't sear properly. This step is a bit time consuming but important because it caramelizes the surface of the meat and adds wonderful depth of flavor to the stew.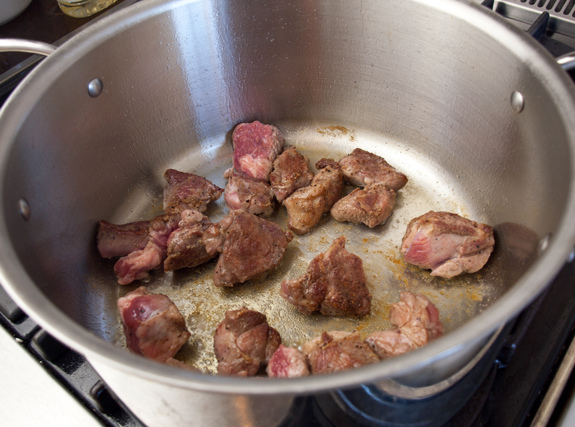 Set the meat aside, then add the onions and garlic to the pot, along with a few tablespoons of water to loosen the brown bits from the bottom of the pan.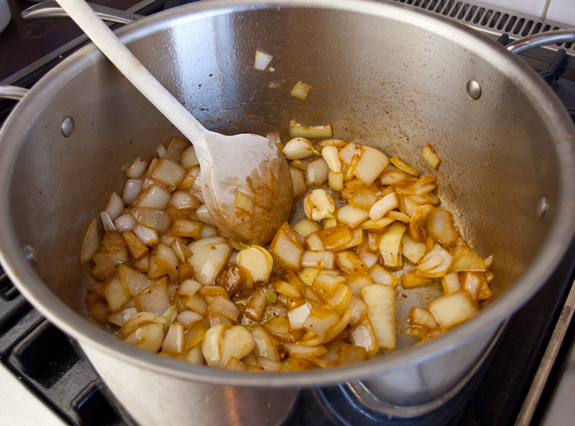 Stir in the tomato paste and cook a few minutes more.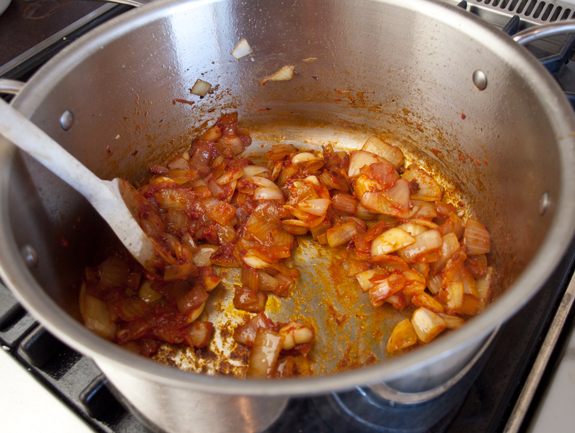 Add the lamb back to the pot and sprinkle it with flour, which will thicken the broth as it cooks.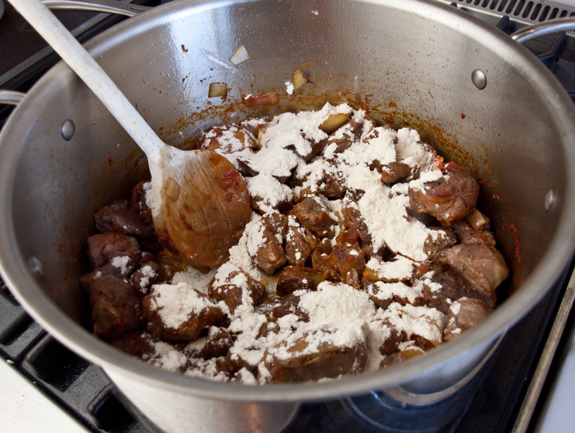 Cook and stir for for a few minutes until the flour dissolves.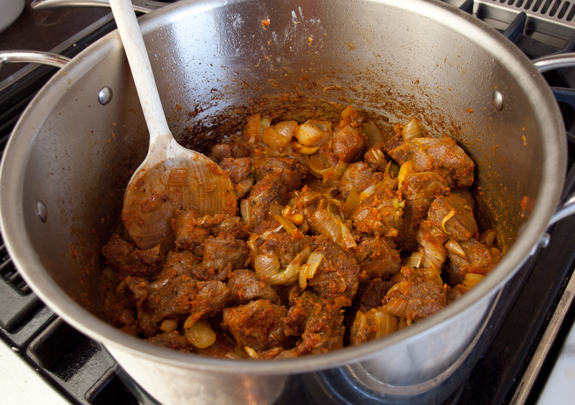 Add the braising liquid, which is simply beef stock, Guinness, water and herbs.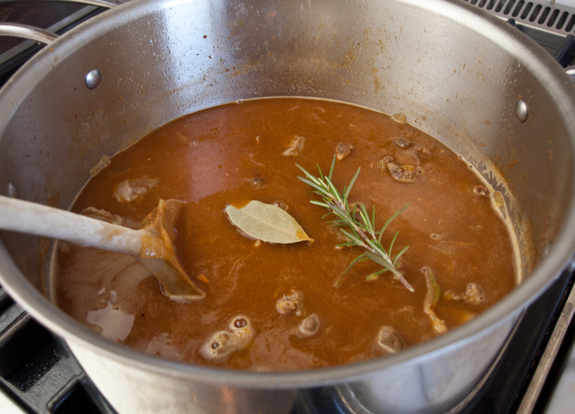 Bring the broth to a boil, then cover and simmer for about an hour and twenty minutes.
Add the carrots and potatoes and continue cooking until the meat is tender and the vegetables are cooked, about 30 minutes more. Be sure to stir it a few times so the vegetables don't stick to the bottom of the pan.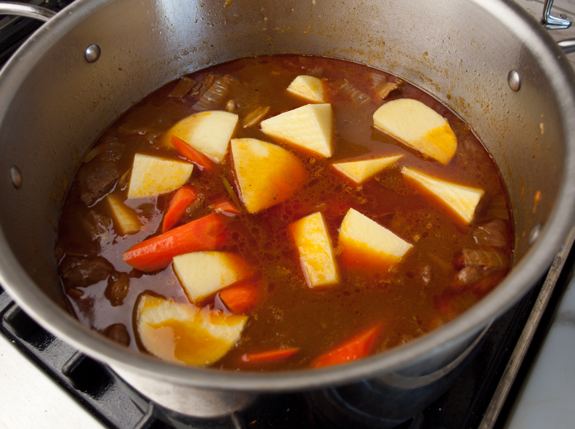 As you can see below, the broth thickens up nicely as it continues to cook. Right before serving, stir in the frozen green peas. They'll defrost and cook right in the stew.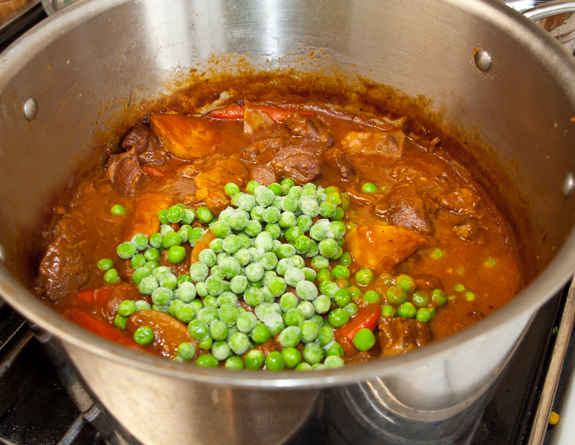 You can definitely make this stew a day or two ahead, as the flavor only improves. Just note that the broth thickens up quite a bit in the fridge so you may need to add some water to thin it out. Enjoy!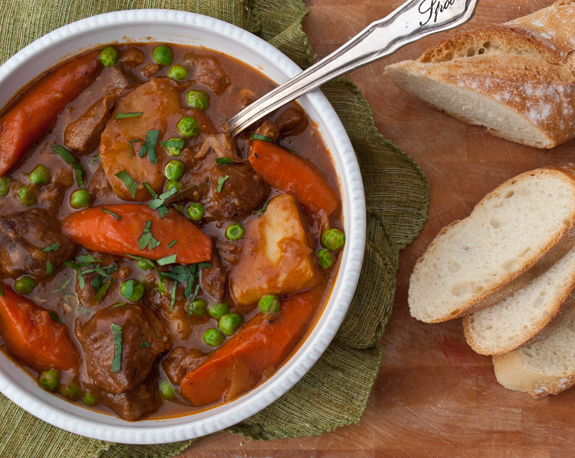 Popular in the Community