Marvel's "Black Panther" is not just a movie, it's a cultural moment. So it's not surprising that a Brooklyn man in a full "Black Panther" costume proposed in the middle of the theater minutes before the movie started on Thursday night.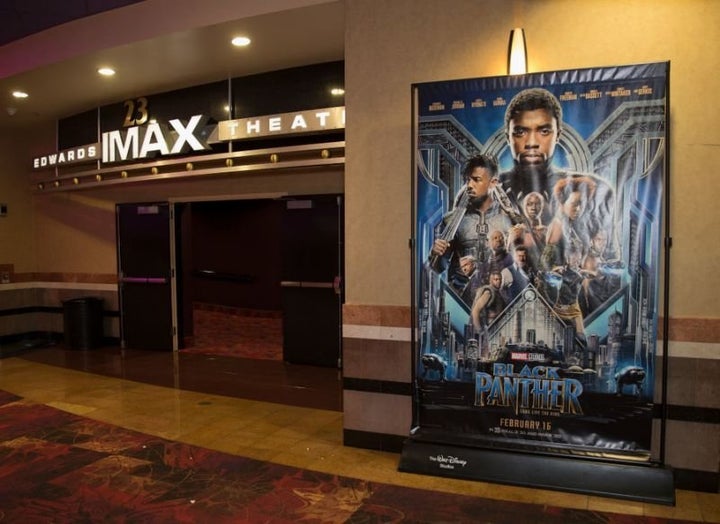 Fans across the country have flocked to the movie theaters on opening weekend to watch their favorite superhero come to life. Some have even dressed in traditional Wakanda attire, but this "Black Panther" superfan made his girlfriend's screening one she will remember for the rest of her life.
Moviegoers at Brooklyn's Alamo Drafthouse caught the moment just as the man got on one knee.
Akil Kamau was at the theater to see the film when it all went down. He shared details with Yahoo Lifestyle about the exciting moment of the surprise proposal.
"The atmosphere in the entire place was straight Black love and pride from the lobby to the theater, nothing but hugs, smiles, natural hair, and dashikis," he says.
"Then the sister to my left was 'OMG he's proposing!'" says Kamau. "I look further to my left and see dude and his girl standing up, and the phones start coming out flashing and recording."
Another Twitter user was able to capture the special moment:
Kamau continues: "Folk were 'awwww-ing' and the excitement was building," he adds. "Then someone said, 'she said yes!' and everyone started clapping and taking more pics."
Here's the touching video after she said "yes."
"There were some funny, positive, comments made and the entire audience was fully supportive," says Kamau. "Nobody was expecting it at all."
According to one witness, the boyfriend knew his woman would be there with her friends, leaving soon after the proposal because he did not have a ticket to watch the movie.
But the girlfriend wasn't left to celebrate alone. "She was there with her friends receiving hugs and whatnot," says Kamau.
Although the couple's identity has not been revealed yet, we do know the entire theater exploded in cheers and applause congratulating them for their engagement.
Mike Sampson is the marketing manager of Alamo Drafthouse Brooklyn. He tells Yahoo Lifestyle that they did not catch either of their names but are in the process of reaching out.
"She accepted and we brought the happy couple some Champagne for a toast," says Sampson. "The gentleman wanted to let her continue to enjoy her girls' night, so after a quick kiss, he left the theater as the movie was about to begin."
Kamau summarizes the sweet proposal: "It was surely a great moment in black love history."
Congratulations to the newly engaged couple!
Read more from Yahoo Lifestyle:
Popular in the Community