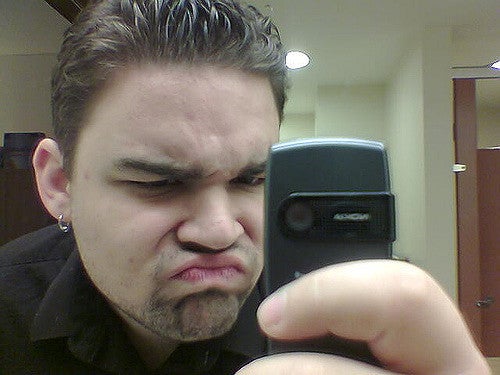 Once upon a time, a guy met a guy 20th century style in 2017. The first time they laid eyes on each other, it wasn't on a Grindr grid, but face-to-face in a local bar on a Thursday night. After a round of drinks and some breezy banter, they exchanged phone numbers and bid each other adieu with a peck on the lips.
Readers, one of those men was me, and we'll call the other one Finn. After months of Grindr disappointments, I can't begin to express how excited I was to meet a handsome man in a suit like it was 1997 again.
We met up for an after-work beer six days later, and while our first date didn't exactly make my heart go bang, I thought Finn had potential. I didn't care much for his Hillary Clinton bashing, but at least he was Team Bernie Sanders and not Team Donald Trump. A half hour or so after another chaste goodbye kiss, he texted and asked me out again.
But before we could embark on date number two, Finn got way ahead of himself. Two 5am's after the first date, as I was reading my overnight messages on Scruff shortly after waking up, my phone announced the arrival of two new ones from the same person. The first was a photo of a familiar face (Finn's), and the second was one sentence:
"We should be f―-ing if you are awake."
Now that, I thought, was a true wake-up call. Finn's Scruff profile, which included one of those dreadful headless-torso photos and shaved six years off his actual age, was bad enough. But his words seemed completely inappropriate considering how we'd met and the relatively asexual tone of our conversations up to that point. While I was deciding how to respond, or if I should, he sent me a proper text message: "My d—k is throbbing," it read, accompanied by head to, um, "head" photographic proof.
So much for old-school courtship with a guy old enough to remember gay dating before hook-up apps. It seemed I had mistakenly assumed that part of the beauty of meeting someone offline would be sidestepping all of those annoying and frustrating Grindr-ish clichés, stuff gay men never actually did or uttered in "real" life: "Top or bottom?" "Hung?" "Pics?" The mystery was gone, and we hadn't established enough of a connection to get by without it. That awkward, unflattering shot didn't help.
Neither did the text messages he sent me the following evening when a cooler head unencumbered by off-the-charts horniness was hopefully prevailing:
"Sorry I missed you this morning, am sure you found fun"
"Message me if still interested in catching up"
Don't hold your breath for that one, I thought.
Despite my friend Jose's warning that ghosting him would be just as distasteful, I chose to ignore the XXX text for a few days while deciding what I wanted to say. But several mornings later, when I spotted Finn from a distance while I was walking to the gym, I knew the moment of truth was approaching. I pretended not to see him, but I knew he'd seen me. A few minutes later, his next text arrived:
"Figure your phone must have died. I take it I missed my opportunity."
This time I knew I had to respond immediately.
"Yeah, the c―k pic was a turn off. Sorry."
I didn't want to elaborate because I didn't want to get into a shaming match or come across like a pearl-clutching goody-two-shoes. I thought he might assume I simply didn't like what I saw and leave it alone, but clearly he wasn't lacking confidence. His response was one that would be familiar to any woman who's ever been told that if she flirts and wears sexy clothes, she deserves to be treated like a whore.
Him: "No worries. But there is a thing called context… we were both looking for sex online in the wee hours of the morning."
Me: "Please don't presume to know what I was looking for in the wee hours of that morning. At any rate, best of luck."
He continued to defend his actions, suggesting I had invited them by admitting on our date that I would have gone home with him the first night we met if he had asked me to. In his words, "If it looks like … and spells like a … therefore the assumption is that it is a …. .". Translation: I was asking for it.
I wondered if he had been having a completely different non-conversation that morning. My lack of input should have made it clear that I wasn't interested in getting naked with him or in seeing him naked that morning. Sending the XXX pic was a desperate move made by someone who wasn't paying any attention to actual context.
Had I forfeited my right to an old-school courtship by admitting I was sexually attracted to him on our date and by daring to read my Scruff messages at 5am? If it's perfectly fine to send an unsolicited nude shot after the first date, does that mean it's OK to expose yourself at the dinner table during the second date, if you think the context is screaming "SEX!"?
I might have excused his horny heat-of-the-moment move if, regardless of the presumed context, my discomfort over the penis shot had been enough to make him reconsider sending it. But that would have meant backing down, and I already knew that's not his thing.
As I considered how thoroughly he'd slut-shamed me, I remembered how he blamed Hillary Clinton for Bill Clinton's sex scandals because the then-First Lady, according to him, had tried to help the President cover up his extramarital affairs. If he could turn a cheated-on spouse into the villain because he didn't like her, of course he'd have no problem overruling my objection to his XXX display and painting me as a thirsty insomniac.
I could deal with the Hillary hate, but this was a dealbreaker. As the almost-U.S. President knows all too well, sometimes certain things are better kept under wraps – or inside your pants.
REAL LIFE. REAL NEWS. REAL VOICES.
Help us tell more of the stories that matter from voices that too often remain unheard.