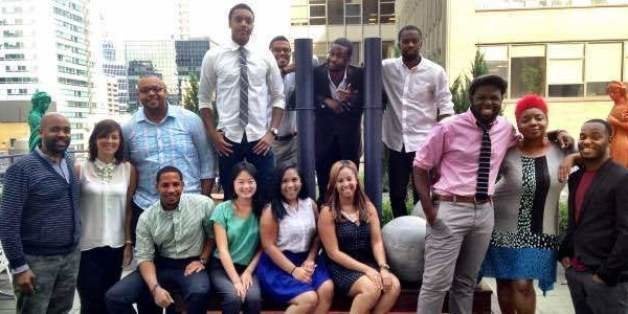 Where are all the talented people of color?
I've been asking myself this question since I took my first job in advertising 11 years ago at TracyLocke. At the time, the agency of more than 500 employees had just a handful -- fewer than 2 percent -- who were Black. Unfortunately this ratio wasn't unique to the company, and from my first years in the industry to my last, one thing remained constant: I was almost always the only person of color in the room.
It saddened me then as it does now, but what's more disappointing is how much of an industry standard it's become. Tuning into a show like Mad Men, it's clear that costumes have changed more in 50 years than office demographics. And today, advertising agencies are oddly reminiscent of the racially homogenous 1960s.
During the era of Mad Men's fifth season, set just a few years shy of the 1970s, the first programs to hire and train African-Americans in the advertising and marketing business were getting their start. Just a decade earlier, a handful of African Americans, such as Roy Eaton at Y&R, had made names for themselves on Madison Avenue and in Chicago. It wasn't until this fifth season that the first black character appeared in the halls of Sterling Cooper Draper Pryce (the fictional firm at the center of the show). She was a secretary.
Unfortunately, as Mad Men has recently concluded, not many more actors of color appeared on the show in substantial roles. Our experiences and participation in advertising remained very much an afterthought of the show -- and unfortunately they remain an afterthought for many real-world agencies, as well as the Fortune 100 companies that hire minorities.
Recently, the legendary advertising agency Leo Burnett started mobilizing the industry to address its diversity problem, reporting that at the current rate of hiring, recruitment, and retention, the advertising industry will not reach racial parity within the U.S. until the year 2079 -- more than 60 years from now, and 100 years after the Mad Men Era.
Another analysis of workforce diversity conducted by the Marcus Graham Project, the nonprofit organization that I co-founded and run, compared data from the U.S. Bureau of Labor statistics and census data, which revealed that the advertising industry fails to reflect America's rapidly growing minority population. In addition, the study uncovered that African-Americans are the only minority group to have actually decreased their representation in the industry. African Americans represent 13% of the nation, but only 6 percent of the industry. The fast growing Hispanic/Latino population represents 17 percent of the country but only 9 percent of the industry.
Recruitment, hiring, training, mentorship, and retention are the heart of the issue. One of the biggest challenges is developing a pipeline of not only entry level talent, but also mid- and senior-level talent. To be extremely clear -- there are a plethora of talented minorities in the US. There just aren't nearly enough who have been truly prepared to enter the advertising industry due to a lack of training and access.
The Marcus Graham Project has worked for nearly a decade to create modern solutions to address this issue -- and we've been doing it in collaboration with agencies and corporations, because it's the most effective and realistic way to get results. To further move the needle, we are joining leaders from all sectors this week in Denver for the 2015 meeting of the Clinton Global Initiative America, where we are announcing our commitment to train, mentor, and recruit over 300 emerging professionals over the next three years.
In the first year of our CGI commitment, we are thrilled to partner with companies such as PepsiCo, Leo Burnett, Beats by Dre, Wieden + Kennedy, MDC Partners, and Microsoft to scale our efforts to change the face of the industry. These partnering organizations are demonstrating their dedication to ensuring that their advertising talent reflects the rich diversity of the country. Other entities that are doing good work in this space include MAIP from the American Association of Advertising Agencies, the One Club Creative Boot Camp, and the AAF's Most Promising Multicultural Students program
There are many unemployed creative people ready to work. There are thousands of students across the country ready to get in and stay in the advertising industry. There are thousands more that have no clue about the types of careers that are available. But we have a lot of work to do to achieve equality. Our brands have to invest. Our agencies have to do better at recruiting. Our schools of communications must do better at preparing minority students for advertising careers. And all of these actors, from the business world to academia, have to join forces across sectors to finally make advertising more diverse.
It's been 50 years since the Mad Men Era. Let's not keep its conventions for 50 more.
This post is part of a series produced by The Huffington Post and the Clinton Global Initiative in recognition of the latter's fifth meeting of CGI America (June 8-10 in Denver). This week, nearly 1,000 leaders from business, government, and civil society are coming together to develop solutions for economic growth, long-term competitiveness, and social mobility in the United States. For more information on CGI America, read here. To see all of the posts by authors in the series, read here.
Calling all HuffPost superfans!
Sign up for membership to become a founding member and help shape HuffPost's next chapter