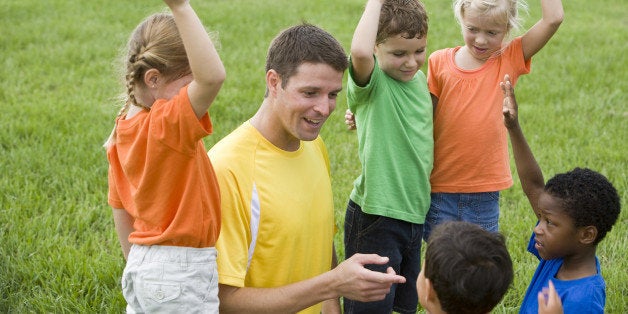 This summer, 10 million children are enjoying time at camp -- half at one of the more than 2,400 accredited by the American Camp Association (ACA). The derivatives of these experiences have been cataloged in ACA's Directions research report. Among other positive benefits, the data reveal that young people attending summer camp identify gains in confidence, self-esteem, social skills, independence, adventurousness and leadership.
Is that why they're so darn happy? Well, those personal gains plus fun activities such as swimming, archery, songs around the campfire and walks with new best friends.
But there's also something more nuanced going on in these unique experiential environments that spurs positive youth outcomes across five key spheres:
1.Team Building
2.Academic Enrichment
3.Workforce Development
4.Environmental Stewardship
5.Health and Wellness
In particular, summer camps are infused with the core concepts of positive psychology developed by Martin Seligman, past president of the American Psychological Association, and growth mindset, advanced for decades by Carol Dweck, a professor of psychology at Stanford University.
Seligman's 2002 book Authentic Happiness (Simon & Schuster) encouraged focus on not just mental illness but also on joy, total engagement (or "flow"), accomplishment and well-being.
Sounds like summer camp to me.
More recently, psychologists Karen Reivich and Jane Gillham of the Penn Resiliency Program at the University of Pennsylvania's Positive Psychology Center have applied tenets of the practice to build protective factors in youth to ward off mental health issues further down the road. According to "Positive Psychology for Kids: Teaching Resilience With Positive Education" in US News & World Report (June 9, 2009), Reivich and Gillham's work addresses links between self-talk, both negative and positive, and important educational outcomes.
In this way, these efforts mirror an increasingly popular form of mental health counseling called cognitive-behavioral therapy, which -- in part -- addresses dysfunctional emotions.
At Penn, a key ingredient of success has been identified as the simple prospect of hope, or the overall perception that one's goals can be met. They point to three necessary ingredients of hope: goal-oriented thoughts; pathways to achievement; and agency thoughts (positive emotions) and state that research has linked hope to higher academic and athletic performance and better adjustment.
Intrinsic to hope is resiliency -- or the ability to handle setbacks, including failure.
Two recent articles, Paul Tough's "What if the Secret to Success Is Failure?" (The New York Times, September 14, 2011) and Scott Adams' "Secret of Success: Failure" (The Wall Street Journal, October 12, 2013), also highlight the value of struggle.
Once again, camps demonstrate primacy in creating "safe places" where young people can venture outside of their comfort zones, face failure without judgment, learn from the experience and bounce back to bigger and better things. In turn, that process engenders feelings of competence and hope.
States of mind are also the key to Carol Dweck's pioneering work on "self-theory," which informs one's motivation to learn and degree of resilience. She talks about fixed and growth mind-sets, the latter framing intelligence as influenced by learning rather than as a static construct. According to Dweck, individuals with growth mind-sets thrive on challenge and benefit from goal-setting and feedback (Mindset: The New Science of Success, Ballantine Books, 2006).
Extrapolated to the summer camp setting, counselors promote growth mind-sets and build resiliency in children by praising effort as opposed to ability; demonstrating that intelligence, learning ability and athleticism are not fixed at birth; expressing confidence in campers' ability -- and giving them the tools -- to improve; and creating environments in which children take responsibility for their own learning.
These concepts form the basis of the learning model at Camps Kenwood & Evergreen in New Hampshire and Everwood Day Camp in Massachusetts. Founder Scott Brody says, "Children are born with innate drives to help others, make social connections, solve problems and acquire knowledge. Our job is to nurture those characteristics by intentionally communicating to campers our belief in their capacity to grow as human beings."
Many of these same strategies also resonate in the leadership-development programming at Camp Rising Sun (CRS) in Rhinebeck, New York. At CRS, learning is predicated on exposing youth to real problems in a diverse social setting. "This experiential model involves a cycle of 'Do-Reflect-Redo,' requiring immersion in an activity the learner is fully invested in," according to Patrick O'Malley, M.D., board president of CRS's parent organization, the Louis August Jonas Foundation.
Perhaps most amazing is the fact that camps have been delivering on this value proposition for 150 years - while the kids think they're just having fun. Or as ACA CEO Peg Smith put it, "The magic of camp can be found in the transformational lessons learned while children are fully engaged in enjoyable, fulfilling activities and relationships."
Whether they know it or not, long after this camp season ends, millions of young people will move confidently toward adulthood armed with the skills and frame of mind to experience lives of success and service -- making them the proverbial happy campers.
Related
Popular in the Community