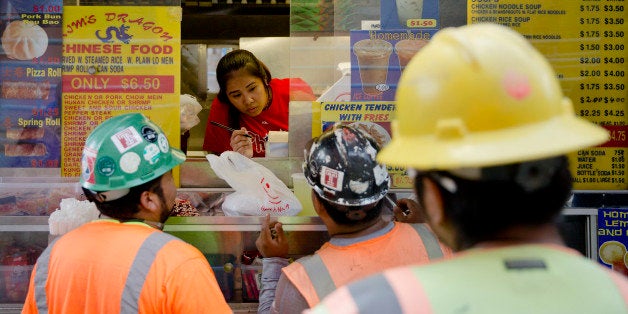 It's been a good few days for America.
On Thursday, the Supreme Court reaffirmed the Affordable Care Act. It is here to stay.
And, Democrats and Republicans in Congress paved the way for the United States to rewrite the rules of global trade to benefit American workers and American businesses.
On Friday, the Court recognized the Constitutional guarantee of marriage equality. With that ruling, our union became a little more perfect -- a place where more people are treated equally, no matter who they are or who they love.
These steps build upon America's steady progress in recent years. Out of the depths of recession, we've emerged ready to write our own future. Our businesses have created 12.6 million new jobs over the past 63 months -- the longest streak on record. More than 16 million Americans have gained health insurance. More kids are graduating from high school and college than ever before.
But more work lies ahead, if we are to succeed in making sure this recovery reaches all hardworking Americans and their families.
We've got to keep expanding access to affordable health care. Right now, 22 states haven't expanded Medicaid -- even though, under the ACA, they can. We'll keep encouraging those governors to do the right thing for their constituents. And we're making sure people know all the ways that they can benefit from the ACA. Wednesday, I'll go to Tennessee to meet Americans whose lives have been changed by this law, and to talk about how, instead of refighting settled battles of the past, we can move forward together.
We've got to keep making sure hard work is rewarded. Right now, too many Americans are working long days for less pay than they deserve. That's partly because we've failed to update overtime regulations for years -- and an exemption meant for highly paid, white collar employees now leaves out workers making as little as $23,660 a year -- no matter how many hours they work.
This week, I'll head to Wisconsin to discuss my plan to extend overtime protections to nearly 5 million workers in 2016, covering all salaried workers making up to about $50,400 next year. That's good for workers who want fair pay, and it's good for business owners who are already paying their employees what they deserve -- since those who are doing right by their employees are undercut by competitors who aren't.
That's how America should do business. In this country, a hard day's work deserves a fair day's pay. That's at the heart of what it means to be middle class in America.
As president, my top priority is to strengthen the middle class, expand opportunity and grow the economy. That's why I believe in middle-class economics -- the idea that our country does best when everyone gets a fair shot, everyone does their fair share, and everyone plays by the same set of rules. It's driven me from day one. It's fueled our American comeback. And it's at the heart of the fundamental choice our country faces today.
Will we accept an economy where only a few of us do exceptionally well? Or will we push for an economy where every American who works hard can contribute to and benefit from our success?
Will we invest in programs that would help educate our children, maintain our roads and bridges, and train our workers for the high-paying jobs of the future? Or will we cut these programs, and decide to give more to the wealthiest Americans instead?
To me, the answer is clear. Let's invest in America's future. Let's commit to an economy that rewards hard work, generates rising incomes, and allows everyone to share in the prosperity of a growing America. Let's reverse harmful cuts to vital programs, and instead make the critical investments we need to grow our economy and strengthen the middle class.
That's what I'll be talking about this week -- this choice, and these priorities.
America is at its best when we look out for one another. We soar when we strive to do better for one another. That's what I'm focused on and that's what I'll fight for every day for the next 18 months.