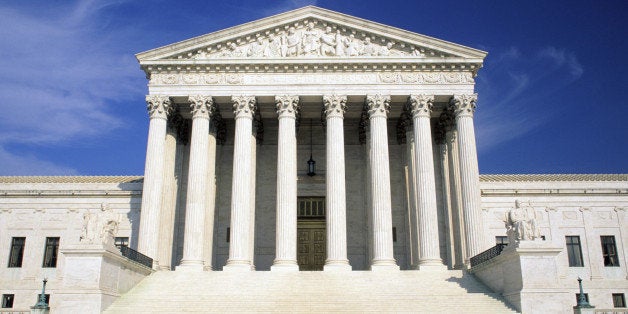 The first female, Native American federal judge in U.S. history should become the first Native American justice on the U.S. Supreme Court.
As Senate Republicans prepare to obstruct any nomination to the Supreme Court made by President Barack Obama, the White House is surely gearing up for a strategic nomination and epic battle for the future of the highest court in the country. Obama needs to move forward quickly with a transformative nominee who stands a chance of success on Capitol Hill. Diane Humetewa, U.S. District Judge for the District of Arizona is perhaps the most likely person to advance through Senate confirmation during Obama's final year in office. Nominating her would transform the federal judiciary, bring Native Americans into the highest echelons of political society, and actually stand a chance of succeeding.
Who is Diane Humetewa? And what makes her a difficult nomination for the Senate to obstruct?
Judge Humetewa is a Hopi lawyer who began her career as a victim-witness advocate for the U.S. Attorney's Office in Arizona. That was in 1986--before she even attended law school. Humetewa graduated from Arizona State University's Sandra Day O'Connor School of Law and worked as counsel to Sen. John McCain (R-Ariz.). In 1996, Humetewa returned to the U.S. Attorney's Office in Arizona as a Special Assistant then Assistant U.S. Attorney. She prosecuted violent crimes (homicides, bank robberies, and the like), managed the U.S. Attorney's Office's Victim Witness Program, and served as liaison between the federal prosecutor's office and tribal governments. From 2002 to 2007, Humetewa was an appeals judge for the Hopi Tribe Appellate Court.
In 2007, Republican President George W. Bush nominated Humetewa as U.S. Attorney for the District of Arizona. The Senate confirmed her to become what then-Senator Jon Kyl (R-Ariz.) described as "the first Native American woman and, as far as I know, the first victim advocate, to serve our nation in this important office." Humetewa stepped down as U.S. Attorney when Barack Obama became President in 2009 and announced his own appointment to her office. She returned to Arizona State University as a special advisor on American Indian affairs and helped promote higher education among Native American tribes.
Then in 2013, John McCain and Jeff Flake, the Republican Senators from Arizona, championed Humetewa's nomination as federal judge. President Obama, a Democrat, nominated Humetewa, and the Senate unanimously confirmed her in 2014 after months of Republican delays.
Judge Humetewa's nomination to the U.S. Supreme Court makes sense. She is qualified. McCain described her in 2014 as having "an impressive legal background, ranging from work as prosecutor and an appellate court judge to the Hopi Nation to service as U.S. Attorney for the District of Arizona." After nearly a decade as a federal prosecutor and two years behind the federal bench, Humetewa is immensely qualified to join the Supreme Court. Her nomination would be an historic moment for one of the most vulnerable minority communities in the United States.
A key selling point for the current president is the difficulty Senate Republicans would have in permanently obstructing or voting down Judge Humetewa as the next Associate Justice of the Supreme Court.
First, Humetewa was vetted in 2013 and 2014. Obama could move her nomination along rather quickly, keeping Senate Republicans from closing ranks. A quick nominee also would cripple Republicans' argument that the nomination is too near a potential presidential regime change to be democratically viable.
Second, Humetewa's nomination would crack the veneer of Senate Republican solidarity. After all, before she was an Obama judge, Humetewa was a Bush prosecutor in a conservative state. She worked for Sen. McCain, who has played a key role in Humetewa's career. McCain is a respected Republican Senator known for his independence and loyalty. He likely would be a strong advocate for his former aide, and it would be wholly uncharacteristic for him to vote against her nomination because of political winds. Then there is Sen. Flake, who joined McCain to push Humetewa's nomination to the federal bench. Flake is in the Republican majority on the Senate's Judiciary Committee, which votes first to advance a nominee for a full Senate vote. Humetewa would be a rare Obama nominee with strong Republican voices favoring her nomination in both the Judiciary Committee and Senate plenary. And she's one nominee who is virtually guaranteed at least two Republican votes.
Third, Humetewa is a lifelong victim and witness advocate. Republicans would face a hard sell to label her as "soft on crime," a favorite go-to for conservative attacks against judges. Indeed, Humetewa's first major action as U.S. Attorney was to indict a U.S. Congressman on 35 counts of fraud, extortion, and money landering. Her indictment ultimately led to his being convicted in 2013. In essence, Humetewa's CV ticks all the right boxes for Republican support, and Obama's nominee will need as much Republican support as he or she can get.
Fourth, a Native American woman would fit the Obama administration's legacy of historic, diverse appointments to the federal bench. Sonia Sotomayor, Sri Srinivasan, Staci Yandel, and Humetewa herself exemplify the administration's high regard for diversity on the federal bench. Over at SCOTUSblog, Tom Goldstein suggested the Obama administration would "relish the prospect of Republicans" refusing to give Attorney General Loretta Lynch a vote or "seeming to treat her unfairly in the confirmation process" because either route "would motivate both black and women voters" in the upcoming federal election. Opposition to the first female Native American federal judge would drum up antagonism among women and racial minorities--an eventuality many Republicans will want to avoid during a presidential election year already marred by Donald Trump's antics.
Fifth, and perhaps most importantly, Judge Humetewa surely would bring an important perspective to the Supreme Court and federal law more broadly. Native Americans are in many ways unique under federal law. U.S. law requires many disputes involving Native Americans to be brought in federal court. The United States has an entire series of federal laws--Title 25 of the U.S. Code--simplistically named "Indians." And there is generally at least one Supreme Court case a year involving federal Indian law. Those cases wind their way through a federal judicial system in which only one sitting judge is Native American. Elevating that judge to the Supreme Court would bring unprecedented insight into disputes involving one of the most politically disadvantaged minority populations in the country. And there can be no doubt a female Native American jurist would provide compelling context to constitutional cases involving alleged government restrictions of civil and constitutional rights.
No nominee to replace Justice Antonin Scalia will be an easy sell to a Republican-controlled Senate set on preventing any Obama nominee from putting Associate Justice before his or her name. Nevertheless, the U.S. Constitution says the President "by and with the Advice and Consent of the Senate . . . shall appoint . . . Judges of the supreme Court." It does not give the President discretion to wait.
President Obama has proven himself an astute student of the politics of getting things done in an obstructionist climate. Nominating a female, Native American Bush-prosecutor-cum-Obama-judge whose career has been championed by Republican senators would be a smart choice. Judge Humetewa's nomination to the Supreme Court would be a victorious, historic bookend to the Obama presidency, and it would have a resounding impact on Native American life from Alaska to Florida.
Popular in the Community