Aka pumpkin pie BARS. Studded with white chocolate, crunchy granola and lingering strains of maple syrup.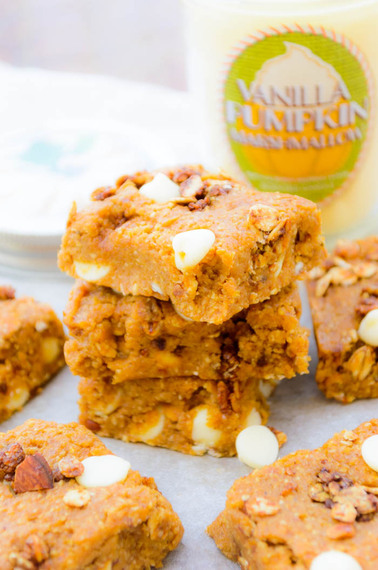 This post is basically the answer to all your early morning pumpkin pie cravings. That's a thing right? I am not alone in this pie-for-breakfast train of thinking at 7 a.m. come Monday morning?
Regardless, we are transitioning into the beautiful Fall season which is another way of saying your local Trader Joe's is now bustling with every obnoxious way to use pumpkin. Every year I struggle with not wanting to give in to this whole trendy pumpkin thing.
Then I think, pumpkin pie and being festive is just too fun.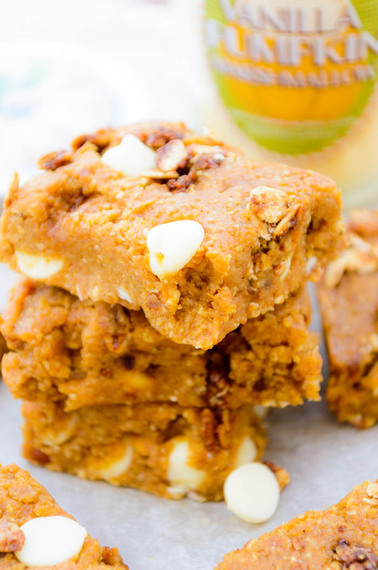 So on that note, go buy yourself a mini pumpkin and ponder over the leaves changing colors. It's a lovely feeling. Then give in to your pie cravings and make these bars that you can feel super good about eating throughout the day.
They are full of hearty oats, crunchy granola, creamy peanut butter and naturally sweetened with maple syrup. Oh and side note, there is no baking or cooking required for these babes. Just simple ingredients and a whole lot of pumpkin love.
Hello fall season, we are SO ready for you.
Ingredients
2 cups oat flour
1/2 tsp cinnamon
1/2 tsp pumpkin pie spice
Sea salt to taste
1/2 cup pure pumpkin
1/2 cup peanut butter
1/2 cup maple syrup
1/4 cup granola of choice
Handful(s) of white chocolate chips
Instructions
Line an 8x8 baking tray with parchment paper and set aside. Combine the oat flour, cinnamon, pumpkin pie spice and sea salt in a large bowl. In a separate bowl whisk together the pumpkin, peanut butter and maple syrup until smooth. Pour the liquid ingredients into the dry ingredients and stir with a frosting spatula or wooden spoon. Once a dough forms, fold in the white chocolate chips and granola. Press the dough into the lined baking tray and spread out evenly. Place into the fridge for at least 3 hours or overnight before cutting into squares. Store in the freezer to have on hand for awhile!
Check out the full post on this recipe HERE!